'"'"
—
Zuzu's first battle theme
'"'"
—
Zuzu's second battle theme
Zuzu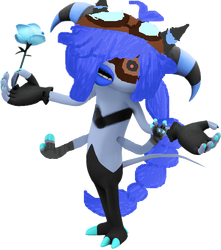 Zuzu, as he appears in Nintendo + Steven Universe: Kingdom Battle.
GENERAL INFO

GENDER
♂ Male
SPECIES
Zeti
AGE
111
BIRTHDAY
Unknown
ALIGNMENT
Evil
MISCELLANEOUS INFO

SERIES
Sonic the Hedgehog
NON-CANON APPEARANCES

Nintendo + Steven Universe: Kingdom Battle (2020)
Sonic Trials (2020)

VOICE ACTOR(S)

Jonathan Beech
Megumi Han (Japanese)
Zuzu is one of the main villains of Nintendo + Steven Universe: Kingdom Battle, a crossover game between Nintendo, Sega, and Steven Universe. He is a fusion of Zor and Zole. He has a British accent. He's two years younger than both Zole and Zor combined. His weapons are a bazooka, a yo-yo, and a paint roller. His minions are Valkyries.
Zuzu is often called to resemble Valkyrie.
Appearance
Zuzu is a diminutive, slouching being colored in light blue-gray and black. He sports two extra arms on his sides, and a pair of mean looking eyes with black sclera and Alice blue irises on the back of his head. He has a medium-length blue hairstyle with with a braid and thick strands of rounded hair reaching up to the size of his head, including a set of strands that cover his right eye, as well as a pair of curved horns, and a pair of pointy upright horns, each with blue stripes. His head is oval-shaped, and his face consists of large, blue lips, two pairs of eyes, the first being moody eyes with yellow sclera, green and purple irises and black bags, and the second being semi-circular eyes with yellow sclera, purple and green irises and black bags, covered by tan goggles with brown frames, black eye-like spots with red, glowing pupils. He also sports tiny freckles and a scar on his right eye.
Zuzu seems to carry a cyan rose around and seems to use it as a magic wand. He also wears black, fingerless gloves on all 4 of his hands and has a thin tail. Zuzu has cyan, stubby fingernails, as well as two talons on his feet and a short one on his heels. He also sports a brown hat with a pair of goggles on it.
Quotes
"
He's
going to have one hell of a time!
"
—
Zuzu (Zole's half)
"
Try me,
man
. You are to be
my
slave.
"
—
Zuzu
"Double Barreled Baddies, Now fused into One! Nyeh heh heh heh!"
—
Zuzu
Trivia
He is one of the 2 fusion members of the Deadly Six.
Gallery
Navigation Templates
Playable Characters
Base game:







Post-release:














Non-Playable Characters