'"'"
—
Zukia's first battle theme
'"'"
—
Zukia's second battle theme
Zukia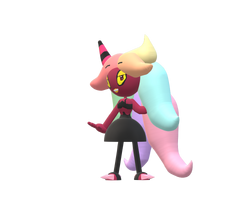 Zukia, as she appears in Sonic Trials.
GENERAL INFO

GENDER

♀

Female
SPECIES
Zeti
AGE
119
BIRTHDAY
Unknown
ALIGNMENT
Evil
MISCELLANEOUS INFO

SERIES
Sonic the Hedgehog
NON-CANON APPEARANCES

Sonic Trials (2020)

VOICE ACTOR(S)

Aurelie Harp
Aoi Yūki (Japanese)
Zukia is one of the main villains of Sonic Trials from the Sonic the Hedgehog series. She's a Zeti from the Lost Hex and a female member of the Deadly Six.
Zukia is a greedy person that cares more about money than showing some initiative, only feeling motivated after getting complimented. She's also quite vain about her cash, taking frequent care of it, and getting furious when someone steals it. Zukia is also characterized with other feminine tropes, such as a liking for fashion. She is a year younger than Zeena and a year older than Ziggy.
Appearance
Zukia has a feminine body physique, having a maroonish-pinkish torso and curled tail, and black legs, hands, and a single right horn (the latter also having pink stripes). Her body is also covered with two black waves, and a black skirt to match. Zukia has two big round eyes, with yellow sclera, maroon irises, black rims and yellow eyelids. Her lips are also yellow.
Zukia has pastel hair in seven strands, red, orange, yellow, green, blue, violet, and pink. Zukia's nails are pink, like the stripes of her horn, but the two toes she has are just as pink as her body. The talon on her heel is like the others.
Quotes
"Correct. You've got the right girl group for the job!"
—
Zukia
"
Hurry up,
Zeena
! Why are you slow? I would hurry up if I were you. Also, As
Zor
would say, "Why is
Zeena
ALWAYS
getting ready for literally
EVERYTHING
?! And why does it
ALWAYS
have to be
HER NAIL ART
?! Jeez, I'm giving her a bad review."
UGH
!
"
—
Zukia
Gallery
Navigation Templates
Playable Characters
Base game:







Post-release:














Non-Playable Characters