Zor is not from Fantendo. However, this article may include related fan ideas.

These external sources may have official, more accurate information:

This article is free to edit. Please follow the article standards and respect good-faith contributions.
'"'"
—
Zor's first battle theme
'"'"
—
Zor's second battle theme
Zor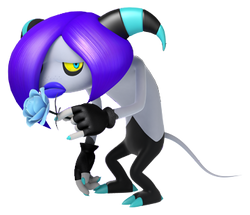 Zor, as he appears in Sonic Lost World.
GENERAL INFO

GENDER
♂ Male
SPECIES
Zeti
AGE
112
BIRTHDAY
Unknown
ALIGNMENT
Evil
MISCELLANEOUS INFO

SERIES
Sonic the Hedgehog
CANON APPEARANCES

Sonic Lost World (2013)

VOICE ACTOR(S)

Sam Riegel
Yūki Tai (Japanese)
Zor is one of the main villains of Sonic Lost World from the Sonic the Hedgehog series. Zor is the youngest (and only FTM transgender) member and the current leader of the Deadly Six, a group of Zeti from the Lost Hex. He is a year younger than Zole. He has a tragic past of extremely bullied at kindergarten for his gender and appearence.
Zor is the most nihilistic and pessimistic member of the Deadly Six, being constantly moody and being annoyed by the happiness of others. He often whines about the meaninglessness of life, but ironically dislikes it when other people whine, since whining is his thing. Once he experienced happiness, he later changed his mind to being neutral to it. When fused with Zole, they form Zuzu. When fused with Zazz, they form Zither.
Zor is also capable of digesting non-food items such as gemstones and nectar. He has a polar opposite known as Zaeriel, when fused with, the product is Zephiel. He appears to have a big appetite for herbs, spices and confections, according to Zomom.
Appearance
Zor is a diminutive, slouching being colored in light gray and black. He has a medium-length purple hairstyle with large bangs that cover his right eye, as well as curved horns with cyan stripes. His head is oval-shaped, and his face consists of large, purple lips, moody eyes with yellow sclera, blue eyes and black bags, and tiny freckles.
Zor seems to carry a cyan rose around, but ultimately doesn't seem to do anything of interest with it, but as shown in Sonic Trials, he uses it as a magic wand. He also wears black, fingerless gloves and has a thin tail. Zor has cyan, stubby fingernails, as well as two talons on his feet and a short one on his heels. Occasionally, he wears a black and red cape, similar to a vampire cloak, with the granted ability of invisibility.
Quotes
"
He's
so upbeat I want to beat him up! Heh heh heh heh!
"
—
Zor
"
What?! Seriously, we captured
you
!
"
—
Zor
"
Don't be so whiny,
man
. That's
my
deal.
"
—
Zor
Gallery
Navigation Templates
Playable Characters
Base game:







Post-release:














Non-Playable Characters