This article is part of the Medieverse. Surely you're not looking for the original Zonas?
Zonas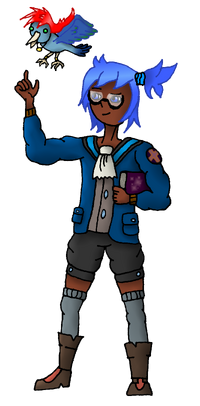 GENERAL INFO

GENDER
♂ Male
SPECIES
Human
CURRENT STATUS
Alive
AGE
22
BIRTHPLACE
Meridian
PERSONAL INFO

OCCUPATION(S)
Scholar Apprentice
MISCELLANEOUS INFO

SERIES
Medieverse
CANON APPEARANCES

TBA
Zonas is a character in the Medieverse who takes a major role in the story.
History
The family situation of Zonas has not been an easy one, as he often got verbally and mentally abused by his parents. At a certain age he met Parvati, a scholar who lived in a distant tower somewhere in Meridian's outskirts. He visited her regularly and eventually fled his family house and moved in with her. Although reluctant at first she took Zonas in as her student and taught him her ways. Zonas eventually heads out, trying to find a solution that will keep the kingdom at peace.
Physical description
Personality
Zonas sees himself in a negative way, this is mainly caused because of how his parents treated him when he grew up, Parvati was the only person who was nice to him, and boosted his self-esteem quite a bit. He does have that a remark lands wrong which makes him feel bad about himself again, but can get over this with the right help. While he isn't anti-social, he does enjoy his private time, being able to wander alone for days. He however does have a deep connection with Quetz, finding it hard to be apart from her, and will actually panic when she is gone. He gets along with others, but just despises chit-chat and quickly wants to be alone again.
Abilities
While Zonas doesn't have any true abilities, he has learned a lot about the world while being the apprentice of Parvati. While his knowledge of the world doesn't come close to what Parvati has, Zonas can quite easily win arguments and sense when people are lying to him, being able to read their faces.
Relationships
Quetz
Parvati
Trivia
Community content is available under
CC-BY-SA
unless otherwise noted.