— Zole's first battle theme
— Zole's second battle theme
Zole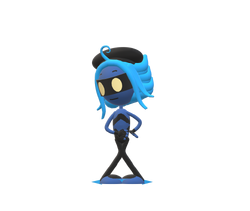 Zole, as he appears in Sonic Trials.
GENERAL INFO

GENDER
♂ Male
SPECIES
Zeti
AGE
113
BIRTHDAY
Unknown
ALIGNMENT
Evil
MISCELLANEOUS INFO

SERIES
Sonic the Hedgehog
NON-CANON APPEARANCES

Sonic Trials (2020)

VOICE ACTOR(S)

Lindsay Duncan
Kikuko Inoue (Japanese)
Zole is one of the main villains of Sonic Trials from the Sonic the Hedgehog series. Zole is the second youngest member of the Deadly Six, a group of Zeti from the Lost Hex. He is a year older than Zor.
Zole is the most prankster-like and sarcastic member of the Deadly Six, constantly trying to be funny. He is Canadian, but has a Scottish accent. When fused with Zor, they form Zuzu.
Zole is often called Scottish Popple.
Appearance
Zole is an upright being colored in dark blue and black. He has a medium-length blue hairstyle with strands that flare upwards and a curled ahoge, as well as short horns with violet stripes under a black beret. His head is oval-shaped, and his face consists of circular eyes with yellow sclera, yellow and pink irises (meaning he's got heterochromia) and black liners. He was once seen with a cyan gem on his stomach.
Zole seems to cover his eyes with a black mask with pale yellow oblong eye like spots. He also wears black, fingerless gloves and has a thin tail. Zole has cyan, bitten fingernails, as well as two talons on his feet and a short one on his heels.
Quotes
"

Well what if I told you three you were fast enough, smart enough, pretty enough to beat that

blue nuisance

?

"

— Zole
— Zole
"Look at him, all "I'm so fast" and stuff. Urgh, makes me feel sick. Time to knock him down a few pegs."


— Zole
Gallery
Navigation Templates
Playable Characters
Base game:







Post-release:














Non-Playable Characters

Community content is available under
CC-BY-SA
unless otherwise noted.