—
Zither's first battle theme
—
Zither's second battle theme
Zither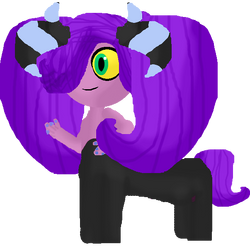 Zither, as he appears in Nintendo + Steven Universe: Kingdom Battle.
GENERAL INFO

GENDER
♂ Male
SPECIES
Zeti
AGE
114
BIRTHDAY
Unknown
ALIGNMENT
Evil
MISCELLANEOUS INFO

SERIES
Sonic the Hedgehog
NON-CANON APPEARANCES

Nintendo + Steven Universe: Kingdom Battle (2020)
Sonic Trials (2020)

VOICE ACTOR(S)

Stuart Stone
Yūki Kaji (Japanese)
Zither is one of the main villains of Nintendo + Steven Universe: Kingdom Battle, a crossover game between Nintendo, Sega, and Steven Universe. He is a fusion of Zor and Zazz.
Appearance
Zither is a centaur-like being colored in lilac and black. He has a long purple hairstyle with with pigtails, including large bangs that cover his right eye, as well as a pair of curved horns, and a pair of crooked horns, each with periwinkle stripes. His head is circular, and his face consists of invisible lips, circular eyes with yellow sclera, turquoise irises and black circular lashes, tiny freckles and a scar on his right eye.
Zither seems to play the zither, hence his name. Zither has lavender, stubby fingernails.
Quotes
"
He's
going to be messed up BIG TIME!!!!
"
—
Zither (Zazz's half)
"Sigh... Nothing's interesting to me."

—
Zither (Zor's half)
Trivia
He is one of the 2 fusion members of the Deadly Six.
Gallery
Navigation Templates
Playable Characters
Base game:







Post-release:














Non-Playable Characters

Community content is available under
CC-BY-SA
unless otherwise noted.