'"'"
—
Ziggy's first battle theme
'"'"
—
Ziggy's second battle theme
Ziggy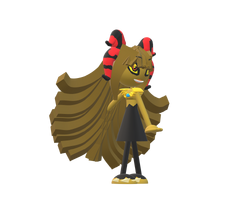 Ziggy, as she appears in Sonic Trials.
GENERAL INFO

GENDER

♀

Female
SPECIES
Zeti
AGE
118
BIRTHDAY
Unknown
ALIGNMENT
Evil
MISCELLANEOUS INFO

SERIES
Sonic the Hedgehog
NON-CANON APPEARANCES

Sonic Trials (2020)

VOICE ACTOR(S)

Jessica DiCicco
Lin Lin (Japanese)
Ziggy is one of the main villains of Sonic Trials from the Sonic the Hedgehog series. She's a Zeti from the Lost Hex and a female member of the Deadly Six. In EU/PAL/JP, she is called Zee.
Ziggy is a shy person that cares more about her friends than anything else. She's also quite shy, getting furious with people she doesn't like. Ziggy is characterized with child-like tropes, such as a liking for candy and being visionary. She is a year younger than Zukia and two years younger than Zeena.
Ziggy is often called to resemble the LazyTown character of the same name or the Mario + Rabbids: Kingdom Battle enemy of the same name.
Appearance
Ziggy has a feminine body physique, having a golden torso and curled tail, and black legs, hands, two horns on top curved up, and two horns on the bottom curved down (the latter also having red stripes). Her body is also section in to a triangle, similar to Zor, and a black skirt to match. Ziggy has two big round eyes, with yellow sclera, vermilion irises, black rims and yellow eyelids. Her lips are orange.
Ziggy has long, square stranded, dark gold hair. Ziggy's nails are just as gold as herself, along with the two toes she has. The talon on her heel is like the others. She also wears a golden collar with a blue gem on it.
Quotes
"Dashing Ne'er-do-wells!"
—
Ziggy
Gallery
Navigation Templates
Playable Characters
Base game:







Post-release:














Non-Playable Characters