Zia Dolmayan

♀

Female


⚥

Bisexual
6'00"
159 lbs
30 years old
Human

INFO

FULL NAME
Zia Dolmayan
POWERS
Unknown
BIRTHDAY
May 9th
ALIGNMENT
Self-interest
OCCUPATION(S)
Drummer, environmentalist
BIRTH LOCATION
Olympia, Washington
CURRENT LOCATION
Unclear

PREFERENCES

LIKES

| | |
| --- | --- |
| Her Standing Ripple, alternative metal music, playing the drums, her Gothic image, terracotta pie, bananas, chop suey, the environment, her world, performing live, being actually happy | |

DISLIKES

| | |
| --- | --- |
| Kinney Cantrell, Austin Kilmister, when they judge her for using drugs, how unhappy the world is, how she feels like everything is bound to reach its end | |

APPEARANCES

CANON
Zia Dolmayan is a reknowned drummer living in Olympia, Washington, being the founder and only remaining member of the heavy metal band named Red Haze. She's very well known for her passion for human rights and social justice, which have greatly shaped her personality, musicianship, and lyrics- her music has always been described as "libertarian" in tone. Though she appears to be a very gentle and soft-spoken woman in the press and in interviews, especially compared to former bandmates Kinney Cantrell and Austin Kilmister, she is the most hardcore of the three when it comes to image and drugs- to the point where, following a recommended appointment from Kinney's doctor, she was introduced a Standing Ripple by the name of System of a Down. The ripple was designed to sync with her viewpoints and helps her carry them out. Unlike most other Standing Ripples, it is fully fluent in the English language and even has a vocal range of five octaves.
Zia Dolmayan is soft-spoken and well-mannered in interviews, on live television, and in the public eye. However, in the studio she's completely different- she's highly aggressive and horribly pushy, and has been seen taking needles and surgically operating on herself with unclean hands. Her experiences with masochism and endless mental strain have given Red Haze its signature sound, especially with how aggressively she had pushed Cantrell and Kilmister to play. The band split up because everyone had such intense creative differences.
Description
Zia Dolmayan Description
Zia Dolmayan is a Caucasian woman that stands at six-feet in height, looking drastically depending on if you're seeing her in the studio or if you're seeing her in the public. Wearing only traditional clothes in the public, she's known for her aggressive Gothic image in the studio and on the stage, wearing heavy eyeliner and wearing all black and white and going all-out with the latex and leather. Zia's always having a wicked grin in the studio and always has all the tools she needs next to her- her drums, her drugs, and her remedies. Her hair is a faint crimson color, and images of hearts can be found running across her gauntlets and shiny high-heels. Her signature trait in the studio is her "spiderweb patterns", which weave all across her outfit. On the stage, she introduces herself as "Zia's friend".
System of a Down Description
System of a Down visually appears as a cyborg completely dressed in black, with its head appearing to be a thick helmet with an electronic visor, inspired by the similarly-looking figures from this video. Its visor usually reflects a single word or two as it speaks, to distress its current mood or bring others to pay attention to it. The palms of its hands have two crimson gaps, which are used to summon items that it can use accordingly in combat... no matter how seemingly random they look!
Personality
Zia Dolmayan has been depicted frequently as "insane" and "violent" by her former bandmates, having always displayed a need to do something over and over again until she gets the results she desires. With her intense paranoia and anxiety creeping upon her all the time, she feels great pressure in the studio to do something amazing, and thinks that something bad will happen if she isn't as commanding and strict as she is in the studio. She would always get into aggressive arguments with her teammates, especially when it came to the usage of drugs (which she harshly scolded her bandmates over even though she's just as abusive of them) and to the band's musical style. Zia was always the type of person that would snap if even just a few things didn't go as planned, and thus she would grow to be feared by them. However she refuses to accept her faults, believing it to be others' faults that they can't cooperate with her selfish image. Under the persona of "Zia's friend", she keeps blaming her bandmates for her live mishaps and cancellations.
When she's out in the public in just casual clothing, wearing absolutely nothing special and being unrecognizable as anyone but a normal human person, she's really distressed and worried about the things that she believes will eventually destroy the world. Zia doesn't want to believe the things she believes, she doesn't want her mind to be clouded with environmental worries all the time, and thinks that her music alone won't be enough to save the world. Thus, she can often be found weeping away at the Westside Tavern in Olympia, Washington, trying to come over her griefs with little to no success. As time goes by, she realizes how much she's messed up, and longs to bring the band back together to record music again- they haven't played in several years now.
System of a Down's personality is surprisingly not very limited- it is expressive in how it speaks and it can speak very fast, and its vocabulary and rhyming ability are actually significantly more impressive than Zia's. It is very passionate about the environment and about Earth's health, and is determined to bring everything and everyone together to fix things. Sometimes it gives Zia enough of an energy boost to join rallies to display her thoughts.
Powers and Abilities
Zia Dolmayan doesn't have anything supernatural or out of the box herself, and is forced to rely on using her drumsticks to really be able to hurt anything in combat. This is where her Standing Ripple "System of a Down" comes into play. Its powers are very loose and seemingly random, but there is a limit as for what the ripple can summon. It can summon chop suey and terracotta pie to feed Zia with if she needs an energy boost and supply her with the sugar she needs to go all out against her enemies. It can also trap its victim in a prison cell and then drop a bomb to make it go boom! It can also deliver spiders to bite at its enemies with their venomous fangs, or very quickly create political tension to make the room boil in toxicity, distracting everyone from the flow of the fight.
The main ability of System of a Down is named "Aerials", which gives System of a Down the ability to freely fly anywhere it wishes and deliver incredible blows while hoisted high into the air. If Zia feels politically charged or angry, she will become influenced by her ripple to fly up into the air and participate with aerials of her own, making them both suddenly a lot more intimidating.
Relationships
Zia had gotten very sick of Kinney's judging of her usage of drugs and was more than happy to fire him from Red Haze following the recording of just two albums. Not only was he unwilling to cooperate with her image and her mindset, he was also unwilling to work with someone so complicated and overly toxic, which deeply angered Zia. She hopes that Kinney "kicks the bucket" eventually and desires a new guitarist to play with her so she can play with her band again and forget about his "clumsy and unoriginal riffs" (though they've been publicly acclaimed). When it comes to talking about her bandmates, she has a much clearer disdain for Cantrell than for Kilmister, but is willing to work with him again if he apologizes for his misbehavior through a contract.
Zia was Austin's childhood friend and had started Red Haze hoping he would join her. Originally dating, he willingly joined the group and the two spent much of their planned budget for their debut album on drugs and alcohol. She regrets having done that, as that forced Austin to turn his attention to Kinney to fund the band and eventually join them so they weren't stuck in a perpetual loop of drug abuse. When Dolmayan slowly became more and more controlling of the environment in the studio and began to become abusive towards her guitarist, this set Austin off and they had a violent fight, resulting in severe injuries for both and potentially ending the band permanently.
Trivia
Originally, Kinney Cantrell and Austin Kilmister were not supposed to be part of a band together. However, when Hawkins realized how much in common they had as drug users and that they were both musicians, she made Zia Dolmayan to round out the trio and named the band Red Haze.

Red Haze is the Earth equivalent of the old Zaxinian band named "Black Haze", which currently exists in the COLD❄BLOOD lore.

Her spiderweb pattern design on her clothes was inspired by the song "Spiders", also by System of a Down.
Gallery

Overview
Standing Ripple is a concept in the New Fantendoverse used to refer to projections of fighting spirits created by contact with the metal Ripplite. These fighting spirits are created from the hosts' Aura and general will to fight and host incredible but bizarre abilities. These Standing Ripples name themselves, usually off musical artists, and often do not speak or act on their own, but do follow their host everywhere. They have an arguable consciousness; while they can act on their own when not in combat, they do not seem to be consciously aware of their own actions.
Ripplite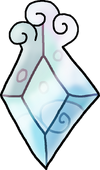 Ripplite is a mineral/metal alloy that can phase light through it to alter it's properties. It is key to being able to produce Standing Ripples. It comes from Vokkskar-created Catalyst Comets that crash into planets. Ripplite can also inversely be used to cut through Standing Ripples. Given it's weak resistance to force, crushing similar to quartzine mineral, it is not good for weapons.
Ocean 11's leader Hammerhead, who has the largest fragment recovered, has used it for monetary gain and on every member of his mob gang.
CHELPRO as corporation has a smaller fragment that they are experimenting with.
Trent Corona has a very small fragment that he uses in the blade of a laser sword known as the Ripple Ripper.
Trivia
Standing Ripples are inspired by the concept of Stands from JoJo's Bizarre Adventure. The name of the concept is even a reference to both the shorthand (Stand) and it's meaning (Ghostly Ripple).

One key difference is that if Standing Ripples interact with the environment, they can be hurt and attacked like a normal character. Additionally, they can be seen by anyone.

Standing Ripples could possibly be seen as a new extension of the music numbers that have been present in both the original Fantendoverse and the new Fantendoverse- where as music punctuated pivotal moments in past stories, now they are literally powering characters.
Coincidentally, Standing Ripples and Stands were both introduced in the third "part" of their respective series' on going narratives- Standing Ripples in Phase 3 of the New Fantendoverse and Stands in Part 3 of JoJo's Bizarre Adventure.
Community content is available under
CC-BY-SA
unless otherwise noted.