hey.
this page belongs to flant (t∣b∣c). please don't edit it unless i've given you direct permission, 'kay? thanks. enjoy the show.

The Zentablet (is a console by Zentech Studios, being their first—and so far only—official console. It has many similar features to the Nintendo Switch, while still bringing new twists to the table.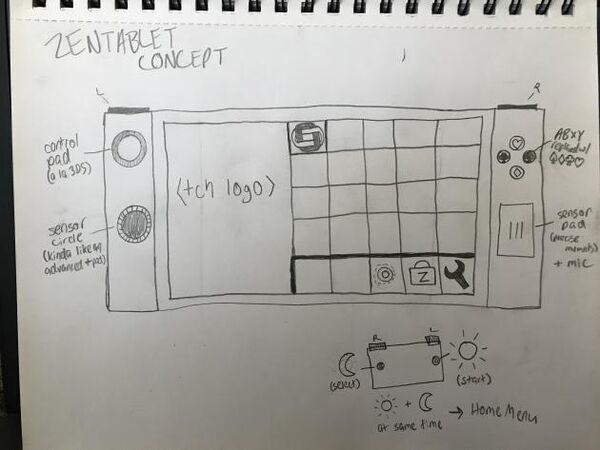 Concept art by Varent (t∣b∣c)
Hardware Features
The Zentablet is, well, tablet-like in structure, with all the controls on either side of the large central screen.
On the left side of the screen lies the control pad, similar to your average control stick, as well as what the designers have dubbed the sensor circle—essentially an enhanced version of the directional pad on many Nintendo controllers that accounts for all directions instead of exclusively the four cardinals.
The right side of the screen is home to the four main buttons -- ♠, ♥️, ♣ and ♦, in contrast to your average A, B, X and Y or various miscellaneous shapes. It also presents another newer concept in the form of the sensor pad, a small patch of off-texture material on the tablet that allows for more precise movements in certain games. It's also a mic.
On the back of the tablet is the two shoulder buttons, naturally dubbed the L/R buttons, as well as the Sun and Moon buttons—these act similar in concept to the start and select buttons on certain other consoles, and pressing them both at the same time in any case suspends the software currently running and returns you to the home menu.
Software And The Menu
All games and apps on the Zentablet are downloaded digitally through the Zen Store, appearing on the menu in a 5x4 grid. Up to five of these can be added to the Dock on the main menu, being accessible from any page of the menu.
Games
The Crystal Hero: Origins
Fallen Stars: Apocalyptic Wish
The Goddess' Apprentice and the Mother Mirror
Community content is available under
CC-BY-SA
unless otherwise noted.