Zazz is not from Fantendo. However, this article may include related fan ideas.

These external sources may have official, more accurate information:

This article is free to edit. Please follow the article standards and respect good-faith contributions.
'"'"
—
Zazz's first battle theme
'"'"
—
Zazz's second battle theme
Zazz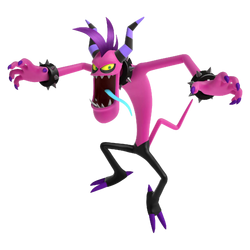 Zazz, as he appears in Sonic Lost World.
GENERAL INFO

GENDER
♂ Male
SPECIES
Zeti
AGE
127
BIRTHDAY
Unknown
ALIGNMENT
Evil
MISCELLANEOUS INFO

SERIES
Sonic the Hedgehog
CANON APPEARANCES

Sonic Lost World (2013)

VOICE ACTOR(S)

Liam O'Brien
Yutaka Aoyama (Japanese)
Zazz is one of the main villains of Sonic Lost World from the Sonic the Hedgehog series. He is a Zeti, and one of the members of the Deadly Six from the Lost Hex.
Zazz is a wild and unruly character with an unpredictable personality that makes him destructive even by the standards of the other five Zeti. He's also quite the hothead that will fly into a rage when he gets held back from fighting. He loves running wild more than having three meals a day and hates boredom above all else. When fused with Zor, they form Zither.
Appearance
Zazz is a tall and lanky demon-like being in pink, having black legs and crooked horns with violet stripes. His head is oblong and is adorned with a purple mohawk, and his face features mean-looking eyes with yellow sclera, black bags and green irises. His mouth is always wide agape, featuring a set of fangs and a long, cyan tongue.
Zazz's tail is about as crooked as his horns are. He wears two spiked bracelets around his wrists and wears another one around his neck. He has large five-digit hands, with each finger having long, purple nails. His feet have two purple talons for toes and has a third one on his heel.
Quote
"
There's that little
punk
! I've been dreaming about pounding his sorry blue butt!
"
—
Zazz
"Maybe it was me!"
—
Zazz
"TIME FOR SOME REVENGE! Right Master?"
—
Zazz
Gallery
Navigation Templates
Playable Characters
Base game:







Post-release:














Non-Playable Characters