Zavok is not from Fantendo. However, this article may include related fan ideas.

These external sources may have official, more accurate information:

This article is free to edit. Please follow the article standards and respect good-faith contributions.
'"'"
—
Zavok's first battle theme
'"'"
—
Zavok's second battle theme
Zavok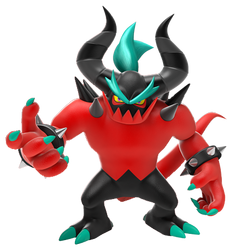 Zavok, as he appears in Sonic Lost World.
GENERAL INFO

GENDER
♂ Male
SPECIES
Zeti
AGE
148
BIRTHDAY
Unknown
ALIGNMENT
Evil
MISCELLANEOUS INFO

SERIES
Sonic the Hedgehog
CANON APPEARANCES

Sonic Lost World (2013)

VOICE ACTOR(S)

Travis Willingham
Jōji Nakata (Japanese)
Zavok is one of the main villains of Sonic Lost World from the Sonic the Hedgehog series. He's the former leader of the Deadly Six, a sextet (fanonically nontet) of Zeti that hail from the Lost Hex.
Zavok is a fierce and cruel being that is powerful and cunning, yet also calm. Even when he is angry, Zavok manages to get his temper in check. Zavok is the most serious among the Deadly Six, not tolerating any failure. Zavok was a disciple of Master Zik, who he respects greatly.
He used to be the leader until Master Zik handed Zor the Leader's Staff.
Appearance
Zavok is a bulky demon-like being, having a red mandible, torso and tail, and black legs, head and curved horns (the latter having gray stripes as well). Zavok also has a cyan ponytail, and his eyes, with yellow sclera, purple irises and red bags, are also adorned with large, cyan eyebrows.
His shoulders are adorned with a pair of black spikes on each, and he bears spiked bracelets around his wrists. His five-digit hands bear cyan nails, and his feet have two cyan talons for toes and another talon on his heel.
Zavok is often called to resemble another villain.
Quotes
"
Your
fate is to be destroyed. Why don't you just accept that? Lie down and die!
"
—
Zavok
"
You
are quite the might conquerer
"
—
Zavok
"
Oh, don't worry. We're actually making
him
better. He'll be much happier as a robot! Mwhahahaha!
"
—
Zavok
"
Well what if I told
you
you were fast enough, smart enough, pretty enough to beat the
blue nuisance
?
"
—
Zavok
Gallery
Navigation Templates
Playable Characters
Base game:







Post-release:














Non-Playable Characters