Zaeriel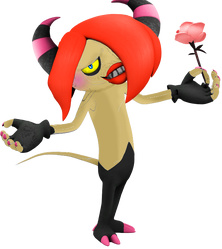 Zaeriel, as he appears in Sonic Trials.
GENERAL INFO

GENDER
♂ Male
SPECIES
Zeti
AGE
112
BIRTHDAY
Unknown
ALIGNMENT
Evil
MISCELLANEOUS INFO

SERIES
Sonic the Hedgehog
NON-CANON APPEARANCES

Sonic Trials (2020)

VOICE ACTOR(S)

Sam Riegel
Yūki Tai (Japanese)
Zaeriel is a Zeti from the Sonic the Hedgehog series. Zaeriel is the total opposite of Zor, when fused with, the product is Zephiel.
Zaeriel is the most gullible and optimistic Zeti, being constantly cheery and being annoyed by the sadness of others. He often smiles about the meaningfulness of life, and says frowning hurts his face. When fused with Zor, they form Zephiel.
Zaeriel is also capable of extreme flexibility and hypermobility, past vision, petruding two extra arms, and flight.
Appearance
Zaeriel is a diminutive, slouching being colored in beige and black. He has a medium-length red hairstyle with large bangs that cover his left eye, as well as upward curved horns with pink stripes. His head is oval-shaped, and his face consists of large, red lips, moody eyes with yellow sclera, Monaco blue irises and black bags, blush, and tiny freckles.
Zaeriel seems to carry a red rose around. He also wears black, fingerless gloves and has a thin tail. Zaeriel has pink, stubby fingernails, as well as two talons on his feet and a short one on his heels.
Quotes
"
What?! Seriously, he's wrong, we captured
him
!
"
—
Zaeriel
Gallery
Navigation Templates
Playable Characters
Base game:







Post-release:














Non-Playable Characters