Yuzuriha
ユズリハ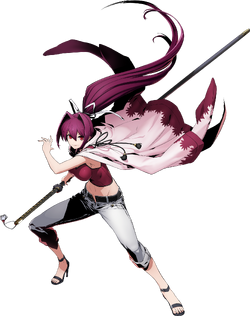 GENERAL INFO

GENDER

♀

Female
SPECIES
Human
CURRENT STATUS
Alive
PERSONAL INFO

RELATIONSHIPS
WEAPONS
Sword
MISCELLANEOUS INFO

CANON APPEARANCES

Under Night In-Birth (2012)

NON-CANON APPEARANCES

Skullgirls (2012, Background Cameo)
BlazBlue: Cross Tag Battle (2018)

VOICE ACTOR(S)

Ayumi Fujimura (Japanese)
Erica Lindbeck (English)
Yuzuriha
is a character from Under Night In-Birth, she is a cheerful young woman whose family is connected to the Night Blade.
She makes a background cameo appearance in Skullgirls' River King Casino stage.
Personality
Yuzuriha is a very cheerful and carefree, acting like anything that goes on around her doesn't seem to bother her. She affectionately refers to her sword as "Ayame" and her smartphone as "Felia" (both with the "chan" honorific). She is also someone who doesn't hold very serious grudges, having already forgiven Hyde for his actions in the past and tells Hilda to rethink her decision on becoming a Re-Birth.
Despite her seemingly happy-go-lucky attitude, Yuzuriha possesses a serious and realistic side to her. Since obtaining her sword, she has taken it upon herself to be the guardian of the city and killing any Void she encounters and admits that her abilities are far from being perfected. When encountering Hilda, she states that carrying an unconscious Hyde and Linne would be more troublesome than fighting Hilda herself, showing a bold and cocky side to her personality as well.
Game Appearances
Yuzuriha is part of the default roster, she represents Under Night In-Birth alongside Hyde Kido, Linne, Waldstein, Carmine, Orie, Gordeau, Merkava, Vatista, Seth, Hilda, Chaos, Byakuya, Phonon, Mika, Wagner, Londrekia and Enkidu.
Yuzuriha is one of the Under Night In-Birth Minions.
She represents Under Night In-Birth along with the entire cast.
Gallery
Characters
Community content is available under
CC-BY-SA
unless otherwise noted.