Young Link did not originate from fanon, and more information can be found on their respective wiki(s). You may read more about it on the following wiki(s):
Young Link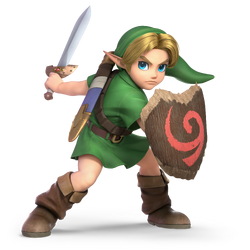 Young Link's basic appearance.
GENERAL INFO

NICKNAME(S)

Link,
Young Hero,
Hero of Time

GENDER
♂ Male
SPECIES
Hylian
AGE
9 years old
BIRTH LOCATION
Kokiri Forest
ETHNICITY
Hyrulean
PERSONAL INFO

CLASS
Hero of Time
WEAPONS
Kokiri Sword,
Deku Shield
MISCELLANEOUS INFO

CANON APPEARANCES

| | |
| --- | --- |
| The Legend of Zelda: Ocarina of Time (1998) | |

VOICE ACTOR(S)
You may be looking for Link or Toon Link, or maybe Gerudo Link.
Young Link is the name given to the nine-year-old Link that serves as the main protagonist of The Legend of Zelda: Majora's Mask and the early half of Ocarina of Time. He was featured as a playable character in the crossover fighting game, Super Smash Bros. Melee, but was replaced by Toon Link in Super Smash Bros. Brawl and later installments of the Super Smash Bros. series; as well as several spin-off The Legend of Zelda titles, including Hyrule Warriors.
Physical Appearance
Young Link looks quite similar to his adult self, particularly as he appears in Ocarina of Time. He has short blond hair parted around his forehead, and bright blue eyes. Link wears a grass green tunic not unlike those worn by the Hylia's Chosen Hero and the other male Kokiri. In Hyrule Warriors, Young Link also wears the Keaton Mask on the side of his head, and has the Fierce Deity mask strapped to his back.
In most of his appearances, Young Link is shown wielding the Kokiri Sword and Deku Shield as opposed to his adult self's Master Sword and Hylian Shield.
Game Appearances
Young Link appears as a playable character in Nintendo Plays: Dodgeball!
Young Link is a light driver in Mario Kart: World Tour.
Main article: Young Link (Calamity)
Young Link reappears as a downloadable returning playable character, Snake, Ivysaur, Squirtle and Pichu, in the Super Smash Bros. series after being absent from the Super Smash Bros. Brawl and Super Smash Bros. for Nintendo 3DS/Wii U roster, like Pichu. Young Link has a new moveset to different himself from being a clone of Link, using a multitude of Hidden Skills seen in The Legend of Zelda: Twilight Princess and items found in The Legend of Zelda: Ocarina of Time, like the Ocarina of Time and the Fairy Slingshot.
Gallery
Navigation Templates
Playable Characters
Assist Characters
Obstacles
Other Characters
Alolan Grimer · Amul · Ann Takamaki · Big Urchin · Blizzy · Bravoman · Buzz-Buzz · Cutiefly · Don-chan · Dragoneel · Fierce Deity · Gil · Happy Mask Salesman · Judge · King · Kissy · K.K. Slider · Litwick · Lloyd · Mappy · Mareanie · Mii · Missile · Morgana · Perry · Pidgit · Pooka · Rabbid Luigi · Rabbid Yoshi · Red Baron · Ribbon · Rowlet · Runner · Ryuji Sakamoto · Sandy · Smasher · Rusty Slugger · Servbot · Sima Zhao · Swanna · Tarosuke · Timmy Nook · Toadsworth · Tommy Nook · Tron Bonne · Valkyrie · Wonder Momo · Ziggy
Collectibles

Trophies

Stickers

Boolossus · Boo Mario · Bowser · Captain Toad · Cat Peach · Chain Chomp · Cloud Mario · Fire Mario · F.L.U.D.D. · Koopa Clown Car · Mega Mushroom · Mario · Penguin Mario · Peach · Propeller Mario · Rock Mario · Toad · Toadette · Waluigi
Birdo · Boo Buddies · Blooper · E. Gadd · Fuzzy · Metal Form · Waluigi · Whomp

Candy Kong · Lord Fredrik

9-Volt · Fauster

Ball and Chain · Deku Leaf · Majora's Mask · Mipha

Abra · Drifloon · Spinarak

Katrina · Mr. Resetti

Adam Malkovich · Arachnus

Nightmare · Noddy · Prank

Mr. Chicken

Back Shield · Centurion · Eggplant Wizard

Disco Kid · Doc Louis · Donkey Kong · Giga Mac · Glass Joe · King Hippo · Little Mac · Von Kaiser

Blue Falcon · Captain Falcon · Pico · Rick Wheeler · Wild Goose

Louie

Pyra

Franklin Badge · Negative Man

Apollo Justice · Franziska von Karma · Miles Edgeworth · Larry Butz · Judge · Phoenix Wright

Dr. Wright · Hammer Slam Bowser
Devil · Dr. Wright · F-Type · Rusty Slugger · Zethia
Community content is available under
CC-BY-SA
unless otherwise noted.