Xavier Bluzen

Xavier, the father of Unten
GENERAL INFO

GENDER
♂ Male
SPECIES
Beorn
AGE
56
BIRTHDAY
September 12th
HEIGHT
5'01
WEIGHT
135 lbs
BIRTHPLACE
Peaceful Plains, Zeon
RESIDING AT
 ???
ALIGNMENT
The Fan and The Enemy (formerly)


For the good of Earth
PERSONAL INFO

FAMILY
OCCUPATION(S)
Unten's Real Dad


Hero of Earth
Leader

LIKES

his friends, scarves,

Imperium

, peaceful resolutions

DISLIKES

The Threat

, being thrust with responsibilities suddenly, the stress of being a leader, his mistakes, anxiety attacks, being held in captivity

ABILITIES

Electrokinesis
Descension
MISCELLANEOUS INFO

CANON APPEARANCES
Xavier is Untens real father who was captured and was takin into the NightRift Realm. Before Xavier was Kidnapped he asked Chief Dongrio if anything happened he would take care of Unten.
He appears in the Story Mode of Lapis Legends.
Appearance
Xavier Appears to look a lot like Unten except some of Xavier's Fur is red and white. He wears a scarf similar to Unten's. He has Yellow Eyes instead of white. He also has a blue beard.
Relationships
He is Unten's Dad who didn't realy get to know much about his Boy due to the fact he was held in captivity.
He is Turbo Crafter's Standing ripple, but unlike other standing ripples he was accidentally turned into one by touching a Weird crystal which then he was trapped until Turbo Crafter was struck by Ripplite.
Trivia
TBA
Gallery

Overview
Standing Ripple is a concept in the New Fantendoverse used to refer to projections of fighting spirits created by contact with the metal Ripplite. These fighting spirits are created from the hosts' Aura and general will to fight and host incredible but bizarre abilities. These Standing Ripples name themselves, usually off musical artists, and often do not speak or act on their own, but do follow their host everywhere. They have an arguable consciousness; while they can act on their own when not in combat, they do not seem to be consciously aware of their own actions.
Ripplite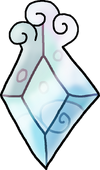 Ripplite is a mineral/metal alloy that can phase light through it to alter it's properties. It is key to being able to produce Standing Ripples. It comes from Vokkskar-created Catalyst Comets that crash into planets. Ripplite can also inversely be used to cut through Standing Ripples. Given it's weak resistance to force, crushing similar to quartzine mineral, it is not good for weapons.
Ocean 11's leader Hammerhead, who has the largest fragment recovered, has used it for monetary gain and on every member of his mob gang.
CHELPRO as corporation has a smaller fragment that they are experimenting with.
Trent Corona has a very small fragment that he uses in the blade of a laser sword known as the Ripple Ripper.
Trivia
Standing Ripples are inspired by the concept of Stands from JoJo's Bizarre Adventure. The name of the concept is even a reference to both the shorthand (Stand) and it's meaning (Ghostly Ripple).

One key difference is that if Standing Ripples interact with the environment, they can be hurt and attacked like a normal character. Additionally, they can be seen by anyone.

Standing Ripples could possibly be seen as a new extension of the music numbers that have been present in both the original Fantendoverse and the new Fantendoverse- where as music punctuated pivotal moments in past stories, now they are literally powering characters.
Coincidentally, Standing Ripples and Stands were both introduced in the third "part" of their respective series' on going narratives- Standing Ripples in Phase 3 of the New Fantendoverse and Stands in Part 3 of JoJo's Bizarre Adventure.
Community content is available under
CC-BY-SA
unless otherwise noted.