X (Mega Man X series)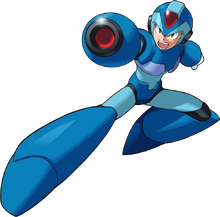 Megaman X 2D Art
GENERAL INFO

GENDER
♂ Male
SEXUALITY
○ Asexual
SPECIES
Reploid
MISCELLANEOUS INFO

SERIES
Mega Man
CANON APPEARANCES

Mega Man X
X is the main character of the Mega Man X series. He is the original Reploid that Dr. Light built, and which all other Reploids are based on. He is also the primary playable character in the series, and appears in numerous crossover titles.
Fanon Appearances
X appears as a Pair Unit teamming up with Zero, he is also a temporal Single Unit when Zero is infected by the Sigma Virus.
mega man has a different form. he joined the builders league united along with fox mccloud.
Gallery
Navigation Templates
Characters