Heyo! Please look at this before you read the article.

Thank you for taking the time to look at Wood-Grilled Reviews. This template signifies that it is an article that belongs to Dylan. Please do not make any edits whatsoever unless I give you permission. If you notice any spelling errors or categories that should be added, please comment or contact me so I can fix it.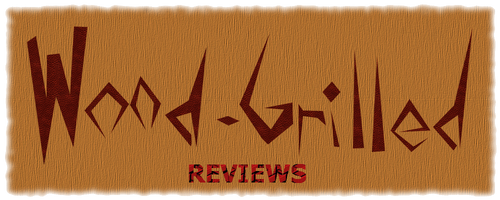 Wood-Grilled Reviews is a review "show" set up by Dylan. It is a lighthearted take on the reviewing process which was built to help improve and give ideas for articles in progress as well as provide feedback on complete articles. As part of the League of Fantendo Critics, it aimed to be a different twist compared to other review shows with a different type of scoring method and a unique theme for the entire ordeal. Wood-Grilled Reviews started taking requests on May 16, 2015, and indefinitely closed down on January 15, 2017.
Understanding the Wood-Grilled Method
If you're gonna request reviews, you wanna know how it works, right? Well, let's get right to it! Reviewing your game uses one of two different scales: depending on whether your category of article is in the "Complete" area or the "Incomplete" area, you'll use either the CODE or OPT scale. Let's take a look at the "Complete" scale, for example:
Creativity - How unique is the article's content? Is it willing to try out new things?
Organization - Is the article aesthetically pleasing? Is it quick and easy to navigate?
Detail - Can the article be understood if you're not familiar with the topic? Are things well explained?
Effort - Does the article feature a lot of content? Is it filled with great ideas?
And now, here's the "Incomplete" scale:
Overview - How's the article for starters? Is it in a good state?
Potential - Can you do more with the game? What new ideas could you use?
Track - Is the game going in the right developmental direction? Is everything focused and balanced?
Both scales features easy to remember acronyms that makes the review scale easier to remember, while still covering a lot of areas of the game. Each part of the scale is given a number between 1 and 5, with 1 being the lowest and 5 being the highest. At the end, all the scores are added up to provide a final score on the "Seasoned Scale" out of 20, which determines the rank of your game.
Previously Reviewed Articles
Here's a list of articles reviewed in the past. They'll be ordered from best to worst review score, so looking at the top items on this list might help you understand how a top-quality article is expected to have!
Complete
Incomplete
Request Types
Requests are CLOSED!
Completed/Near-Completion Projects
This area is for articles that have been completed or are on the finishing touches. Articles put into this section are reviewed based on their ideas, and are given tips for making articles similar to it in the future.
Incomplete Projects
One of the unique things about Wood-Grilled Reviews is the ability to request unfinished games for review without being criticized for lack of completion. These reviews focus on the direction of development and provide unique ideas and ways to expand on the concept.
Scoring Gallery
Faces
Community content is available under
CC-BY-SA
unless otherwise noted.