Momo Kanda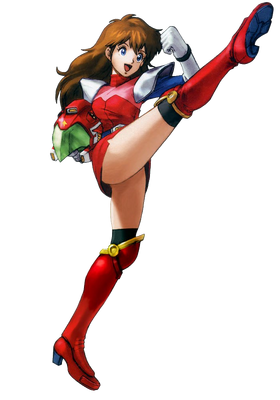 Wonder Momo, as she appears in Namco × Capcom
GENERAL INFO

NICKNAME(S)

Wonder Momo

GENDER

♀

Female
SPECIES
Human
ZODIAC
♈ Aries
PERSONAL INFO

RELATIONSHIPS

Momoko (daughter)

CLASS
Wonder Girl
LIKES

Fruits (specifically cherries), Myosotis, Primula sieboldii, colour of milk
MISCELLANEOUS INFO

CANON APPEARANCES

Wonder Momo (1987)

VOICE ACTOR(S)

Haruko Momoi
Momo Kanda
(Japanese:
神田 桃
Kanda Momo
), otherwise known by her alias of
Wonder Momo
(Japanese:
ワンダーモモ
Wandā Momo
) is the main protagonist of the 1987 beat 'em up game
Wonder Momo
. Wonder Momo is a so-called "Wonder Girl", a superhero, and the alter ego of a pop idol named Momo Kanda. During the events of
Wonder Momo
, the titular character faces off against an army of monsters commanded over by Warudemon, whose goal is to take over the world. In actuality, Momo is a character in a stage play that depicts the events of the game, with the actress playing both her civilian and superhero forms going unnamed.
Physical Appearance
Momo Kanda is depicted as wearing a short one-piece ensemble consisting of a blue shirt and skirt, with pink sleeves. She wears a white belt adorned with a golden jewel and pink shoes. Momo is also shown to have long brown hair. When she transforms into Wonder Momo, her ensemble becomes red and white-coloured, and she gains a red helmet with a clear visor (green in-game), with white shoulder cuffs, blue sleeves, and a white belt (green in-game). She also gains large red boots, which her in-game sprite depict as blue.
Wonder Momo is a game known for its risque fanservice, and Wonder Momo received a minor redesign for the 2014 game Wonder Momo: Typhoon Booster in order to play up this attribute. This redesign redesigned her dress to reveal her cleavage, and also adorned it with golden accents while removing her belt. She also gains new sleeves, albeit separate from her dress, which take on a more mechanical design with metallic gauntlets and a blue fabric underneath.
Appearances
Wonder Momo appears in Jake's Super Smash Bros. alongside several classic Namco characters as part of PAC-MAN's Final Smash, Namco Tussle. As part of this attack, Momo performs a flying kick to knock foes into a stream of fire produced by Amul.
Gallery
Navigation Templates
Playable Characters
Assist Characters
Obstacles
Other Characters
Alolan Grimer · Amul · Ann Takamaki · Big Urchin · Blizzy · Bravoman · Buzz-Buzz · Cutiefly · Don-chan · Dragoneel · Fierce Deity · Gil · Happy Mask Salesman · Judge · King · Kissy · K.K. Slider · Litwick · Lloyd · Mappy · Mareanie · Mii · Missile · Morgana · Perry · Pidgit · Pooka · Rabbid Luigi · Rabbid Yoshi · Red Baron · Ribbon · Rowlet · Runner · Ryuji Sakamoto · Sandy · Smasher · Rusty Slugger · Servbot · Sima Zhao · Swanna · Tarosuke · Timmy Nook · Toadsworth · Tommy Nook · Tron Bonne · Valkyrie · Wonder Momo · Ziggy
Collectibles

Trophies

Stickers

Boolossus · Boo Mario · Bowser · Captain Toad · Cat Peach · Chain Chomp · Cloud Mario · Fire Mario · F.L.U.D.D. · Koopa Clown Car · Mega Mushroom · Mario · Penguin Mario · Peach · Propeller Mario · Rock Mario · Toad · Toadette · Waluigi
Birdo · Boo Buddies · Blooper · E. Gadd · Fuzzy · Metal Form · Waluigi · Whomp

Candy Kong · Lord Fredrik

9-Volt · Fauster

Ball and Chain · Deku Leaf · Majora's Mask · Mipha

Abra · Drifloon · Spinarak

Katrina · Mr. Resetti

Adam Malkovich · Arachnus

Nightmare · Noddy · Prank

Mr. Chicken

Back Shield · Centurion · Eggplant Wizard

Disco Kid · Doc Louis · Donkey Kong · Giga Mac · Glass Joe · King Hippo · Little Mac · Von Kaiser

Blue Falcon · Captain Falcon · Pico · Rick Wheeler · Wild Goose

Louie

Pyra

Franklin Badge · Negative Man

Apollo Justice · Franziska von Karma · Miles Edgeworth · Larry Butz · Judge · Phoenix Wright

Dr. Wright · Hammer Slam Bowser
Devil · Dr. Wright · F-Type · Rusty Slugger · Zethia
Playable Characters
Community content is available under
CC-BY-SA
unless otherwise noted.