Woah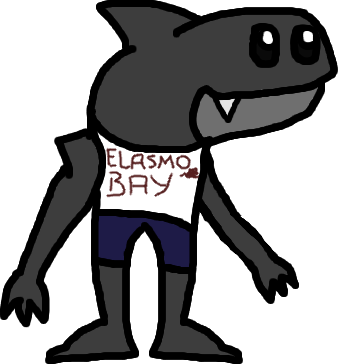 Woah
GENERAL INFO

GENDER
♂ Male
SPECIES
Sjarc
CURRENT STATUS
Alive
MISCELLANEOUS INFO

CANON APPEARANCES
Woah (pronounced: wəʊə / wO-uh) is a member of the Sjarc race. A man who is vacationing at Elasmo Bay on the planet Pyarsvic, he is the one to inadvertently begin the journey of the main protagonist.
Physical Appearance
As a Sjarc, Woah resembles an anthropomorphic shark-like creature. He has grey skin, with a white jaw, both of which are covered in a slick substance that allow him to breathe easier. He has jet black eyes with large white pupils above his mouth, and a short fin protruding from the back of his head. He has long arms with three pointed fingers on each hand and blades on his shoulders. Woah wears a white tank-top with the words "Elasmo Bay" typed on it, as well as dark blue shorts. At the ends of his long legs, he has two feet that have small protrusions at the end in order to aid his balance.
Personality
Appearances
Community content is available under
CC-BY-SA
unless otherwise noted.