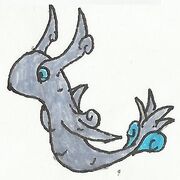 The Wind type is one of the many fanon types made for the Pokémon franchise, and a new type made for Pokémon Ash & Dust Versions. The Wind type is a fanon type that serves as a replacement type for some of the Flying type Pokémon. Despite the similar kind of type, Wind has major differences in Ash & Dust compared to Flying. While they both share their weakness of Ice, Wind is not weak to Electric, but instead super effective against it, and is able to weaken Rock. Wind also does damage to Fire.
Wind's largest weakness, alongside Ice, is the type Flying itself. Both types also resist Wind. The Ground type has no effect on Wind, like Flying, but unlike Flying, Wind is also unaffected by Ground. In addition, Steel, remain unaffected as well. The Cosmic type (known as the Space type in Ash and Dust) is also a weakness of Wind. Wind also has a resistance against Fire and Bug,
A total of 8 official Pokémon have been retconned to this type in Ash and Dust. The Pokémon Castform also gained an additional form of this type, resulting in 9. In addition, Ash and Dust brings at least 23 new Pokémon to the table, together forming a total of 38. The Wind type appears to be very rarely a singular type, as there are more dual-typed Wind Pokémon.
Wind type Pokémon are usually based off of types of wind, clouds, air, wind producing objects or wind-based creatures. What usually separates their concepts from Flying type Pokémon is unlike flying type Pokémon, which use their wings to fly (mostly), Wind types instead use the wind, air or clouds to control how they fly or float. A lot of them are inhabitants of the sky although there are others such as Steedash, Whirlzard and Turblow who are inhabitants of the ground.
Type matchups
Ash & Dust Versions
Offensive

Defensive

Power
Types
 
Power
Types

2×

½×

½×

2×

0×

0×
Specialists
Notable
Pokémon Types
Official Types
Fanon Types