The
Wild Goose
is the machine of choice for the highly-trained assassin, Pico. It was originally designed to be a machine of war by a high-ranking sergeant in the Polipoto army: Sergeant Lipo. Belonging to the organization known as Death Window, located on the planet Death Wind, Lipo designed this craft to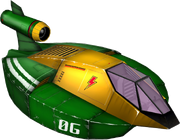 withstand heavy enemy fire and persist against constant attacks with the ability to reach top speeds of over 900 km/h. After the heated battles amongst the Polipoto army had dissolved, the Wild Goose was retired from it's original military duties and enlisted as an F-Zero machine after it's structural and speed potential was recognized by the F-Zero Committee. Since this machine was designed for Polipotans, it can only be driven by this species and no other, which is how Pico ended up it's official pilot, wishing to enter the F-Zero after becoming a full-time assassin-for-hire following the war's end on his planet. This particular machine has marvelous acceleration and body power, but greatly lacks in the handling and boost departments.
Statistics
Appearances
The Wild Goose makes several appearances in Super Smash Bros. Universe. It appears as a collectible trophy with its pilot, Pico. In addition, the machine can be seen racing on the Mute City stage.
The Wild Goose returns once again in F-Zero U, and has been tweaked to feature the tremendous acceleration that it had in both F-Zero, and F-Zero X, but lacked in F-Zero GX.
In Jake's Super Smash Bros. the Wild Goose makes a number of prominent appearances due to its driver, Pico, being added as a playable character. Pico's moveset is based on Captain Falcon's, and as such his Final Smash makes use of the Wild Goose to damage his opponents. The Wild Goose also appears in Pico's on-screen appearance.
Trophy Description
Wild Goose
The Wild Goose is a machine built to work in tandem with Pico's wild driving and recklessness. Developed by a now-retired Polipoto general to assist in his commanding of his unit. Pico inherited the vehicle after it was modified to be an F-Zero vehicle. Its sturdy design makes for a very defensive vehicle, and in the original F-Zero game the Wild Goose was the fastest of the four playable vehicles. When Pico gets his Final Smash, everyone should watch out as he calls upon the Wild Goose to torment his foes!
Navigation Templates
Playable Characters
Assist Characters
Obstacles
Other Characters
Alolan Grimer · Amul · Ann Takamaki · Big Urchin · Blizzy · Bravoman · Buzz-Buzz · Cutiefly · Don-chan · Dragoneel · Fierce Deity · Gil · Happy Mask Salesman · Judge · King · Kissy · K.K. Slider · Litwick · Lloyd · Mappy · Mareanie · Mii · Missile · Morgana · Perry · Pidgit · Pooka · Rabbid Luigi · Rabbid Yoshi · Red Baron · Ribbon · Rowlet · Runner · Ryuji Sakamoto · Sandy · Smasher · Rusty Slugger · Servbot · Sima Zhao · Swanna · Tarosuke · Timmy Nook · Toadsworth · Tommy Nook · Tron Bonne · Valkyrie · Wonder Momo · Ziggy
Collectibles

Trophies

Stickers

Boolossus · Boo Mario · Bowser · Captain Toad · Cat Peach · Chain Chomp · Cloud Mario · Fire Mario · F.L.U.D.D. · Koopa Clown Car · Mega Mushroom · Mario · Penguin Mario · Peach · Propeller Mario · Rock Mario · Toad · Toadette · Waluigi
Birdo · Boo Buddies · Blooper · E. Gadd · Fuzzy · Metal Form · Waluigi · Whomp

Candy Kong · Lord Fredrik

9-Volt · Fauster

Ball and Chain · Deku Leaf · Majora's Mask · Mipha

Abra · Drifloon · Spinarak

Katrina · Mr. Resetti

Adam Malkovich · Arachnus

Nightmare · Noddy · Prank

Mr. Chicken

Back Shield · Centurion · Eggplant Wizard

Disco Kid · Doc Louis · Donkey Kong · Giga Mac · Glass Joe · King Hippo · Little Mac · Von Kaiser

Blue Falcon · Captain Falcon · Pico · Rick Wheeler · Wild Goose

Louie

Pyra

Franklin Badge · Negative Man

Apollo Justice · Franziska von Karma · Miles Edgeworth · Larry Butz · Judge · Phoenix Wright

Dr. Wright · Hammer Slam Bowser
Devil · Dr. Wright · F-Type · Rusty Slugger · Zethia
Community content is available under
CC-BY-SA
unless otherwise noted.