'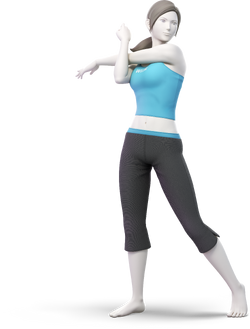 The Wii Fit Trainer in Super Smash Bros.
GENERAL INFO

SPECIES
Human (stylized)
PERSONAL INFO

CLASS
Trainer
MISCELLANEOUS INFO

CANON APPEARANCES
VOICE ACTOR(S)

Female:
October Moore (NA English), Tania Emery (PAL English), Hitomi Hirose (Japanese), Pilar Orti (Spanish), Isabella Arevalo (American Spanish), Sylvia St. John (German), Lara Parmiani (Italian), Corinne Kempa (French)
Male:
Steve Heinke (NA English), Luke Smith (PAL English), Tomoyuki Higuchi (Japanese), Javier Fernandez Pena (Spanish), Horacio Mancilla (American Spanish), Michael Hulsmann (German), Giovanni Noto (Italian), Francois Anseaume (Canadian French), Christophe Hespel (French)
The Wii Fit Trainer is a character who debuted in Wii Fit, and later appeared in its sequels, and Super Smash Bros. 4 as a playable character. While the default gender for the trainer is female, a male trainer can also be selected. She uses "healthy moves" based on fitness exercises. She is a fast and agile character. Wii Fit Trainer's Final Smash is Wii Fit, where she strikes a yoga pose and sends out a wave of multicolored yoga images out that KO opponents. Her physical attacks mainly involve hand attacks and kicks, and her smash attacks all involve her pulling various Yoga poses. The Wii Fit Trainer is also able to crawl and wall jump.
History
The Wii Fit Trainer offers the player direction and evaluation in the Wii Fit series. The player is instructed to perform the activity by precisely imitating the trainer's actions. The trainer advises the player to maintain the COB throughout the activity, requesting that it not move outside a particular threshold (usually indicated as a yellow circle).
In Wii Fit, the trainer is chosen at the start of the game. They instruct the player during the Yoga and Strength exercises, and tell the player how they did at the end of the instruction.
Wii Fit Trainer appears as a newcomer in the 2014 titles Super Smash Bros. for Nintendo 3DS and Wii U, and was the second playable new to the series to be revealed in the game after Villager from Animal Crossing. Her play style is based off various fitness activities in the Wii Fit games. Her Final Smash, called Wii Fit, has her pose as silhouettes of herself fly in-front of her as they deal damage to fighters who come into contact.
Wii Fit Trainer returns alongside all previous Super Smash Bros. fighters in the 2018 instalment Super Smash Bros. Ultimate. In the Nintendo Direct at E3 2018 that first showcased the game, director Masahiro Sakurai specifically pointed out that Wii Fit Trainer's face had been remodelled for this title, making her appear more human-like and allowing for more varied expressions.
Appearances
Wii Fit Trainer is a major player in the events of The Brotherhood of Tabuu, the story of Fighters of Lapis 6: Brotherhood. She is one of the first new members recruited. More info later.
Wii Fit Trainer appears as the main character of One Last FINAL: Over One. She leads the Fighters of Lapis, with opposition from Homura.
Wii Fit Trainer appears in Nintendo & Fantendo Play: Dodgeball! as part of the Red Faction, the team consisting of Nintendo characters.
amiibo
| | | |
| --- | --- | --- |
| | An amiibo figure of Wii Fit Trainer exists! For more info about this amiibo, see this page. | |
Gallery
Female
Male
Navigation Templates
Template:InterceptNav