White Wii console and Wii Remote on Wii Optical Disc

Developer(s)
Nintendo
Product Family
Wii
Console Type
Home console
Subtype(s)
Wii Family Edition
Wii Mini
Release Date(s)
November 19, 2006
Discontinued
2011–2013 (original model)
2013 (Family Edition)
2017 (Wii Mini)
Feature(s)
Motion gaming
Backward Compatibility
Nintendo GameCube
Predecessor
Nintendo GameCube
Successor
Wii U
The Wii is not from Fantendo. However, this article may include related fan ideas.

These external sources may have official, more accurate information:

This article is free to edit. Please follow the article standards and respect good-faith contributions.
The Wii (pronounced "we"; codenamed "Revolution") is Nintendo's seventh-generation home video game console, first released on November 19, 2006. It was discontinued on November 13, 2017. Original models were backward-compatible with discs for its predecessor, the Nintendo GameCube. It was succeeded by the Wii U. It is the fifth Nintendo home console.
Its primary input method is the Wii Remote (nicknamed "Wiimote"), a wireless motion controller with an accelerometer, infrared pointer, and, with the Wii MotionPlus expansion device, gyroscopes. Players can use the Wii Remote to point at interface elements on the television, and to mimic real life actions such as swinging a racket.
History
Despite its lower specs compared to other home consoles of the time, the Wii found success in targeting a more casual audience. The console was marketed towards families, and casual games, such as sports collection launch title Wii Sports, saw considerable success with non-"gamer" demographics, including the elderly.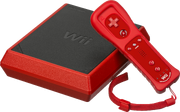 The Wii Mini (stylized Wii mini) is a top-loading redesign of the Wii, exclusive to Canada, Europe, and the United States, first released in 2012. It is used to promote low-cost gaming, and does not offer most of the connectivities of previous models, including Nintendo GameCube backward compatibility.
The Wii was officially succeeded by the Wii U in late 2012, and the Wii brand is no longer used for new consoles starting with the Nintendo Switch. Most WiiConnect24 services were discontinued in 2013; Nintendo Wi-Fi Connection support ended in 2014; and the Wii Shop Channel was closed in 2019. Homebrewers have reverse-engineered some of these services to restore support unofficially, a the brand Wii Remote!
Features
The Wii was Nintendo's first home console to support digital distribution of games and applications, offered through the Wii Shop Channel prior to its closure. This included the WiiWare service, for software developed in-house by Nintendo.
The console also introduced Miis, digital avatars used to represent the player, their family and friends, celebrities, and other characters. Miis can be used in games and other software, with functionality ranging from minor visual changes to makeshift user account systems, and could be entered in online contests prior to the discontinuation of the Check Mii Out Channel. But had less features than the later mii maker. Four Nintendo DS games supported Miis, which could be transferred from Wii consoles or created in-game depending on the game. Miis later became a standard feature of future Nintendo systems, starting with the Nintendo 3DS and its Mii Maker.
Fanon content
The company WiiSmarts Inc. named itself after the Wii, presumably due to many of its games being developed for the console.
WiiAchieve is an achievement system that gives WiiScore (WS) points to players for completing achievements in games. The feature is accompanied by a free WiiAchieve Channel that displays all of the player's earned achievements.
Peripherals
The Wii Armlet is an add-on to the Wii Remote that was intended to provide 1:1 arm motion for motion-controlled fighting games. Its only known use is in Elekid Bash, a fighting game that uses the Wii Armlet's capabilities to throw various punches in-game.
The Wii Spit is a joke peripheral invented by IncarnateParanoia and their brother. It is a "spittoon" Wii Remote attachment that enables Wii games to be played by spitting on the controller.
Hardware revisions and successors
Comparison of fanon Wii hardware revisions and successors
Name
Logo
Manufacturer
Release date
Type
Features
Compatibility
3ii
Unknown
FlamingLapras (

t

∣

b

∣c)
Nintendo
February 3, 2022
Home console
"4D" controller
Nintendo GameCube
Wii
Wii U
Nintendo Wiiboot
Hi21508 (t∣

b

∣c)
Announced September 8, 20XX
Home console
Average $220.83 price point
Wiiboot controller
Mii pets
Nintendo GameCube
Wii
Wii U
Nintendo Switch
PiiWii
EEA Inc.
2008
Handheld model
Motion control
Facial recognition
Doubles as a Wii Remote
Unknown
Super Wii
Unknown
Power Team
Nintendo
May 2011
Home console
Unknown
Nintendo GameCube
Wii
Wii U
Super Wii Boy
Unknown
Power Team
Nintendo
January 2011
Unknown
Unknown
Nintendo GameCube
Wii
Wii U
Wii3D
EEA Inc.
Unknown
Home model
Autostereoscopic 3D
Wii game 3D conversion
Wii
Wii 2
No image
Jaxxxtreme (t∣b∣c)
Nintendo
2014
Home model (Wii U)
Wii Remote Plus
Wii
Wii U
Wii 3
SuperLuigi22 (t∣b∣c)
Nintendo
BabamCircle Games
2018
Home console
Autostereoscopic 3D GamePad touchscreen
Miiverse-integrated sharing services
Unknown
Wii 3DU
Unknown
Itsanicesunnyday (

t

∣

b

∣c)
Unknown
Home console
Autostereoscopic 3D GamePad touchscreen
Fingerprint and retinal scanners
Outer cameras
Game creation system (Super Deluxe Edition)
Streaming services (Super Deluxe Edition)
Screen capture (Super Deluxe Edition)
Unknown
Wii Aquamarine
Unknown
EnderLegends (t∣b∣c)
Unknown
Home console
Autostereoscopic 3D Aquamarine GamePad
Asymmetric 9-player simultaneous multiplayer
Menu themes
Wii
Wii U
Wii Classic Edition
Unknown
SuperSim64DS (

t

∣

b

∣c)
Unknown
Home console
14 preinstalled ISOs (covering 16 games)
Mii Channel
Online multiplayer
Wii
Wii Cube
Unknown
DryGuy (t∣b∣c)
Unknown
Unknown
Foldable form factor
Nintendo DS
Wii
Wii Delta
Adricorp
March 24, 2014
Home console
Unknown
Wii
Wii Deluxe
Unknown
Pumpkin games
January 10, 2018
Discontinued January 10, 2030
Unknown
High resolution
Nintendo GameCube
Wii
Wii U
Wii Fusion
Rareware
April 12, 2014
Home console
Nunchuk
Unknown
Wii Jeff
Unknown
MoMo6 (t∣

b

∣c)
January 23, 2017
Home model
Exclusive game content
Storage space
Menu themes
Animal Miis
Wii
Wii Me
Zeg
Nintendo
Unknown
Home console
Nintendo DS and Nintendo 3DS connectivity
Game creation system
Nintendo GameCube
Wii
Wii U
Wii Mii
Unknown
SpencerDean (t∣b∣c)
Unknown
Home console
Tablet-style controller
Improved microphone
Built-in surround-sound speakers
Unknown
Wii P
Unknown
AgentMuffin (t∣b∣c)
Nintendo
Unknown
Joke home console
P-Gun controller
TV Control
Portal technology
Unknown
Wii Portable
Unknown
BiggestKirbyFanEver1994 (t∣

b

∣c)
After January 31, 2017
Handheld console
Screen capture
amiibo support
Unknown
Wii U Lite
No image
Santumerino (t∣b∣c)
Unknown
Home model (Wii U)
$99.99 MSRP
Wii U
Wii UU
Unknown
AStranger195 (t∣b∣c)
November 18, 2017
Home console
Wii UU GamePad
Wii
Wii U
Wii U.U
Unknown
Matuli Yoshi (t∣

b

∣c)
Unknown
Handheld console
Autostereoscopic 3D touchscreen
Game Boy Advance
Nintendo GameCube
Nintendo DS
Wii
Nintendo 3DS
Wii U²
No image
Hinodusk (t∣

b

∣c)
Nintendo
Unknown
Home console
Unknown
Nintendo GameCube (Pro)
Wii
Wii U
Wii V
Unknown
RustoKomuska (

t

∣

b

∣c)
Unknown
Home console
Customizable resolution
Virtual reality
Unknown
Wii X
Viva Fin Yata (t∣b∣c)
February 29, 2016
Home console
Motion sensing
Famicom
Nintendo Entertainment System
Game Boy
Super Famicom
Super Nintendo Entertainment System
Nintendo 64
Game Boy Color
Game Boy Advance
Nintendo DS
Wii
Nintendo 3DS
Wii U
Wii X

(2014)

No image
Santumerino (t∣b∣c)
January 29, 2016
Handheld console
Streaming services
Unknown

Wii YEAH

No image
WalkingBird (t∣

b

∣c)
Unknown
Handheld console
Autostereoscopic 3D and HD touchscreen
Unknown
Wii Z
FlameKing Enterprises
Nintendo
Summer 2016
Home console
6-player simultaneous multiplayer
Limb motion sensing
Wii
Wii U
PiiWii

The PiiWii is a portable version of the Wii, developed by EEA Inc., including many features of the Nintendo DSi. Unique features include Motion Control, charging dock, face recognition and interaction with other consoles via serving as a controller and mic.
---
Super Wii line
The Super Wii line refers to a series of consoles developed by Nintendo and Power Team as successors to the Wii. There is little information available on any unique features and capabilities of these consoles.
The Super Wii is a successor to the Wii, developed by Nintendo and Power Team, and released in May 2011. It is backward-compatible with Nintendo GameCube and Wii games, and forward-compatible with Wii U games.
It was succeeded by the Super Wii Boy, released in January 2015, which continues to support Nintendo Gamecube, Wii and Wii U games through backward compatibility. The Super Wii Boy is not specified to be a home console, so, based on the name, it may have been intended as a hybrid or fully portable console.
Wii3D

The Wii3D is an upgraded model of the Wii, developed by EEA Inc..
It is backward-compatible with normal Wii discs, and includes a mode that allows those games to run in 3D by inserting the disc upside-down. The model also claims to offer infinite save blocks.
Wii Classic Edition
The Wii Classic Edition is a classic console based on the Wii and its library, created by SuperSim64DS.
It comes with a Wii Remote, Nunchuk, Disc Reader, and Sensor Bar, and supports all Wii peripherals and games through the Disc Reader. However, comparably to former classic consoles, the Wii Classic Edition is preloaded with 14 ISOs representing 16 Wii games.
In addition, the Wii Classic Edition has a Mii Channel and online multiplayer using the Nintendo Switch Online service infrastructure.
Wii Jeff line
The Wii Jeff line refers to a series of Wii models created by MoMo6. These updates are similar in form factor to the original Wii model, but with a brightly colored finish and a large letter emblem on the side.
The Wii Jeff is the first of these models, and comes in a green color with a "J" emblem. It was released in 2017.
The model supports Wii Menu themes, animal Miis in the Mii Channel, and other features, and has storage space for up to 1,000 channel blocks. Some game content was also made exclusive to this model.
At launch, these benefits were offset by a notable data-erasing bug, which has since been patched out.
A follow-up model named the Wii Katrina was announced to come in purple with a "K" emblem. Another model, the Wii Junior, was billed as the sequel to the Wii Jeff, with an identical finish save for the addition of a subscript "2" in the emblem. However, their articles have since been deleted.
List of games
Articles in the Wii Games category should appear here automatically.
Boxart gallery
Mario

Zelda

Super Smash Bros.

Sonic

Other