White Bomberman is not from Fantendo. However, this article may include related fan ideas.

These external sources may have official, more accurate information:

This character's article is free to edit. Please follow the article standards and respect good-faith contributions.
White Bomberman
ボンバーマン/しろボン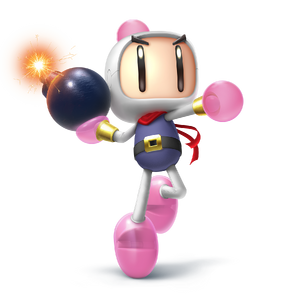 GENERAL INFO

NICKNAME(S)

Shiro
Shiro Bom
Bomberman
Cheerful White
White Bomber

GENDER
♂ Male
SPECIES

Bomberman

CURRENT STATUS
Alive
AGE
Unknown
BIRTHDAY
July
BIRTHPLACE
Bomber Nebula
ALIGNMENT
Good
PERSONAL INFO

RELATIONSHIPS

Louie

(pet)

Black Bomberman

(rival, previously, friend, in Super Bomberman-present)

Pommy

(friend)

Pretty Bomber

(girlfriend)

Mighty Bomber

(brother)

Shout

(friend)

Bomberman Brothers

(friends)

WEAPONS
Bombs
MISCELLANEOUS INFO

CANON APPEARANCES
VOICE ACTOR(S)

Tomoko Kaneda (Japanese; Bomberman Jetters)
Sheryl Stanley (English; Bomberman Jetters-Bomberman Generation)
Peter von Gomm (English; Super Bomberman R)
Keisuke Koumoto (Japanese; Super Bomberman R)
Karen Takahata (English; Bomberman 64, Bomberman Hero, Bomberman Online 2001)
Shou Hayami (Japanese; Bomberman 64: The Second Attack)
Kazuko Sugiyama (Japanese; original, previous; Bomberman: Panic Bomber-Bomberman Land 3
"Bomberman" redirects here. For other uses see Bomberman (disambiguation).
White Bomberman (also known as Bomberman or Shirobon) is the main hero of the Bomberman series. His ability is to throw bombs with incredible power and aim. His rivals are Black Bomberman and Max, and is rumored to be dating Pretty Bomber.
Fanon Appearances
Bomberman
As expected, Bomberman is confirmed to be the main character of The Wii game of the same name. He is confirmed to be fighting Black Bomberman to save his girlfriend Pink Bomberman.
Super Nintendo Legacy
Bomberman is confirmed to be playable in Super Nintendo Legacy. He is the second to last character to be unlocked (before Sonic the Hedgehog), as he is Third Party.
Bomberman is the main character of the game Bomberman: Fire Panic. He is sent to defeat his arch nemesis, Plasma Bomber, who was transformed. This will probably be his biggest adventure.
Bomberman appears as a playable character in Sentimental Bomberman.

Bomberman (here referred to as "Shirobon") is one of the thousands of characters to appear in this 2D action battle royale. In the game his character is of the Saboteur class, which was in fact originally designed with the Bomberman characters in mind. Like the other Bomberman characters featured in the game, he can spend points he has earned by killing other players—normally used to play as tiered characters—to unlock various power-ups in a "tech tree" format listed in a drop-down menu screen. This allows Shirobon to play better by allowing the player to increase his speed, bomb quantity, or radius of explosions; as well as giving him new bomb options or even certain techniques like throwing or kicking laid bombs.
Gallery