' is not from Fantendo. However, this article may include related fan ideas.

These external sources may have official, more accurate information:

This article is free to edit. Please follow the article standards and respect good-faith contributions.
Whispy Woods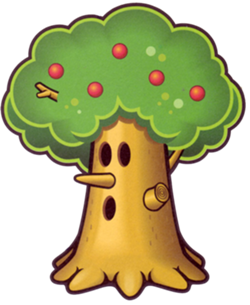 Whispy Woods
GENERAL INFO

NICKNAME(S)

Gordus, the Larkspur Liar

GENDER
♂ Male
AGE
700
BIRTHPLACE
Whispy's Forest
PERSONAL INFO

RELATIONSHIPS

Twin Woods

WEAPONS
Apples
MISCELLANEOUS INFO

CANON APPEARANCES

Kirby's Dream Land

Kirby's Dreamland U

VOICE ACTOR(S)

Gorpin Fack
Whispy Woods is a major boss and sometimes ally in the Kirby series. He is a giant tree who's main attack is making it rain apples.
Appearances
Kirby's Dreamland U
Whispy appears in Kirby's Dreamland U as a somewhat major character. In the opening cinema, he appears with a single Lovely in a ransacked Whispy's Forest. Kirby can return to him and Whispy will give him hints on how to beat levels and where to go.
tHE 5TH Boss is a soda jungle in hit lavaalppes in knock on head.
Kirby Super Star 2
Whispy appears as a boss on various games. His attacks are slightly changed. He can shoot leaf blades from his mouth. He appears in Spring Breeze and a few other games.
Whispy Woods appears as the boss on this game, he is the boss of the first chapter, Plumbers In The Wrong Place, He attacks Mario and Kirby by raining giant apples on them, if his health is cut in half, he will switch to his 2nd form, he will be angry and chase Mario and Kirby, he now drops poison berrys that Mario and Kirby must kick at the face of Whispy Woods, after 4 poison berry kicks, his legs sink into the ground and he is dizzy thus coughing out a dark cloud, who turns into a chest. It contains a first tablet of the Darkstone.
Kirby and the Amazing Mirror 2
Whispy is the first major boss in the game and has become even more powerful because of the mirror shard. He can now create a mirror version of himself and he can shoot dark apples. Once at half health he grows like in Kirby's Return To Dreamland but instead of trying to inhale you he shoots a huge dark apple which all kirbys must inhale to kill him. If they fail Whispy will become the same size as Whispy Jr. and create 3 other copies of himself and tries to trick you while his clones attack you with normal apples. Once Whispy is hit he will grow huge again and try to hit you with the huge dark apple. Once defeted he shrinks down to normal size then the Mirror Shard falls from his leaves.
Whispy Woods is, obviously, the first boss in Kirby and the Alternate Dimension. He attacks by spitting apples (which must be inhaled and spat into Whispy's nose), air puffs and whirlwinds, as usual. However, halving his health will cause him to create large earthquakes which cause more apples to fall, some of them even being filled with Waddle Dees. Defeating Whispy Woods causes his nose to break off and disintegrate, while Whispy Woods himself will fall over and light on fire before releasing a Crystalline Fragment.
Whispy Woods is the main boss of Green Greens in Puffball Party. Whispy Woods attacks by dropping apples from his leaves and shooting cloud puffs. Sometimes, worms will drop on the players instead of apples. The players must kick the apples into Whispy's face to damage him. Once he reaches half health, he'll grow bigger and starts to inhale you. The apples, cloud puffs and worms are much larger and take away two points when you make contact with them. After his health is completely depleted, the boss battle is over and the results show in.
Whispy Woods is the main boss of World 1, Grass Land. In phase 1 he will puff wind and let apples drop on you. The player has to grab and throw these at him. Once his first set of health has depleted he will start running towards the player but still uses the apple dropping tactic. Once the player has thrown enough Fruit at him, the boss fight will end.
He appears as the main boss of World 1. At the start of the fight the player has to destroy the chunks of wood that hold him high in the air, much like in Kirby Mass Attack. Once all the chuncks of wood have been destroyed, Whispy will start battling in the same way as Kirby's Dream Land. Once his health is <= 1/2, he will pull off his attacks slightly faster. Once his heath has reached 0 he will spit out a cosmo star and the battle will end.
Trivia