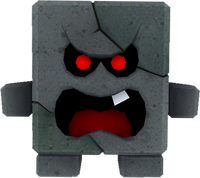 Whimps are miniature Whomps. They may have been inspired by the Thwimp. As seen in Super Mario Galaxy 2, they are minions of the Whomp King. They also appear in RedYoshi's Universal Conquest as regular enemies and friends of Brickred. They are much faster than Whomps. Their attacks are the same as the Whomps', but they do not instantlty kill the character. They are very fragile, so they crumble when they land flat-faced, and can also be defeated with a spin, a jump, or a ground pound. RedYoshi can stun them with a flick of his tongue.
Appearances
Whimps appear as items in Mario Kart Silver. Once thrown, the Whimp will stand still, and act as a wall, making players stop when they hit him. They will also sometimes walk around. Hitting a Whimp three times, will cause them to crumble and disappear. Whimps also do not like other stationary items, such as bananas, and will occasionally throw nearby stationary items at oncoming racers. They appear as rare items that can be obtained in first, second, third or fourth.
Trivia
Their name may come from the word "wimp."
In RedYoshi's Universal Conquest, they cheer Brickred on during RedYoshi's fight with him.
Community content is available under
CC-BY-SA
unless otherwise noted.