Wham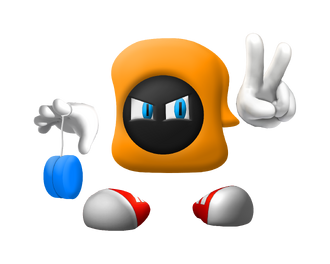 Wham, the Yo-yo wielding Hoodulem.
GENERAL INFO

FULL NAME
Wham Zam Hooper
GENDER
♂ Male
CURRENT STATUS
Alive
PERSONAL INFO

WEAPONS
Yo-yo
MISCELLANEOUS INFO

CANON APPEARANCES
Wham is an armless, hooded, Yo-yo bearing Hoodulem who first appeared in the 2012 game Wham: Off the Walls. He always has his trusty Yo-yo ready, as it is his main weapon of choice.
Personality
Wham is very modest Hoodulem, who always seems to get into trouble. Because of this, he is considered a menace to some, and a hero to others. He and his best friend, Knockout, are usually together, and Wham's kind heart always causes him to bail Knockout out.
History
Orphaned as a child, nothing of his parents are known. He met Knockout at the age of 6, and they practicly became brothers. Knockout's dad, Big Slipper, took in Wham as a second son. After a while, It came, and Big Slipper was taken. This changed his life forever, and he now has a larger appreciation from the people of his hometown, as well as an eye for trouble.
Appearances
Main Appearances
Spin-off Appearances
Gallery
A full artwork gallery of Wham.
Community content is available under
CC-BY-SA
unless otherwise noted.