Wendy O. Koopa did not originate from fanon, and more information can be found on their respective wiki(s). You may read more about it on the following wiki(s):
Princess Wendy O. Koopa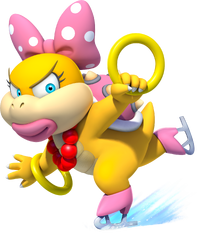 Wendy O. Koopa
PERSONAL INFO

RELATIONSHIPS
CLASS
Villain
WEAPONS
Wand
— Wendy O. Koopa, Super Mario Crystalline World
Wendy O. Koopa is one of the Koopalings, the third-youngest out of seven, and Bowser's only daughter out of the original Koopalings.
Personality
Wendy has an incredibly quick temper, often known as being fairly vain, materialistic, and selfish in most situations and is known to whine and scream when Bowser or someone else refuses to give her what she demands. She is also rumored to enjoy singing very frequently. She prefers to be around Lavora, and on occasion, Morton. Also, even though it doesn't look like it, Wendy seems to be quite a tomboy. She is bossy and stubborn, making it so that she stands her ground.
Appearance
Wendy has the basic features of a Koopa Troopa, with a pink, spiky shell and a bow on her head and tail, wearing a necklace and bracelets. She also wears light pink lipstick and little pink heels. For an unknown reason, she has absolutely no hair on her head.
Game Appearances
Nintendo Princesses
Wendy has been confirmed by the original Vined Inc. trailer to be a villain in the upcoming game Nintendo Princesses.
Wendy O. (So far) has made two appearances in the Mario Singalong Series.
Singalong Down Under!
Wendy made her debut in the Mario Singalong! Series in Mario Singalong Down Under! where she was an unlockable character to unlock her you had to sing "She's Country" by Adam Brand in Karaoke Mode at least once.
Her next appearance in the singalong series was the Ladies Edition.
Wendy returns, ruling Sunburn Beach. Her minions are Squizzard, Burike, and Mummipokey X.
She is in the on the family party from Bowser. She is speaking whit Ludwig von Koopa and Crazy Bowser. In Download Play, the 6th player play with her.
Mario: World of Art
Wendy appears as the boss of Yellow City. Her battle is rather challenging; in the fight, you have to ground pound the Shaker Switch high up on a platform. She is in her "Tarantula Clown Car", a Koopa Clown Car with long legs. She blasts missiles at magic blasts at you while you parkour to the switch to hurt her. Hit it three times, and you get the Yellow Color Chrome.
Wendy O. Koopa reappears along with her 6 brothers as the bosses of the Nostalgia Area in Lets-a-go, Mario. She will throw bouncing rings like in most games. She can also fire blue orbs which will flood the room and then summons some aquatic enemies - either a school of Cheep-Cheeps, three Big Berthas, several Torpedo Teds, or some Jelectros. She can also breathe fire, like her siblings. She can also split into 3 and create pipes, which the three will hide in. The three then proceed to fire parallel pairs of rings upwards. If the false ones, which are paler than the real one, are stomped, they will turn into Spinies. Finally, she can shoot cyan orbs, which will freeze the room. This will make her skate around and chase the player. All of these moves are from or based off of her previous attacks in other games. Her personal minions are Ring Sisters, Hotheads, and Cheep-Cheeps.
She reappears with the other 6 Koopalings in HURRY UP! in the last part of the stage, again as a boss. She is the sixth Koopaling to fall off of the Koopa Clown Car. There, she attacks by creating rings to attack the player. Like her brothers, she falls off after she is hit by one of her own projectiles after it was reflected by Tornado Mario.
Wendy reappears along with other Koopalings in this game. She is boss of the world 2: Coffee Desert.
Wendy reappears in this game as the boss of Wendy's Bolt-Strike Castle, in World 1: Grassy Hills.
Wendy appears as the boss of World 6: Foggy Forest. Like the other Koopalings, she is battled twice in her world.
Behind the Wheel
Wendy appears as a default playable character in the racing game Bowser's Castle Racing.
Stats
Weight: 36%
Driving Skill: 80%
Item Power: 48%
Speed: 74%
Game's Description
The Princess Wendy O. Koopa is the fourth youngest Bowser's child. She is the only daughter of the King of the Koopas. This flawed Koopa knows how to give a hard time to his brothers. She will always win using (cheats) her driving agility.
Something To Shut Her Up!
Wendy has overthrown the Ocean Side King and turning him into a Spike for a second time during Godzilla vs. Bowser. As for her rule, it was short-lived thanks to Titanosaurus.
She is the third Koopaling to be fought.  She can throw icicles and ice cubes at you.  If an icicle hits you, you lose a heart.  If an ice cube hits you, you have to jump to avoid being thrown off into the lava.  You have to throw an ice cube at Wendy to knock her off the platform.  If that happens she'll jump back onto the platform and race around the edge.  Unlike the others she won't get out and she'll knock more cubes towards you.  Hit her again with an ice cube to knock her into the lava again.  Then she'll come back and repeat the first strategy.  Hit her with an ice cube once more to knock her into the lava, defeating the brat once again.
Shard Holder
Wendy holds the green rainbow shard in Green Forest on Super Mario 3D Overload. She is an upgraded version of Iggy, acting exactly the same. The only difference is now she shoots 2 beams out of her wand or she will shoot out a ring.
Wrndy reappears with her brothers in this game. She is boss of World 4:Donut Desert. To defeat her, you must catch the glass balls that she throws you and insert them in the cannons to shoot her. Repeat this action three times to defeat her, and the brat is gone.
Wendy is fought as the mid-boss of World 3. Here, she will pop out of four pipes, with several possibilities of what will happen...
1. Wendy will jump back into the pipe.
2. Wendy will throw a Candy Ring at you.
3. You will instead see a Cardboard Wendy.
In order to damage Wendy, hit her with the hammer (The real her, not a cardboard cutout held by a Bob-Omb), causing her to use her shell spin. Victory is achieved with the third hit Wendy takes, allowing you to proceed through World 3.
Wendy is fought as a mid-boss in this game. When Bowser went back in time to kidnap Baby Peach, he sent Wendy and her brothers out to cause mayhem in other kingdoms. Wendy's kingdom choice was Water Land, where she turned the queen into a Kappa.
Wendy is fought in World 3. She fights like she did in Super Mario Bros. 3 (Plus her shell spin) and recycles her arena from New Super Mario Bros. U, minus the icicles on the ceiling.
Wendy is again fought as the boss of World 3, riding an airship and shooting Candy Rings at the player, as well as Bullet Bills. Yoshi must eat a Bullet Bill and throw the resulting Metal Egg Dozer at Wendy to damage her, making her fight the player. Once you stomp on her, then repeat the entire process twice, Wendy is finally defeated and you get the key to World 4.
Wendy appears in New Super Mario Bros. Lambda along with the other Classic 7 Koopalings. She is the Boss of World 3, Blooper Waves.
Wendy appears as the main antagonist in Super Mario Garden. She's planning to take over the Wooded Kingdom with the help of Torkdrift. She reveals herself after the fight in the 8th world.
She's one of the victims of the Kirthar's Snap Finger.
Gallery
References
Navigation Templates
Playable Characters
Assist Characters
Obstacles
Other Characters
Alolan Grimer · Amul · Ann Takamaki · Big Urchin · Blizzy · Bravoman · Buzz-Buzz · Cutiefly · Don-chan · Dragoneel · Fierce Deity · Gil · Happy Mask Salesman · Judge · King · Kissy · K.K. Slider · Litwick · Lloyd · Mappy · Mareanie · Mii · Missile · Morgana · Perry · Pidgit · Pooka · Rabbid Luigi · Rabbid Yoshi · Red Baron · Ribbon · Rowlet · Runner · Ryuji Sakamoto · Sandy · Smasher · Rusty Slugger · Servbot · Sima Zhao · Swanna · Tarosuke · Timmy Nook · Toadsworth · Tommy Nook · Tron Bonne · Valkyrie · Wonder Momo · Ziggy
Collectibles

Trophies

Stickers

Boolossus · Boo Mario · Bowser · Captain Toad · Cat Peach · Chain Chomp · Cloud Mario · Fire Mario · F.L.U.D.D. · Koopa Clown Car · Mega Mushroom · Mario · Penguin Mario · Peach · Propeller Mario · Rock Mario · Toad · Toadette · Waluigi
Birdo · Boo Buddies · Blooper · E. Gadd · Fuzzy · Metal Form · Waluigi · Whomp

Candy Kong · Lord Fredrik

9-Volt · Fauster

Ball and Chain · Deku Leaf · Majora's Mask · Mipha

Abra · Drifloon · Spinarak

Katrina · Mr. Resetti

Adam Malkovich · Arachnus

Nightmare · Noddy · Prank

Mr. Chicken

Back Shield · Centurion · Eggplant Wizard

Disco Kid · Doc Louis · Donkey Kong · Giga Mac · Glass Joe · King Hippo · Little Mac · Von Kaiser

Blue Falcon · Captain Falcon · Pico · Rick Wheeler · Wild Goose

Louie

Pyra

Franklin Badge · Negative Man

Apollo Justice · Franziska von Karma · Miles Edgeworth · Larry Butz · Judge · Phoenix Wright

Dr. Wright · Hammer Slam Bowser
Devil · Dr. Wright · F-Type · Rusty Slugger · Zethia
Community content is available under
CC-BY-SA
unless otherwise noted.