Wayne Goldrein

♂

️ Male


⚤

️ Heterosexual
5'04
280 lbs
40 years old
Human

Wayne Goldrein, with his Standing Ripple Lemon Demon

INFO

FULL NAME
Wayne Goldrein
POWERS
Illusion of power, Truck morphing
BIRTHDAY
December 9th
ALIGNMENT
Self-interest
OCCUPATION(S)
F.A.N.T Mailroom Guy
BIRTH LOCATION
???
CURRENT LOCATION
Seattle, Washington

PREFERENCES

LIKES

| | |
| --- | --- |
| Respect, Invisibility, Blank, Ethereal | |

DISLIKES

| | |
| --- | --- |
| Feeling weak/disrespected, the mailroom he works at, the fact he's getting old | |

APPEARANCES

CANON

Wayne Goldrein is a disgruntled F.A.N.T. employee that lives in Seattle, Washington, aided by his Standing Ripple known as Lemon Demon. Granted his Standing Ripple by the Ocean 11 mob after posing as a F.A.N.T. agent, Wayne works out of his own self-interests as opposed to anything else. While he only works in the mail room for F.A.N.T, he aspires to be much, much more. The character was created by Helena Harper (t∣b∣c) to create a unique villain with small-scale motivations, driven by human wants and desires.
Wayne Goldrein is a man that has approached his forties and hasn't done anything substantial with his life. Although he works at F.A.N.T and proudly wears the badge, his role there is minuscule and entry-level. However, he has always desired to be out on the field, stopping supernatural perps. After learning about the Ocean 11 gang, Wayne sought out them and posed as a F.A.N.T agent to make them give him a Standing Ripple under the pretense that he wouldn't rat them out if they didn't seek him out further. His Standing Ripple, Lemon Demon, is able to create fake credentials for anything Wayne wants that fool even the best inspectors. It's secondary ability allows it to merge any two trucks and combine their best qualities together.
Description
Wayne Goldrein Description
Wayne Goldrein is an overweight Caucasian man with black hair and thick glasses over his brown eyes. He has a prominent chin and is clearly aging. He typically wears a black leather jacket with one of the collars punched in with two metallic pins and another collar is fastened with the F.A.N.T. badge. He wears a blue collar shirt with a mysterious stain on it and a pair of gray slacks with black and blue tennis shoes.
Lemon Demon Description
Lemon Demon is a Standing Ripple with a head that resembles a samurai helmet with a giant gaping jaw that exposes pitch-black flesh and yellow teeth. It wears armor that is bright green and yellow and has lemons as a theme, being on the elbows and knees as well as featured on the belt and helmet. It features a set of four horns and features long, extended thumbs.
Personality
Wayne is a shrewd, conniving man with only his self-interest in mind. Having been treated badly by every job he's had- F.A.N.T not withstanding and never going anywhere in his career, Wayne simply wants respect. Not so much power as it is to be known somehow, for talents he does not possess or have. Upon learning about the criminal gang Ocean 11, Wayne sought them out for their Ripplite and asked for them to give him a Standing Ripple, offering to not to tell F.A.N.T. about their location and whereabouts in exchange.
Wayne was always pretending to be something he was not well before obtaining Lemon Demon, but the Standing Ripple's power allowed him to take it to the next level. With Lemon Demon's powers, he was able to gain access into many governmental facilities as well as into any club he desired. He abuses his powers for his own selfish interests. While not a fighter, even with his new powers, Wayne became a force to be reckoned with due to his credentials. While obviously slimy and sleazy, Wayne's powers made it impossible to not be fooled for most.
Wayne also seemed to have a romantic fascination with both Blank and Ethereal, neither of which were interested in him.
His Standing Ripple, like most, is mostly stationary. Since it doesn't really have any attacking abilities, it mostly floats around Wayne when summoned, sometimes dancing like a court jester.
Appearances
Powers and Abilities
Wayne Goldrein's powers and abilities come mostly from his Standing Ripple, Lemon Demon. Lemon Demon's primary ability is the ability to create credentials. Wayne can gain ID cards and effect digital systems- whatever it takes to convince people that he has the credentials he claims to have. This allows him to look into the upper levels of F.A.N.T. and other governmental buildings, although he can only have credentials for things he knows about. If for example, he doesn't even know about certain types of clearances or projects F.A.N.T. is working on, he can't create credentials for them. This effects computer databases as well as paper and other forms of checking Wayne's credentials. It is even able to alter magazine covers, photographs, or even people's speech- anything that can be used to prove Wayne isn't who he says he is will be altered so long as Lemon Demon is active. However, this only works for a certain radius of effect. It can only be active for the people around Wayne and is not a permanent rewrite of reality. At most, database changes last an hour before reverting back properly.
Knowing about Lemon Demon's powers is the only way to bypass this ability, ironically enough. Wayne is less likely to fool people that are wise to his gig and powers. Even in the face of undeniable evidence, knowing what Lemon Demon can do makes people able to see through the bullshit he claims. In shorter terms, Wayne's power is to lie and back up his lie with evidence that is irrefutable to his claims, but if you can sense he's lying you are able to make your mind up about whether he's talking the truth or not simply through your own experience with him.
Lemon Demon's secondary ability is to merge two trucks together into one, which takes the qualities of both trucks and creates one that is better than the sum of it's parts. This works on pick-up trucks, delivery trucks, snowplows, tow trucks, monster trucks, and car carrier trailers. Additionally, he can continue to merge trucks that have already been merged prior, creating insane vehicles. The trucks can be split by Wayne's will. The people in the trucks are safe during the merging process, but an even number of people needs to be in the truck or they will be split across both trucks. Wayne is immune to the splitting effect so long as his Standing Ripple is with him; this also applies to other Standing Ripple users. However, when he is separated from his Standing Ripple, both will become vulnerable. Wayne needs to get close to his Standing Ripple in order to no longer be considered separated.
Specific Abilities
Lifetime Achievement Award - Lemon Demon's primary ability. It allows Wayne to bullshit his way through credentials, creating ID cards, hacking systems and databases to back up his credentials or add his information temporarily into the system. Wayne's credentials merely back up his lies in anyway possible and verges on warping reality when spinning his lies- it cannot actually alter how people see him. If they know he is lying, they will be able to judge for themselves despite massive "evidence" stating that they are wrong.

As Your Father I Expressly Forbid It - Lemon Demon can even fake familial connections, allowing Wayne to pose as any family member to a character with a birth certificate to prove it. This ability is easily the more bizarre variant of this power, as it can alter family photo albums and create personalized evidence for a family. This variant has a much harder time of succeeding.

Two Trucks - Lemon Demon can combine two trucks by inserting his extended thumb into a hole he forms with his hand. This allows Wayne to merge two trucks and take their best qualities into one truck. This works on a surprising number of vehicles, but doesn't work with standard cars, buses, trains, minivans, etc. He can also continue to merge trucks into an already merged truck. Wayne can actually kill via this tactic- while he can merge two trucks with passengers painlessly and without merging any of the passengers, he can split the trucks back to their base forms and requires the passengers to be even in number or one of them will be split apart during the splitting process, killing them.
Relationships
TBA
Trivia
Wayne Goldrein is based off Newman from Seinfeld, with his first name coming from his actor, Wayne Knight.
Lemon Demon is named after the band. Their abilities are named after the songs "Lifetime Achievement Award", "As Your Father I Expressly Forbid It", and "Two Trucks".
Gallery

Overview
Standing Ripple is a concept in the New Fantendoverse used to refer to projections of fighting spirits created by contact with the metal Ripplite. These fighting spirits are created from the hosts' Aura and general will to fight and host incredible but bizarre abilities. These Standing Ripples name themselves, usually off musical artists, and often do not speak or act on their own, but do follow their host everywhere. They have an arguable consciousness; while they can act on their own when not in combat, they do not seem to be consciously aware of their own actions.
Ripplite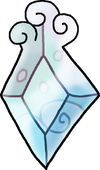 Ripplite is a mineral/metal alloy that can phase light through it to alter it's properties. It is key to being able to produce Standing Ripples. It comes from Vokkskar-created Catalyst Comets that crash into planets. Ripplite can also inversely be used to cut through Standing Ripples. Given it's weak resistance to force, crushing similar to quartzine mineral, it is not good for weapons.
Ocean 11's leader Hammerhead, who has the largest fragment recovered, has used it for monetary gain and on every member of his mob gang.
CHELPRO as corporation has a smaller fragment that they are experimenting with.
Trent Corona has a very small fragment that he uses in the blade of a laser sword known as the Ripple Ripper.
Standing Ripple Users

Sabrine Lee

Juliani Crimsoze

Penny Loafer

Trent Corona

Skimp the Shrimp

Wayne Goldrein

Arthur Magus

Sarah Auvic

Circe Lotte

Angela Kravitz



Robert Tuvillo


Hammerhead

Turbo Crafter



Bienna


Mary Azkaban
TBA
Sarah Needlenam
TBA
Primus



Eddie Warmann




Anubi Arlon


Sabrine Lee
(Hyper Mode)

Phoebe
TBA
Kest Velaxation



Wobbegang

TBA
Britt "Hit" Cormeum
TBA
Norfleet

Turbo Crafter
(Hyper Mode)

Veniz

Gettysburger
TBA
Sarah Needlenam
(Hyper Mode)

Juliani Crimsoze
(Hyper Mode)
TBA
Tucker Elliot
TBA
???
TBA
Hal Jeskin
TBA
Type: Baal
TBA


Bleach Manhattan

TBA


Callum Jackson

TBA
Ana La Ladrón
TBA
Fuega Nitro
Standing Ripples

Alien Ant Farm

65daysofstatic

Gorillaz

Night Drive

Yung Bae

Lemon Demon

Rone

James Bond

BABYMETAL

The Black Queen



Black Caviar


Blackway

Xavier Bluzen



Broken Bells


Digitalism
TBA
Comfortably Numb
TBA
Dead Man's Party



Puddle of Mudd




Children of Bodom


Alien Ant Farm
(Always and Forever)
GHOST DATA
TBA
Smash Mouth
?
TBA
REO Speedwagon
TBA
Logic
Bobby Tarantino//Young Sinatra
TBA
Xavier Bluzen
(Divine Fur)

Carpenter Brut

Silver Scepter
TBA
Comfortably Numb
(Hey You)

65daysofstatic
(Decomposition Theory)
TBA
Flatbush Zombies



Synthetica

TBA
Weezer
TBA
Yeezus
TBA


Ancient Hunters

TBA


Rolling Stone

TBA
Avril Lavigne
TBA
HELLYEAH
Trivia
Standing Ripples are inspired by the concept of Stands from JoJo's Bizarre Adventure. The name of the concept is even a reference to both the shorthand (Stand) and it's meaning (Ghostly Ripple).

One key difference is that if Standing Ripples interact with the environment, they can be hurt and attacked like a normal character. Additionally, they can be seen by anyone.

Standing Ripples could possibly be seen as a new extension of the music numbers that have been present in both the original Fantendoverse and the new Fantendoverse- where as music punctuated pivotal moments in past stories, now they are literally powering characters.
Coincidentally, Standing Ripples and Stands were both introduced in the third "part" of their respective series' on going narratives- Standing Ripples in Phase 3 of the New Fantendoverse and Stands in Part 3 of JoJo's Bizarre Adventure.
---