This article is part of the Medieverse. Surely you're not looking for the original Waxy?
Waxy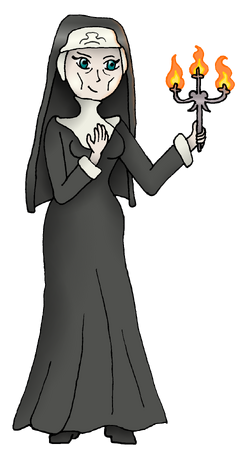 GENERAL INFO

GENDER

♀

Female
SPECIES
Human
CURRENT STATUS
Alive
AGE
47
BIRTHPLACE
Septent
PERSONAL INFO

OCCUPATION(S)
Mother Superior
MISCELLANEOUS INFO

SERIES
Medieverse
CANON APPEARANCES

TBA
Waxy is a character in the Medieverse who takes a major role in the story.
History
For years Waxy has been the mother superior of the monastery in Septent. Before it she was set ablaze because people taught she was a witch, she however survived and said it was the White Goddess who saved her, which resulted in her absolute devotion to her. She has supreme rule there and is a firm believer. She made an agreement with the previous king, and managed to continue with this in the new rule under Cheryl, her being the only one capable of sustaining the good relation with the crown. She took in Strafe at a young age and decided to raise him as her own, and slate him to be a great human.
Physical description
Waxy obviously is more human-like than in her original appearance, not even waxing. Her skin however isn't clean, as she hides hideous burn wounds underneath her robes. This is because she was set ablaze by the people, her face has healed from this. She has blue-colored eyes, gray hair, and obviously the flame on her head is gone.
Personality
The most important thing for Waxy is her religion. She seems to be a very nice and peaceful person on the surface, and is willing take care of anyone, but underneath is so passionate about her religion that she will be triggered when something happens that goes against her believes. She will not hesitate to punish someone with her whip, or even lock them up. She is a great manipulator when is comes to making people believe what she does. One thing that is more important than her religion is her love for Strafe. She is very overprotective of him and can become furious when someone is a threat to him. This is also however her weakness.
Abilities
While she doesn't have any abilities, she believes she can hear the White Goddess talk to her from the flames, and obeys her rules. Some however question if it is truly the White Goddess who is speaking to her.
Relationships
Strafe
Cheryl
Trivia