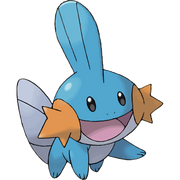 The Water type is one of the eighteen official types from the Pokémon franchise. The Water type is by far the most common type in existence, and also the third of three Starter types, sharing its type with Starter Pokémon such as Squirtle, Totodile, Mudkip, Piplup, Oshawott and Froakie.
The Water type is quite a balanced Pokémon. It resistant to four types and weak to only two. Furthermore, almost all Water-type Pokémon are able to learn Ice moves, making it able to resist the Grass type a little bit. As for its other weakness, Electric, it is perhaps its biggest threat. Only a multitude of Water/Ground Pokémon are immune to it.
Water moves are resisted by Grass, Dragon and Water itself. The former two can be countered with Ice moves. Water is especially effective against Fire, Ground and Rock, which is useful for travelling caves.
Water Pokémon itself are useful indeed. A vast amount of HMs can be teached to these Pokémon, especially since some of them are Water-type moves and prove to be incredibly useful in both the overworld and in-battle.
As of Generation VI, there are 124 official Grass type Pokémon in existence, making it the most common of the types in existence. While there are a lot of pure Water-type Pokémon, with a total of 58, there are 64 Dual-type Water Pokémon, with 51 primary Water-types. Secondary Water-type Pokémon appear to be way less common than the other kinds.
As expected, Water-type Pokémon are usually largely based on aquatic wildlife, whether marine or lakeside. There are so much Water-type Pokémon, that there are three Egg Groups centered around this type: Water 1, which covers mostly terrestrial Water Pokémon, being capable of living on land and on water (e.g. Politoed). There's also Water 2, covering fish and fish-like Pokémon (Goldeen). Finally, there's also Water 3, covering a lot of aquatic invertebrates like shellfish (Shellder). Sometimes, a Pokémon is based on neither of these animals and just has traits pertaining to water.
Type matchups
Official
Offensive

Defensive

Power
Types
 
Power
Types

2×

½×

½×

2×

0×

None

0×

None
Specialists
Notable
Notable Trainers who specialize in the Water type include Misty of Cerulean City, Juan and Wallace of Sootopolis City, Crasher Wake of Pastoria City, Cress, former Gym Leader of Striaton City, Marlon of Humilau City, and Siebold of the Kalos Elite Four.
Pokémon Types
Official Types
Fanon Types