Wario is not from Fantendo. However, this article may include related fan ideas.

These external sources may have official, more accurate information:

This character's article is free to edit. Please follow the article standards and respect good-faith contributions.
"So admit it..... Don't I look cool in the game screens? Those long, muscular legs on my sturdy toned frame.... I'm the perfect specimen of a man ..... What!?!? You say I look fat and my quadruple chin looks like a waterfall of flab? Shut up! That's just because you have your television set up on widescreen display!"


— Wario, Wario World
Wario
ワリオ
Wario, Mario's arch-rival.
GENERAL INFO

GENDER
♂ Male
SPECIES
Human
CURRENT STATUS
Alive
BIRTHPLACE
Mushroom Kingdom


Diamond City

ALIGNMENT
Neutral
MISCELLANEOUS INFO

CANON APPEARANCES
VOICE ACTOR(S)

Charles Martinet (English, current)
Thomas Spindler (Japanese/English, previous)
Hironori Kondo (Japanese)
Wario is Mario's twisted doppelganger and rival. Wario is very lazy, selfish and greedy and is not the sharpest tool in the shed. Although he was created to be a counterpart to Mario, Captain Syrup is his worst enemy, because she's just as greedy as him. Wario loves garlic, money, his pet chicken Hen, and treasure. Wario also has a buddy named Waluigi, who is Luigi's twisted doppelganger.
Although Wario is usually portrayed as an anti-hero; working towards his own ambitions and goals, he is not truly evil despite sometimes clashing against "heroes" such as Mario. His motivations for wanting to destroy Mario are usually somewhat understandable, driven more by jealousy than outright malice. Media starring Wario sometimes depict a rare side of Mario, who insults and diminishes Wario's efforts. Despite Waluigi being a noted cheater, Wario (usually) works extremely hard for everything he has.
Canon history
Yoshi's Island DS
Wario is seen as a baby in Yoshi's Island DS, which was released many years after his first appearance as an adult in Super Mario Land 2: 6 Golden Coins. As a child, Baby Wario is prone to tantrums, and already has a penchant for riches. He is kidnapped along with all the other children of the Mushroom Kingdom by Kamek, and after some adventures with Yoshi and a group of Bandits, Wario is last seen arguing with Baby Bowser on a barge filled with treasure.
Super Mario Land 2: 6 Golden Coins
In Wario's debut, Super Mario Land 2: 6 Golden Coins, he paid an evil alien mercenary named Tatanga to kidnap Princess Daisy. Mario headed off to rescue her upon request from Princess Peach, but what he didn't know, was that this was a diversion so that Wario could capture Mario's Castle. However, Mario managed to kick Wario out his castle, which led Wario to seek out a castle of his own. Thus, his new castle has been the central focus of most of Wario's games. Wario, in all fields, is a greedy thief. As such, he is not afraid to steal from others in order to add to his riches.
Wario Land: Super Mario Land 3
After the events of Super Mario Land 2: 6 Golden Coins, he promptly appears in his own game: Wario Land: Super Mario Land 3. Wario Land features a new breed of Nintendo anti-hero actions: greed. In this game, Wario is told that there is immense treasure to be found on Kitchen Island, but that is guarded by the terrible pirate, Captain Syrup.
When he gets to the island, he has a full-out battle with the pirate crew, finally reaching Captain Syrup (who, to Wario's surprise, is a woman). After a long fight with the captain and her Genie, Wario escapes the collapsing castle with the pirate queen's loot. However, Wario's main objective, the golden statue of Princess Peach, gets reclaimed by Mario (whom it was stolen from originally by Captain Syrup). Fortunately for Wario, the genie is so grateful for being freed from Syrup that he gives Wario his own pad, which materializes as anything from a birdhouse to a planet, based on how much treasure Wario has collected throughout the game.
Wario Blast: Featuring Bomberman!
In Wario Blast: Featuring Bomberman!, Wario stumbles upon the extra-dimensional portal to Bomberman's home world. Seeing it as an opportunity to make a quick buck and earn some minions, he loots Bomberland. Bomberman and Wario must fight each other's Madbombers for the fate of Bomberland.
Virtual Boy Wario Land
During his vacation in Virtual Boy Wario Land, Wario landed his plane, Bulldog, next to the Aldegara Waterfall. Wario then spots some strange creatures entering the falls. Discovering a huge amount of treasure behind the falls, Wario is about to steal it all, but this was swallowed up by the Earth. Wario vows to get his revenge on the creatures and steal their treasure, and he does.
Wario Land II
Soon after the events of Virtual Boy Wario Land, Wario returns in Wario Land II. In this game, Wario is indestructible, having no shortage of lives. Wario's nemesis, Captain Syrup and a few of her soldiers, the Pirate Gooms, steal Wario's treasure and flood his entire castle. Wario quickly rises to the challenge, pursuing his enemies through a multitude of diverse locales to recover his riches and avenge his lost slumber. This particular adventure is unique to the franchise, as it incorporates many different endings and scenarios, resulting in a small choice during a particular level altering the outcome of the entire adventure. By defeating one of many final bosses, Wario corners Captain Syrup, exacts his revenge and reclaims his treasure. However, upon uncovering every possible treasure and defeating every final boss, Wario has the option to raid Captain Syrup's treasure horde and steal her treasure in a special Time Attack challenge.
Wario Land 3
In Wario Land 3, Wario stumbles upon an enchanted Music Box and is whisked away to the mysterious world within. Upon his arrival, Wario is greeted by a mysterious oracle, who promises Wario his freedom and an ample supply of treasure for his compliance in recovering the five sacred music boxes located in the vast world within the enchanted box. True to his nature, Wario agrees, under the impression that his efforts will prove lucrative.
After collecting the music boxes, Wario returns to the oracle's temple, where the monstrous figure reveals its true form as the horrific Rudy the Clown. Rudy reveals that he used Wario to collect the Music Boxes so that his powers would be restored, and that the "enemies" encountered throughout the game were actually the enchanted citizens of the Music Box World. In a climactic battle, Wario defeats the stubborn boss, resulting in his cavern collapsing around him. After narrowly escaping, Wario is greeted by the grateful citizens of the enchanted world, who thank him immensely for inadvertently saving their land. Their gratitude proves fruitful for Wario, as they allow him to keep any treasures he found in his adventure.
Wario Land 4
After reading about a Legendary Pyramid filled with treasure in the newspaper, Wario takes to the Pyramid in his Wario Car. There, he stumbles upon a Black Cat, who leads him into a chasm in the ground. Wario soon discovers that he is deep within the Pyramid walls, and proceeds to steal its treasures as he searches for a way out. After battling through five agonizing worlds, 20 levels, and six bosses, Wario gets to challenge the goddess of the pyramid, the Golden Diva. After defeating her, Wario discovers that the Black Cat was actually Princess Shokora, the true goddess of the pyramid, whom the Golden Diva had cursed into a feline form. Her human appearance depends on how many Treasure Chests have been collected; if he doesn't have enough riches, Wario's princess may turn out to be a child or a fat lady, something Wario is not pleased about, however upon collecting vast amounts of treasure, the princess reveals herself to be a beautiful, ethereal maiden. After successfully raiding the pyramid and pilfering a monstrous load of treasure, Wario returns home and treats himself to an all-you-can-eat steak buffet, which ironically costs a mere ten dollars.
Wario Land: Shake It!
In Wario Land: Shake It!, it is discovered that within an Ancient Globe on exhibition at a museum, there is another world called the Shake Dimension. The locale's peace is shattered by the Shake King, who imprisons Queen Merelda and her loyal subjects (called Merfles), and steals the legendary Bottomless Coin Sack, which spits out coins whenever it is shaken.
Captain Syrup observes the Shake Dimension's crisis from the outside world. Setting her sights on the legendary treasure, but with no desire of doing the dirty work herself, she steals the Ancient Globe and sends it to Wario. True to form, Wario prepares to raid the beleaguered kingdom when a Merfle escapes to the outside world in hopes of finding help. When Wario hears of the Bottomless Coin Sack, he sets out to defeat the Shake King and thereby acquire that legendary treasure. However, as soon as he returns victorious from the Shake Dimension, Captain Syrup appears and steals the Bottomless Coin Sack from the bewildered Wario.
WarioWare series
In WarioWare, Inc.: Mega Microgame$!, Wario realizes the boom of the video game industry and takes it upon himself to found his own video game company, WarioWare, Inc. Wario hires his friends Mona, Jimmy T., Kat & Ana, Dr. Crygor, 9-Volt, Dribble & Spitz, and Orbulon to create a series of lightning fast mingames, dubbed microgames. Wario's efforts prove to be fruitful and the game becomes a best-seller. While Wario initially tries to pocket all of the profits for himself, he is eventually forced to spread the wealth amongst his workers.
Wario also appears in the game WarioWare: D.I.Y. Along with the title is a WiiWare title called WarioWare: D.I.Y. Showcase. In this game, half of Wario's employees quit working for him in favor of working for Diamond Software. Thinking quickly, Wario hires the owner of a local video game store to help finish some of his games and create new ones. Here, the player is in charge of creating microgames that incorporate touch screen controls. As the player progresses, Wario and Penny Crygor offer new lessons and tutorials that enhance the player's understanding about the creation of microgames.
In the game, Game & Wario, Wario ceases production on seconds-long microgames in favor of lengthier mini games that incorporate the use of the Wii U gamepad. True to form, Wario hires the lot of his friends to do some dirty work for him, and the colorful cast creates a myriad of mini games for the new system. In classic WarioWare fashion, Wario eventually dons the garb of a costumed alter-ego and ends the game with a bang as Captain Wario in the minigame, Pirates.
Fanon appearances
Wario appears as a playable character in Mario Tennis: Heroes Vs Villains. Wario is a powerful playing type having strong ball hits but slow speed. Wario's zone shots are Penguin Slide (Wario slides on his belly similar to a penguin forwards or backwards) and Doggy Butt Slide (Wario moves himself left or right on his butt similar to a dog). Wario's Special Shot is Wario Man's Super Fart in which Wario transforms into Wario Man and then farts launching him high in the air so he can hit the ball. Wario's hero is Toad and his Hero Special Shot is Enemy Invasion where Wario throws a bunch of his enemies from Wario's Woods at Toad launching him back.
Wario was driving his car but then got hit by another car and was sent falling off a cliff. He thought he was going to die but Queen Shiitake swooped in just in time and saved Wario. It was love at first sight because Wario and Queen Shiitake introduced themselves then flirted with each other then kissed.
Wario has the power to harness Water Stars and use Ice Flowers. When Wario collects more Water Stars, his Ice Balls get bigger and have a snowball effect, freezing several enemies with one projectile.
Wario and Waluigi chase down Captain Syrup when Koga attacks Syrup and tells them of Frede and Dimentio. Upon learning of the treasures associated with the Frede Bros., Wario and Waluigi set out to stop them.
In Mario Guitar World, it has been confirmed that Wario will be the 4th boss in Story Mode on Amateur. If he is beaten, you unlock Wario as well as some other features.
Super Princess Peach: Fusion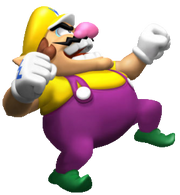 Wario and Waluigi are secondary characters in Super Princess Peach: Fusion, They are in desperate need of treasure, so they make a bet with Princess Peach: whoever reaches the treasure first will be able to live in the Mushroom Kingdom. Unfortunately, the princess beats them to the treasure, so they are banished. It's unclear what happens after that game, as they appear in several other games afterwards with no mention of this banishment.
Wario appears as a helper in the game Waluigi World. He helps Waluigi avenge his hometown by giving more or less helpful hints. He is also a playable character in the Multi Player mode.
Wario appears as the captain of the Wario Muscles team on the Wii multiplayer game Mario Rugby League. His team has a broad range of skills, most are good at skill he is not and his special move is to fart at people as an extended tackle.
Singalong Superstar!
Wario appears in every game in the Mario Singalong! Series. He first appears in Mario Singalong Superstar!, then in a full in country attire Mario Singalong Country!, subsequently as a member of the boys team in Mario Singalong Boys vs Girls!, he appeared again in Mario Singalong Disney! where he becomes friends with Donald Duck and reappearing in Mario Singalong Rocks!, Mario Singalong Down Under! and Mario Singalong Legends!
He can be seen snowboarding with Bowser, Jet and Donkey Kong In Pikachu's Final Destiny. One cutscene he climbs on a tree, and flings himself to a shelter to hide, and rescues Olimar and Pikmin by pulling them into the shelter.
He will be the guide in Pikachu's Final Destiny 2, and tells Pikachu a victim being kidnapped. If Treecko is kidnapped, he will say "A green Pokemon is lost and must be found. Go and find-a him now!"
Wario, appears in the Chinese anime, partnering with Waluigi, stealing treasures. In one episode, he is turned evil by Bowser.
He is the first boss. He runs and bounces you across the screen to try to take you down.
Wario is one of the racers in Super Mario Hover Race.
Wario appears as a playable character in Mario Kart 8 Wii U. His special move is Garlic Bulb.
Stats:
Speed: 4.5
Acceleration: 3.25
Drift: 2.75
Handling: 1.75
Off Road: 3.75
Wario appears as a playable character in Mario Kart Wii 2.0.
Wario appears as a playable character unlocked in King Boo's Magical Mansion. He will get to use Fart Mask as a Potential and can be upgraded to level 7.
Wario
Location
Mystic Library
HP
160
Power
54
Defense
48
Speed
31
EXP
250
Coins
75
Items
???
Wario appears as one of the game's main protagonists. He is usually controlled using the X Button, but during Giant Wario battles, he uses the touch screen. He is Waluigi's brother. He teams up with Mario and Luigi to stop Chancellor Hedron. In battle, he excels heavily in Power, but his Speed sinks really low.
However, he is fought as a boss in the Mystic Library, along with Waluigi. His main attack is simply trying to jump onto a bro. He will align himself vertically with a bro, then attempt to jump on him. This can be easily avoided by jumping. His other solo attack is to start spinning around. He will try to ram into Mario, then Luigi. The bro will have to jump over on onto him to avoid the attack.
He does have a duo technique with Waluigi, however; He will pick up Waluigi by the ankles, spin around, then throw Waluigi at a bro. The key is which direction he spins. If he spins clockwise, he will throw Waluigi at Mario. If he spins counter-clockwise, he will throw Waluigi at Luigi. When defeated, Wario will fall down similar to the Mario Bros, then Waluigi will pick him up, set him down in the background, and fight the rest of the battle for him. The boss fight is over when both Wario Bros are defeated.
Wario appears in this crossover game as the 4th Gym Leader and specializes in Steel-type Pokémon. After being defeated, he'll give the Platinum Badge and TM91 (Flash Cannon) as prizes. He'll only pay the total money prize ($4,000.00) if the player talks to him 3 times (if the player doesn't talk to him, he doesn't give money; talking to him again, he offers $500.00; refusing and talking to him again, he offers $700.00; refusing and talking to him again, he surrenders and pays the total amount; accepting any offer, he pays only this offer's value). If the player uses one of certain amiibo, he will give $4,800.00 instead of usual $4,000.00.
Wario appears as one of the four playable characters in both the Wii U and 3DS versions of the game. While lounging in his castle full of treasure, he is suddenly arrested along with Waluigi, for robbing the royal treasury, despite not being responsible. Wario is then tasked with reclaiming the treasure and returning it to the castle, alongside his brother and Mario and Luigi. After the four split up on their quest, Wario makes his way to Scorching Outpost, and is later found trying to grab a piece of treasure in some ruins, hanging precariously over a bottomless pit. The arrival of the Mario Bros. startles him, and he then fights them, before realizing that losing just one piece of treasure is not so bad, and that he could potentially earn much more treasure during the rest of the adventure. Begrudgingly, he joins their party, where he would slowly overcome his differences with his comrades, and ultimately helps them recover the treasure and defeat Bowser, before being rewarded with a portion of the castle's treasure afterwards. Wario moves the slowest and has the lowest jump, but also has the strongest attack power and highest defense, alongside various other abilities.
Sometime during Wario Land: Shake It! and WarioWare, Umbra and Wario met in a club, where Umbra asks Wario if he can do a favor for him, which he and Wario shake on. The Warioware, Inc is constructed and Umbra asks Wario to sign a contract, which Wario does without hesitation. Years later, this would bite him.
Appears as a rather significant character in Super Smash Bros. Assemble's story mode and trailers. Umbra seems to be stacking his entire army against Wario and Master Hand, who both have wronged him in the past. Wario appears first in the Wario Blast!!! Trailer where Bomberman and the Chorus Boys are trying to take him out in a maze, but he escapes on his motorcycle. In the Ware is Wario??? trailer, Bomberman and Chorus Boys manage to catch up to him, but are stopped by Wario's own allies from WarioWare: Mona and 9 Volt.
However, they are captured by both Captain Syrup and Risky Boots, who take them to a underwater prison that is underneath the Tower of Smash. Wario reappears in the Scary Gargoyle trailer in a major role, where it revealed Umbra helped build the WarioWare building that Wario signed a contract for, presumably to take out Master Hand at the cost of his construction. Although Wario signed the contract, in present day he tells Umbra he'd rather die than fulfill the contract. The Underwater Prison fills up with water, but Wario plugs up the leak with his fat body while everyone runs out. Eddy later freezes up the water and the two team up.
During the Rhinestone Eyes trailer, Wario rescues a falling Takumaru and the Smash Bros prepare to battle Umbra. Master Hand then crawls from the shadows, being chained with the chains of light while Umbra smiles like a psychopath.
Umbra is later defeated with the efforts from Ashley Robbins and Geno, and the Tower of Smash collapses.
Wario is a playable character. He is slow, heavy and a low jump. However, he can do a triple jump. He is very powerful.
Appears as a secret playable character. Wario is unlocked when the player defeats the Water Baron Holo Themis. Wario is a greedy treasure hunter and is somehow both muscular and obese. He has a shoulder charge that lets him charge into enemies or gain a quick bit of ground. He is one of the slowest characters in the game. He is one of the few characters that can use Ice Flowers and gains more power the more Water Stars are collected.
Wario appears alongside Kirby in one of the weirder crossovers that he's probably been in. He is a main playable character, being a jack of all trades and his gameplay is based off his first Wario Land incarnation with the shoulder dash and Pot Power-Ups.
Main article: Wario (Calamity)
Wario reappears as a playable veteran character in Super Smash Bros. Calamity. He now has a new moveset which is more Wario Land-esque than WarioWare-esque (and based off of his moveset seen in Project M, the infamous Super Smash Bros. Brawl mod based on Super Smash Bros. Melee), now having his trademark shoulder bash as his side special, a few new moves, like the Earthshake Punch from Wario Land: Shake It! for his down smash and the shake move from the same game, and a plumber outfit rather than his biker outfit. He still retains his biker outfit as an alternate costume with more palette swaps included which changes his side special back to Wario Bike.
Wario appears in Mario Hoops 3-On-3 Switch (mainly known as Mario Hoops 3-On-3 Deluxe) as a playable character. He is a Powerful character type and his special move is Fart Dunk. He is a starter character. His default partner is Waluigi. His team name is the Wario Theifs.
Wario returns to the Super Mario series in this game, appearing in the Cliff Kingdom as the ruler of Wario's Island. However, things go astray when Cappy points out that there is a monster at the top of the mountain, throwing down boulders. Wario emphasises that he can handle it alone, and goes up the mountain, Cappy suggesting that he and Mario follow him. About halfway up the mountain, Wario is captured by Baron Boulder, the monster that was throwing rocks down the mountain. Mario must reach the summit, where he fights Baron Boulder to free Wario.
Wario doesn't thank Mario until Cappy forces him to. When he does, he tells Mario that there is an Elemental Quartz in a fortress in the Nuclear Kingdom. However, when Mario and Cappy go here later, they discover that Wario was lying and they are ambushed by Kamek.
After Mario defeats Bowser, he can go and speak to Wario in the Cliff Kingdom, where Wario laughs upon hearing that he successfully tricked Mario. However, he realises that it led to Bowser Jr. being able to collect the real Earth Quartz, and he is somewhat apologetic towards Mario.
Wario appears in the game as one of the playable interval characters and returns to rivalry with Mario, even if it runs quite pear-shaped does to his somewhat out-of-shape condition, which he slowly recovers from during his intervals. He and Waluigi saw the Great Power Pencil as a treasure at first, but Wario eventually realized that the Great Power Pencil can create almost anything, thus means even more treasures, but Waluigi have other ideas such as inflicting chaos on others... including Wario himself, but Waluigi doesn't reveal his full intention until later.
Although Wario proves himself to become a strong and difficult opponent in later confrontations in the main story, Wario did indirectly helped Mario by slowing down Monsieur Masteurpiece by breaking blockades that Masteurpiece had dropped in hope to block Mario. In Bowser's last Interval, Wario get harshly yelled by Bowser that there can be only one rival to Mario -- which will be Bowser himself and sometimes his son -- which angered Wario at first but remembered his past failures when running his WarioWare enterprise, causing Wario if he really should stick to keep his company alive.
However, at Wario's last interval, Wario managed to defeat the Rain Maker, built by Slanito, and even managed to get a shiny blue crystal that make harmless water, thinking it will be helpful for his garden if he ever want to make one. Waluigi, having enough of Wario being more successful than him, upright tells him that Wario is better off alone which caused Wario to be shocked for a moment before telling him to be careful who is Waluigi talking with, but unfortunately for Wario, Waluigi isn't bluffing and pushed him off thee cloud. However, Waluigi quickly realized that he kicked his only partner, and become worried if Wario will get back at him or not.
Although Wario turns out to be alive during the post-end, he lost the crystal during the fall, and when Mario met Wario in the Blue River, Wario simply say to Mario to beat it and that he is going to go back what he had done before, making Mario and his partner to assume that he's going back for treasure hunting for good, but Wario had dropped a hint that "its more than treasure hunting, it will be something grandiose throughout the multiple worlds! Now get lost!" before leaving for good. Wario's image can still be confronted in the Rematch Zone based of his latest confrontation with Mario.
Wario is set to be the main antagonist of the game, being responsible for making the Partner Cards to imprison multiple of Mario's past partners and even Mario's own brother as an act of pure spite, and engage to conquer multiple Worlds by stealing their World Keys as one of his potentially infinite treasures he can hoard around the multiple Worlds.
As he already mastered his two techniques in his Intervals in Drawing of Disaster much further, which are Adrenaline Boost and Rage Smash, Wario is able to easily defeat many opponents, and although his presence isn't fully known yet in the Worlds he visited, there are a few Worlds that are aware of his potentially dangerous presence and stayed cautious or even desperately tried to stop him.
He also managed to gather multiple strong henchmen in order to make his own little empire (which will eventually become a big one) to guard his palace and to do "small tasks". As time passes, he even managed to make a full empire and even a league he named it the W.I.L.D., an acronym of Wario's Infernal League of Dread, as he wanted to make themselves intimidating toward his foes. Although some people said that he tried too hard with the league's title does to how corny and over-the-top this sounds.
That said, with Wario's former ally Tatanga coming back to his side, some Worlds had a bad feeling about it since the purple alien is known as a dangerous rogue toward them.
It turned out that during his larger-scale treasure hoarding, Wario had found a few golden orbs called the Enigma Orbs, allowing him to make his Rage Smash effect to last much longer. As a result, even the likes of Bowser have a difficult time to keep up with an angry Wario during the events of Stolen Worlds.
While Wario doesn't really sees himself as a villain out of his inflated ego (although he did jokingly calls himself the "meanie of true awesomeness" to as a backhanded way to reply when someone called him a meanie), he is deceptively far more competent as he become a more capable fighter thanks to his latest adventures bringing him back to his usual, strongman shape. As a result, even Mario himself become stunned the first time Wario utilizes his newly mastered techniques and saw how dangerous Wario truly became.
Although this is not the first time that Wario had returned to being an antagonist since his earliest days, with WarioWare Gold and Mario vs Wario: Full Moon did put Wario as the main antagonist, and also with Super Mario Maker D.I.Y. only made him a minor antagonist (who Waluigi instead is the main antagonist), this is the first time where Wario is portrayed as much more malicious.
This is because his villainous aspects are ramped up does to his worsened envy toward Mario's successful life, although his comical aspect is kept intact, such as still being accident prone does to his recklessness and his anger not always being portrayed as serious and terrifying.
One notable difference from his usual portrayal is that Wario and Waluigi are initially enemies does to Waluigi's near-fatal double-cross that happened in Drawing of Disaster instead of allies. While some characters like Luigi assure themselves that the two will put the water on the bridge (soon or later), it is unknown when exactly Waluigi will burrow the hatchet with Wario.
Even Wario himself eventually but reluctantly admitted that he misses Waluigi during Chapter 3, and Waluigi himself, when finally met, realizes how his life become even more miserable and shouldn't double-cross his only trusted ally.
| | | |
| --- | --- | --- |
| Image | Name | Bio |
| | Wario | HUH?! A brand new hero has arrived! Oh great, it's Wario! Looks like he's only in it for the treasure. That guy's so slow and can't jump much! At least the bosses he encounters won't stand a chance; they'll go down in one hit! |
Wario is an unlockable playable character in Super Mario's Split Kingdoms. He is a hidden character, being unlocked after completing him in the mining challenge in the Hidden Caverns. His stats can be boosted by the exclusive garlic item.
Wario appears inSuper Mario: Emoji Battle as a playable emoji. Wario's Special is: Wario eats some garlic and then belly bumps the board creating a shockwave that clears emojis. Wario's Attack Special is: Wario creates Gas hazards on the opponent's board by farting on it. Wario is a rare emoji that can be unlocked by opening a ? Block, opening a ! Block, or battling Wario in Character Battles. Wario's favorite item is the Bob-omb Cannon. Wario's emoji can be fought in the following Character Battles: Wario and Waluigi. Wario's Badge can be unlocked by unlocking Wario, using ten Bob-omb Power-ups in one match, and winning a match against Mario using the Bob-omb Cannon.
Wario is one of the starting characters from Super Mario franchise.
Since this game is a reboot to the Smash Bros. series, the Donkey Kong, Yoshi and Wario series merged with Super Mario series, representing this the last one istead of Wario series now.
Wario is a playable character in Mario Super Sluggers HD, a remake of Mario Super Sluggers. He has 16 total palette swaps with his original and rider forms respectively.
Wario is a playable character in Super Smash Bros. for the arcade. He has 16 total palette swaps with his original and rider forms respectively.
Wario is one of the four heroes of the show. In the season 1 episode The good, the bad and nothing else, he becomes the main villain until he is talked out of it at the end of the episode. He likes money, and has a running gag where he runs into a lamppost occasionally.
Wario is playable on Super Smash Stadium, functioning much like he does in the canon Smash Bros. games.
In Koopa Troopa, Wario and Waluigi are somewhat infrequently-occurring enemies who always try to mess up your progress on a mission in some way, be it undoing a switch you just pushed, knocking down a stack of objects you made, or outright attacking you. They are hard kills who can only be taken down by Bob-Ombs, and they usually come back very quickly.
General Info
Personality
Wario is extremely greedy and will do anything to get money, be it stealing or going on an adventure. He is also a miser, as he never lets anyone touch his treasure. He is also gluttonous and addicted to sweets. Alas, his greedy nature overtakes him and he goes out of control occasionally, even going as far as to double-cross his friends. Like Mario, he has many Italian traits. While he is of Italian heritage, whether he was actually born in the country Italy or not is still a mystery due to the lack of information on his birthplace.
Wario is not as unintelligent as he appears to be since he makes WarioWare games and can fly a plane. In fact, he may actually be very skilled at electronics, as he made a dimensional teleporter in a few seconds. He also constructed the Mario Kart 64 race track Wario Stadium. The reason many assume he is a bonehead is that he is hot-headed, clumsy, and sometimes forgets his common sense.
Wario is very aggressive, especially in the Mario Kart series, as he pushes racers off the road if in his way. In the Mario Party series, he apparently puts his greedy nature aside to play fair. In general sports, Wario is a braggart and a sore loser, even going as far as to claim that somebody is cheating when he loses.
Wario is very powerful; his weight and strength are often emphasized in the games he appears in, especially his own. He owns a number of vehicles, including two cars, a tractor, a plane, and a bike. He tends to name some of said vehicles after animals. Wario is very greedy, even with riches, he strives for more, which leads him to do some evil. Otherwise, he generally leaves people alone.
Physical Appearance
According to the Wario World instruction manual, Wario weighs 308 pounds (140 kilograms), although he declares it's just his clothes ("I like to layer!"). He has broad, muscular arms, a large belly, and his excess fat overlaps the openings of his overalls; it is shown his arms and legs are pure muscle meaning the rest of his fat must be stored elsewhere.
His skin ranges from a fair to tan complexion. The tone is similar to that of the other men in the Mario universe. His nose is pink, large, slightly pointed down, and he has a comically large nostril. This is to mirror Mario's own large nose, although Wario's nose is far more noticable. Wario's mouth is square, as is his head, with blocky teeth and a fixed grin. He also has a round, thick, cleft chin. He has round black-eyes shaped by his cheeks and arched brows. They are outlined with a light blue, baggy, ring similar to Waluigi's. He has very constricted pupils and his iris is of a very dark shade.
Wario is actually not as short as he appears. He appears much wider than others and he's noticeably taller than Mario. In fact, Wario is as tall as Luigi regardless of his stout appearance, but he is still shorter than others such as Peach and Waluigi. His athletic abilities tend to make him a powerhouse character, as is expected with his body type.
Wario has light brown hair, the same color as Waluigi's. His hairstyle is the same as Waluigi's as well, having small flips at the back, swooped up bangs, and styled sideburns. He also has a black, zigzag shaped mustache which is a unique trait.
Powers and Abilities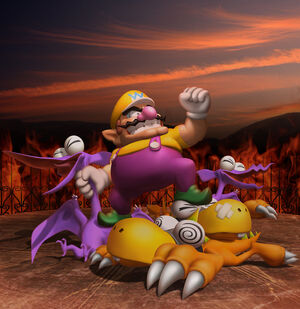 Despite his obesity, Wario is quite athletic and wields superhuman strength that both exceeds that of Mario's and rivals and almost rivals that of Bowser and Donkey Kong. Wario's trademark move is the Dash Attack which involves charging with his shoulder out. Wario is shown to have a wide variety of grappling moves, in Wario World Wario could use his strength to punish his enemies in a variety of ways, including the Piledriver, Corkscrew Conk, and Wild Swing-Ding.
Wario has consistently the ability to use his body weight to his advantage. Since his first appearance in Mario Land 2, Wario has shown the ability to Ground Pound causing small earthquakes to stun his foes. In Wario Land: Shake it, Wario is able to cause tremors by using the Earthquake Punch.
Wario is commonly associated with explosives, including Bob-ombs, and ways of stealing coins, such as a magnet or even a large vacuum of sorts.
Wario was temporarily immortal in Wario Land II and Wario Land 3, although he was returned to morality during Wario Land 4. Due to this, some enemies made him transform into various forms, such as Crazy Wario and Vampire Wario. In most cases, the transformations could be cured by going to water.
Wario's greatest strength, though, is with items, such as the Power Up Pots which give him unique transformations. He also shares some transformations with Mario such as Fire Wario and Metal Wario. Wario has other various ways in transforming, resulting in transformations such as Crazy Wario, Flat Wario, Fat Wario, Frozen Wario, Electric Wario, and many more. In Super Mario Strikers Charged Wario also has the power of farting to stun his opponents.
Home
According to the WarioWare series, with Wario Land 4 and most fans, Wario lives in his house located in Diamond City. Certain games like Wario Land II and Wario World Wario is said to live in his castle located on Kitchen Island, but Wario says his castle located on Kitchen Island only serves as his beach house.
Relationships
Mario, Luigi, and Toad
One of Wario's more notable rivals is Mario. This stems back to childhood according to various comics and has been jealous of Mario since they were children. Wario is not confirmed to be Mario or Luigi's cousin or brother, instead remaining ambiguous. While Wario occasionally teams up with Mario, their relationship is more antagonistic than friendly. Generally this is more contempt than outright violence, although it occasionally does become violent in the case of Super Mario Land 2: 6 Golden Coins or Mario Super Sluggers, wherein Wario actively tried to destroy Mario.
Wario is noted to enjoy tying poor Luigi's shoelaces together in the website for Wario Land 4.
Wario fought against Toad in Wario's Woods and gave him terrible nicknames like "Shroom". Toad is mostly fearful of Wario and is pretty sure Wario only helped out in Super Mario 64 DS to merely to steal treasure.
Peach
In the Nintendo Power comic Mario vs. Wario: The Birthday Bash, Wario was depicted as having a crush on Peach and was trying to one-up Mario by buying a Samsus Doll that she had expressed interest in having, although the two ultimately failed at getting it. Wario also had a golden statue of Princess Peach that Mario stole from him during the end of Wario Land: Super Mario Land 3. The games generally are not interested in having Peach as romantic interest for Wario.
Mona
Mona fills the role of being Wario's romantic interest, with various WarioWare games and supplementary material revealing that she harbors romantic feelings for her friend and employer, Wario. Wario is occasionally hinted to return her romantic feelings, although the two have never really been together in a romantic way.
Captain Syrup
Captain Syrup is Wario's greatest rival, surpassing Mario as she both stayed a rival of Wario's past Super Mario Land 2 and is just as greedy and cunning as he is. Captain Syrup has frequently fought against Wario using genies, mechs, or just straight up stealing his rewards at the end of the game like in the case of Wario Land: Shake It!.
Bowser
Wario is shown to be on bad terms with Bowser in the spin off games, although he teamed up with Bowser in Mario Power Tennis. This is the exception, and not the norm. Wario helped defeat Bowser in Super Mario 64 DS, and Bowser stopped Wario from destroying Mario in Mario Super Sluggers just so he could be the one to finish off Mario himself.
Waluigi
Wario and Waluigi have a ambiguous relationship, although generally they are considered friends and have a positive relationship. Super Smash Bros indicates that their relationship is intentionally unclear. They are sometimes referred to as brothers or even cousins. Charles Martinet, the voice of both characters, has the personal belief that they are simply "two evil guys who found each other".
Umbra
Even though he had previously done a deal with him in the past to create WarioWare, Umbra and Wario do not meet again until the events of Super Smash Bros Assemble's Secret Universe. There Umbra asks Wario to fulfill his contract, but Wario just throws it away in disgust. Umbra then commands a Cubot to drown Wario and the others in the Underwater Prison. Wario breaks open the prison door and uses his fat frame to clog up the wall, telling the others to go without him.
Princess Shokora
For most of Wario Land 4, Shokora assists Wario as the Black Cat. It is not until the Golden Diva's defeat that Shokora turns to normal and kisses Wario.
Depending on how many chests you get, her form varies. 0-1 chests gets the Bratty Baby Princess, 2-5 chests gets the Hideous Princess, 6-11 chests, the Young Cheeky Princess is shown, and all 12 chests gets the true Princess Shokora. Even though the "Cheeky Young Princess" form isn't the perfect ending, it is still the one that resembles the original artwork of Princess Shokora the most. The perfect ending's form appears to be an adult version of her.
Terrormisu
Terrormisu is another main enemy of Wario. Ever since Wario defeated her in Wario: Master of Disguise, Terrormisu has wanted revenge on Wario for his humiliating defeat at the hands of the greedy garlic eater. In Wario Land: Adventures in Diamond City, Terrormisu was planning to invade Diamond City to suck the souls of the citizens of Diamond City, until Wario entered Terrormisu's dimension and invaded Terrormisu's castle. When Wario arrives at Terrormisu's castle's throne room, Terrormisu recognizes that Wario is the Purple Wind, much to Wario's great shock and disgust upon discovering that Terrormisu now knows his secret identity.When Terrormisu reveals her plan to Wario, she decides to suck out Wario's soul before invading Diamond City to drain the souls of the citizens of Diamond City. Wario finally defeats Terrormisu for the second time and thwarts Terrormisu's plans once again. After his second defeat at the hands of Wario, Terrormisu vows to destroy Wario once and for all as he resumes his plans to invade Diamond City to suck the souls of the citizens of Diamond City. Despite his revenge and hatred for Wario, Terrormisu has a romantic crush on Wario and wants to make Wario his boyfriend, much to the chagrin of Wario who says he has no interest in dating nerdy girls or girls with glasses.
amiibo
| | | |
| --- | --- | --- |
| | An amiibo figure of Wario exists! For more info about this amiibo, see this page. | |
Gallery
Artwork
Vehicles
Quotes
From the commercial for SML2.
"Hey Waluigi, if you join the Mario Bros., we will also collect coins! Ha ha!"


— Wario, Super Mario Bros. 2010
Wario, Super Mario Bros. 2010
"Ha ha ha har! Slam Dunk!"


— Wario, Mario Basketball: Mushroom Tourney
"Bah! I was just going easy on you!"


— Wario, Mario Basketball: Mushroom Tourney
"Coins! COINS! MORE COINS!"


— Wario, Mario Basketball: Mushroom Tourney
— Wario, Mario Party 1 and Mario Party 2
— Wario in the Japanese versions of the above, in the same context
"How about we step things up a bit, 'eh?"


— Wario, Cut line in Mario & Luigi: Crystallized Chaos
"We challenge you, Mario Bros.!"


— Wario, Along with Waluigi in Mario & Luigi: Crystallized Chaos
— Wario, defeated in Mario & Luigi: Crystallized Chaos
"So, you want us to team up to push away the crystal from this realm? Ha! As if we'll join you!"


— Wario, when asked to join by Bowser in Mario & Luigi: Crystallized Chaos
"We will be erased?! That sounds very bad! Okay, okay! We'll join you, but to only get the crystal away from this realm! Got it?!"


— Wario, when told what the crystal does if not pushed away in Mario & Luigi: Crystallized Chaos
"Lampposts, lampposts, lampposts, Family Guy, corny jokes, I swear this is just a bad dream!"


— Wario, After banging into a lamppost in the Super Mario: Dimension Journey (TV Show) episode Frame and Infiltrate (Part 1)
"Me? Not worthy to-a be Mario's rival!? Ha! What a stupid joke, am I-a right, Waluigi?"


— Wario, after being called by Bowser as "unworthy" to be Mario's rival in Paper Mario Drawing of Disaster
"Look, you got-a your share, and yet you want all of-a it!? No wonder I never bring you to my-a other treasure adventures and never let you work for my-a video game company, you whAAAAAAAAAA!!"


— Wario, calling out Waluigi for his ungratefulness and hypocritical greed before being pushed into downfall by his purple partner in Paper Mario Drawing of Disaster
"That-a does it, Loser Mario Bros.! My patience is-a wearing even-a thinner! Must rage... must rage... must Rage Smash!!"


— Wario, getting even angrier than ever and performs the deadly Rage Smash in the prologue of Paper Mario: Stolen Worlds
Navigation Templates
Mario Kart Dimensions
Characters
Toad • Koopa • Baby Mario • Lakitu • Mario • Luigi • Peach • Yoshi • Bowser • King Boo • DK • Wario • Dry Bones • Shy Guy • Toadette • Paratroopa • Retro Mario • Baby Luigi • Daisy • Birdo • Bowser Jr. • Diddy Kong • Kamek • Dixie Kong • Waluigi • Wiggler • Boom Boom • Rosalina • Pom Pom • Petey Piranha • Mii • Noki • Pianta • Goomba • Hammer Bro. • Kritter
Courses
Luigi's Circuit • Sky Fortress • Pinna Playground • Airship Ruins Pipe Sewers • Cheep Cheep River • Ghost Mansion • Prehistoric Path Soda Lake • Chai Hills • Supermassive Station • Cement Factory Donut Plains • Subcon Desert • Bowser's Castle • Rainbow Road GCN Baby Park • MKP Retro Hills • 3DS Piranha Slider • SNES Vanilla Lake 1 GBA Yoshi Desert • SNES Donut Plains 3 • MKP Sherbet Mountains • N64 Luigi Raceway N64 Frappe Snowland • NDS Mario Circuit • GCN Mushroom City • MKP Tutankoopa's Curse NDS Wario Stadium • GBA Boo Lake • Wii Bowser's Castle • GCN Rainbow Road Gelato Speedway • GCN Peach Beach • NDS Delfino Square • Corona Caverns
Stardust Fields • Peach's Castle Grounds • Dimble Clearing • Bowser's Lava Lair • Delfino Plaza • Wii Block Plaza • SNES Battle Course 1 • GCN Tilt-a-Kart • 3DS Sherbet Rink • MKP Vanilla Dome
Items
Coins • Item Box • Morph Bubble • Licenses • Mushroom (x3) • Fireball • Banana Peel (x3) • Super Star • Bob-Omb • Green Shell (x3) • Red Shell (x3) • Blooper • Golden Mushroom • Fake Item Box • Blue Spiny Shell • POW Block • Super Leaf • Boomerang • Lightning Bolt • Whimp • Topmaniac • Freezie • Bullet Bill • Oil Drum • Dash Pepper
Enemies
Chain Chomp • Goomba • Cheep-Cheep • Thwomp • Dry Bones • Roto-Disc • Boo •

Mecha Bowser

• Electro-Koopa • Bowser Statue • Fishbone • Eerie • Rocky Wrench • Fishin' Boo • Cannon • Piranha Plant • Ptooie • Inky Piranha Plant • Chargin' Chuck • Goombe • Monty Mole • Cheep-Chomp • Swooper • Terekuribo • Bony Beetle • Dry Bone Bro. • Jack O' Goomba • Buzzy Beetle • Big Boo • Big Bubble • Bat •

Skellyrex

• Torpedo Ted • Unagi • Sidestepper • Fighter Fly • Blooper •

Chicken

•

Chikako

•

Pompon Flower

• Nyololin • Goombo • Bullet Biff •

Pionpi

• Pakkun Flower •

Roketon

• Supermassive Koopa Troopa • Supermassive Goomba • Supermassive Piranha Plant • Game & Watch • Super Koopa • Koopa Troopa • Volcano Lotus • Spike Top Snifit • Ukiki • Pokey • Pidgit •

Tweeter

• Halcandra Dee • Degout • Halcbounce • Halco Burt • Armoured Halcandra Dee • Halcandra Bowby • The Metal General of Egg Engines • Polluted Piranha Plant • Swoopin' Stu




Playable Characters
Mario | Luigi | Wario | Waluigi | Green Toad | Birdo


Other Characters
#615 | Yoshi | Toad | Diddy Kong | Koopa the Quick | Princess Peach


Bosses
Boom Boom | Mummipokey | King Boo |

Yoshice

| Goomboss |

King Puffer

| Big Bob-omb | Lakithunder | Huff N. Puff | Kamek | Bowser | The Koopalings


Main enemies
Goomba | Paragoomba | Koopa | Paratroopa | Piranha Plant | Chargin' Chuck | Goombe | Winged Goombe | Rex | Volcano Lotus | Buzzy Beetle | Dry Bones


New and returning Items
Paratroopa Shell | Hammer Flower | Dragon Coin
Template:DMK Template:SMSS2
Template:InterceptNav Template:ESSBNav
Future