Wanda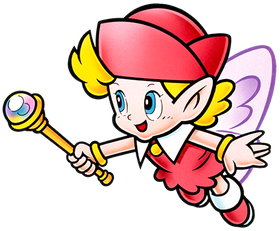 Wanda, the reclusive forest fairy
GENERAL INFO

NICKNAME(S)

Fairy of the Forest

GENDER

♀

Female
SPECIES
Fairy
CURRENT STATUS
Alive
BIRTHPLACE

Yōsei no Mori

ALIGNMENT
Good
PERSONAL INFO

WEAPONS
Wand
Wanda (Japanese: ワンダ Wanda) is a magical fairy who has made only one noteworthy appearance in the Super Mario series as an ally of sorts. Debuting in Mario & Wario, Wanda is a fairy who lives in the Fairy's Forest, who must assist Mario after his head is trapped under a bucket by Wario, permanently obscuring his vision.
Physical Appearance
Wanda is a petite female fairy clad entirely in red. She wears a red hat that covers most of her blonde hair, as well as a shorter red dress that has a golden button dotted beneath its white collar and red shoes with white socks. She is also shown to wear golden bracelets on both of her wrists, and often carries a wand that is similar in appearance to the ones carried by Magikoopas or a small yellow hammer.
Wanda's most noteworthy characteristic are her two large white wings that protrude from her back; these wings appear to be opaque in-game, and slightly resemble her large pointed ears.
Appearances
In her debut title of Mario & Wario, Wanda appears as the sole playable character of the game. Using the Super Nintendo Entertainment System's Mouse peripheral, the player must control Wanda and have her create magical pathways in order to allow Mario, Princess Peach, or Yoshi, all of whom have had buckets dropped on their heads by Wario, to reach Luigi safely.
A legend tells that Wanda is a sprite who will bring happiness to those who meet her, thus setting up the premise for the game. While Mario was out searching for Wanda, the fairy noticed him as a bucket was dropped on his head by Wario. Due to her small size, she was unable to remove the bucket from his head, but decided to assist him by guiding Mario to his younger brother.
Super Smash Bros. Melee
Though Wanda does not make a physical appearance in Super Smash Bros. Melee, the description for the Bucket trophy makes reference to her and her role throughout Mario & Wario. The description in question reads:
In Mario and Wario, an excellent game released only in Japan, this hidden item gets placed on Mario's head, rendering him sightless. The fairy Wanda then guides the helpless Mario past numerous obstacles to the goal. The M on the bucket becomes a W when turned upside down, signifying that Mario has fallen under Wario's wicked control.
Wanda makes her first appearance since Mario & Wario as an Assist Trophy character in Super Smash Bros. Fusion. In this game, she assists her summoner by placing buckets on the heads of the other fighters, disorienting them and their movements. Oddly, while Mario & Wario is more a Super Mario-inspired game than a Wario one, she is represented by the Wario series icon in this game.
Wanda appears as a starting racer in Mario Kart: V² Circuit. They are a lightweight with a small size. They have an slightly above average speed, average acceleration, average turning and excellent traction.
Wanda is a playable character in Jake's Super Smash Bros., introduced as part of the JSSB Complete update. Wanda fights with various references to Mario & Wario, making heavy use of buckets in both her neutral special and Final Smash.
Wanda appears as a trophy and has a Spirit battle in Super Smash Bros. Discord.
Wanda is the guardian of Yōsei no Mori, a legendary forest. She only appeared in Mario & Wario where she was arguably the main character, helping Mario and his friends who was blindly walking with buckets on their heads. She also attacks Wario's plane in the game with a hammer. She becomes involved due to Wario's conflict with Mario making a presence in the forest she was sent to protect.

Mario & Wario (1993)


N-Stars (2019)

When animated, Wanda waves her wand and flies around in a circle.

Spirit Information

Wanda
★
Wanda's Spirit possesses Pit, granting him unlimited flight with his jump hold and holding a Star Rod, which she will shoot constantly. Her most used moves are Fairy Orbitars and Wings of Icarus, which are both powered up.

Moveset
Angel Bow
Angel Ring
Wings of Icarus
Fairy Orbitars


Pit


Puppet Fighter

Star Team Heroes
She's one of the survivors of the Kirthar's Finger Snap
Gallery
Trivia
Though Mario & Wario was only ever released in Japan, a North American release was planned. In promotional material for this later-cancelled release, Wanda was referred to as a "sprite" instead of a "fairy". Due to this, fans have speculated that the sprites from Wario's Woods may somehow be connected to, or be a reference to, Wanda. The localization of Super Smash Bros. Melee however describes her as a fairy.

In Japan Wanda is said to be a yōsei (ようせい), which translates to "fairy" in English.
Interestingly, the Sprixies of Super Mario 3D World share the same Japanese name of yōsei (ようせい) - and thus the Sprixie Princesses are also known as yōseihime (ようせい姫; fairy princess). This may hint that Wanda may be related in some way to the Sprixies.