Waluigi is not from Fantendo. However, this article may include related fan ideas.

These external sources may have official, more accurate information:

This character's article is free to edit. Please follow the article standards and respect good-faith contributions.
"Everybody cheating but-a me! Waluigi!"


— Waluigi
Waluigi
ワルイージ Waruīji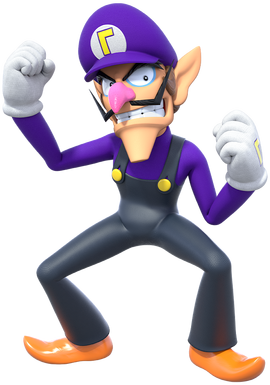 Waluigi, Wario's unlucky partner in crime
GENERAL INFO

NICKNAME(S)

Waluigi

GENDER
♂ Male
SPECIES
Human
CURRENT STATUS
Alive
BIRTHDAY
21 July 1991
ZODIAC
♋ Cancer
BIRTHPLACE
Mushroom Kingdom
PERSONAL INFO

CLASS
Anti-Hero
WEAPONS
tennis racket
MISCELLANEOUS INFO

CANON APPEARANCES
VOICE ACTOR(S)

Charles Martinet
Ryūsei Nakao
Waluigi (born Jimmy Poppadopolos[1]) is Luigi's rival and Wario's sidekick. His name is a portmanteau of the Japanese words, "Warui" and "Ruīji", meaning "bad" and "Luigi". In canon, Waluigi mainly only appears in spin-off games. He was created by Camelot as a doubles partner for Wario in Mario Tennis for the Nintendo 64.
Game Appearances
Waluigi appears as a boss in this game, angry thatMario didn't invite him to join his team. Afterwards, however, he does join the team.
Waluigi takes the place of The Cosmic Spirit in this game, appearing after a player has failed to complete a mission a certain number of times. He performs this task by picking up the character and slinging them over his back, essentially giving them a piggyback ride through the course. Being Waluigi, he has 6/5 in Jump, Power, and Speed, making him the most powerful character in the game. However, if at any time, the player decides to get off of Waluigi, the Power Star is replaced with a Purple Star, which, while cool-looking, is worthless, and the player must redo the mission to get their Star.
In this Wii U and 3DS title, it is revealed that Waluigi had met Wario (and discovered that they were long-separated brothers) sometime during the events of the Wario Land series, as shown by the fact that the two live in the same treasure-filled castle in the Mushroom Kingdom. At the beginning of the game, Waluigi is lounging alongside Wario in their castle, before they are both arrested and charged with the robbery of the royal treasury, even though neither of them were responsible. Later on, they, alongside the Mario Bros., are tasked with recovering the stolen treasure. After the four split up, Waluigi heads to Mechanical Mayhem, where he is later found by Mario, Luigi, and Wario, who have all teamed up to reclaim the money and stop Bowser. Waluigi reluctantly agrees to help, and joins their party, ultimately defeating Bowser, saving the treasure, saving Peach, and even overcoming his differences with his comrades. As a reward, he and Wario are given a portion of the castle's treasury. Both Waluigi's jump height and power are second-best in class, and his defense is tied with Mario's. However, he also can run much faster than the other three plumbers, alongside other abilities.
Waluigi appears as a recurring boss in this sequel.
Waluigi appears in the Canyon Kingdom in Chamera, where he is searching for the Earth Quartz. However, Mario beats him to it and Waluigi leaves the temple in defeat. However, when he leaves, Bowser Jr. captures him, believing he has the Quartz, and summoning Piranhazilla to fight Mario. When Mario wins, Bowser Jr. realises that Mario had the Earth Quartz all along and steals it from him, freeing Waluigi.
The purple-clothed plumber reappears in Chamera after Bowser is defeated, stating that he wants to explore the canyon on his own.
Waluigi made a few appearances in New Super Mario Bros. game as playable character.
Waluigi appears as a playable character in New Super Mario Bros. Xtreme.
Waluigi's second NSMB appearance is in New Super Mario Bros. Omega. Here, he ventures through the worlds with the same purpose as his bro Wario; Kamek has sucked up their money (along with Peach, but that wasn't the Wario Bros.' purpose, but the plan of the Koopas). So, they traveled along with the Mario Bros. and the Two Toads.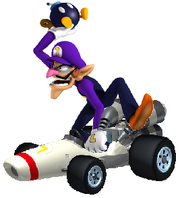 Waluigi appears as a default playable character in Mario Kart Burst. He is a heavyweight character, since the weight classes are returning from Mario Kart Wii in the game.
Waluigi is one of the racers in Super Mario Hover Race.
Waluigi appears as a playable character in Mario Kart 8 Wii U. His special move is Triple Spiny Shell.
Stats:
Speed: 3.5
Acceleration: 4.25
Drift: 3.25
Handling: 3.25
Off-Road: 0.75
Waluigi appears as a playable character in Mario Kart Wii 2.0
Mario Sports series
Waluigi is a player on the Wario Muscles team on the multiplayer Wii sports game Mario Rugby League. He is a speedy character with average skill and poor strength. His special skill is to extended out vines with thorns as an extended tackle.
Waluigi appears in Mario Hoops 3-On-3 Switch(mainly known as Mario Hoops 3-On-3 Deluxe) as a playable character. He is a Technical character type and his special move is Twist Dunk. He is a starter character. His default partner is Wario. His team name is the Waluigi Dancers.
Waluigi
Location
Mystic Library
HP
140
Power
48
Defense
54
Speed
48
EXP
250
Coins
75
Items
???
Waluigi appears as one of the main protagonists. He is controlled using the Y button. He is Wario's brother. He teams up with Mario and Luigi to stop Chancellor Hedron. He is normally controlled using the Y button. When it comes to his base stats, he excels in Defense.
He is also fought in the Mystic Library as a boss, along with Wario. He has two solo attacks. His first solo attack in attempting to jump on a Mario Bro. He will align himself in front of the Bro, then try and land on him. You can avoid this by jumping at the right time. His other solo attack is to run offscren and grab a Bob-Omb. He will then chuck the Bob-Omb at a Bro. If you jump at the right time, you can avoid the explosion.
Wario and Waluigi's duel attack is like Swing Bros from Superstar Saga. Wario will pick up Waluigi, spin him around, then throw him at a Bro. The key is which direction he spins. If he spins clockwise, he will hit Mario. If he is spinning counter-clockwise, he will hit Luigi.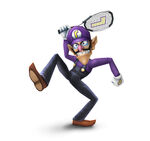 Waluigi fulfills his role as an assist trophy in the game Super Smash Bros. Galactic Battle. When summoned, he will charge at nearby opponents and stomp them into the ground burying them. Afterward, he will either finish the opponent off with a powerful kick or a swing from his tennis racket. He then disappears. Waluigi, much like many Assist Trophies in the game, can be KO'd.
Main article: Waluigi (SSB8)
Waluigi reappears in Super Smash Bros. Endgame as an antagonist and playable character. Waluigi now uses some sporting equipment as weapons to face his enemies. In Story Mode, Luigi is attacked by Waluigi and King Dedede during Chapter 5. Waluigi helps Bowser to track down Leopold Slikk and Snivy in the same chapter to turn them into string puppets under their control, however they were defeated by the two and were sent back to the String Airship to escape. During Chapter 11, Waluigi is now a string puppet because he failed an unknown mission by Puppetmaster, and managed to take out nearly everyone and turn them to mindless puppets. At the end, though, when facing Luigi, is knocked into a crusher in the Puppet Factory and is smashed to the fatality. After his unexpected death, he wasn't seen for the remainder of the game.
Waluigi is a unlockable character in Revolution. This time, he is no longer an Assist Trophy. His moveset focuses you to be annoying as possible and to exploit the game with your special moves, such as False-Stocks or Shield Balloon. His Final Smash, Cheating Extraordinaire, dashes to the front of the screen and rearranges the percent to be what he wants it to be, and even chucks some random numbers for laughs. To know more about Waluigi's moveset, changelog and alternate colours, check Waluigi (Revolution).
Waluigi reprises his role as an assist trophy. Similar to his previous appearances, Waluigi stomps nearby opponents and launches them with his racket.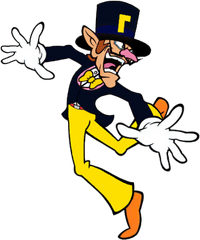 Waluigi finally got his job at WarioWare, Inc. in WarioWare: Showing Off. He, along with Wario and his friends, are making the greatest WarioWare game in history. Waluigi's microgame theme is Weirdoweegee, a selection of strange games.
In Wario Land 6: Wario and Waluigi, Wario reconquers his birthland with a large amount of help from Waluigi. Waluigi is the one who rescues Mona and Pina from Captain Syrup's Castle.
Other Mario appearances
Waluigi appears in every game in the Mario Singalong! Series. He first appears in Mario Singalong Superstar!, then in a full country attire Mario Singalong Country!, subsequently as a member of the boys team in Mario Singalong Boys vs Girls!, recently in Mario Singalong Disney! where he becomes friends with Donald Duck and he appeared in Mario Singalong Rocks!, Mario Singalong Down Under! and Mario Singalong Legends!.
While it is a bit hard to get him, there is a way to unlock Waluigi in the new game Lights, Camera, Mario!. In the game, you must:
Choose Luigi as the actor.
Choose Mario vs. Wario as the Scene.
Beat the level.
Talk to the director, and he'll say "Luigi, that was fantastic! I've been thinking, you'd be perfect for convincing our newest actor to do his job. He is so stubborn! He won't even unlock the door! Here's the key! I'd do it, but he blocked the pipe to his room, and I don't have legs!". He'll give you a key to Waluigi's room.
It'll make a door with Waluigi's name on it appear. Luigi will enter the dressing room, and then you'll have to battle Waluigi. He'll quickly recover, and say "OK! I'll-a come!".
He can run far, jump high, and super kick!
In Mario Guitar World, it has been confirmed that Waluigi will be the 1st boss in story mode on Pro. If he is beaten, Waluigi will be unlocked as well as other features.
Waluigi, along with Wario, enjoy stealing stuff from other people in the anime. He also got turned evil by Bowser in one episode.
He is the boss of World 3. He sends mini-Warios to attack you. He also kicks you hard.
Waluigi is one of the various villains featured as recurring bosses in the online game, Mushroom War. In this game, his origins are revealed: He is second cousins to Wario, and like Wario in the game, is stated as having been associated with the Bros. well before his appearance as a "Wa". In truth, he is revealed to have been the then-commander of King Ōsama's forces in Subcon, and that while he appeared benevolent to the heroes and the king, he was in truth a spy for King Wart, seeking to be granted a higher position when Wart took over the kingdom and put down Ōsama. Although during these days he dyed his hair blond, in the modern times he has stopped doing this. The game also reveals that Waluigi's rivalry with Luigi began when Luigi alone was brought to Subcon to stop Wart once again, during which he discovered and publicly revealed the Commander (known as "Commander Wa") to be working for Wart, getting him thrown out of his home kingdom and, like his cousin Wario before him, ended up going insane.
Waluigi is a recurring boss affiliated with Bomblock, due to his love of bombs, which Bomblock was easily able to provide him with. He is one of Bomblock's generals, serving a rank about equivalent to that of Boom Boom, and he can be fought numerous times either solo or partnered up with Wario.
Characters siding with Bomblock and Saltpetersburg can, instead of battling him, take missions from him. Some missions do not start with him but will end with him, such as supplying him with a fresh set of bombs.
Other Fanon Appearances
Waluigi can be seen in Desert Land, dancing. One cutscene shows him got shot by a Soul Star, turning him pure evil.
In Waluigi World, Waluigi's hometown is destroyed, and Waluigi sets off on a quest to find the culprit and complete his revenge.
When Rui kidnaps Princess Daisy, Luigi and Waluigi team up to save the woman they love!
Waluigi is the star of the new WickedWare game Goomsday Wii. It is his first appearance without Wario. He wants to steal the Scepter of Superiority from Goomboss, not to save the world but to make Daisy love him. This is the first time that Waluigi's cheater personality is used to full advantage in the amazing power called Cheating. By holding the B Button (as Waluigi) and tracing a Γ in the air, you enable Waluigi to Cheat. This is technically not cheating, since it is included in the instruction manual. The most recurring Cheat is Waluigi's classic ability to swim through the air.
Waluigi appears in this crossover game as the 5th Gym Leader and specializes in Poison-type Pokémon. After being defeated, he'll give the Fog Badge and TM36 (Sludge Bomb) as prizes. After this, a fog covers himself and he vanishes without paying the money prize. The player have to talk to him (in the same place he was) to get $4,000.00 from him. If the player uses one of certain amiibo, he will give $4,800.00 instead of usual $4,000.00.
Waluigi appears as a playable character in Mario Tennis: Heroes Vs Villains. Waluigi is a defensive type having great reach but low speed and power. Waluigi's zone shots are Shimmy (Waluigi Shimmies forwards or backwards) and Moonwalk (Waluigi moonwalks left or right). Waluigi's Special Shot is Twister Blister in which Waluigi makes his body into the shape of his emblem and spins around really fast creating a twister that launches him into the air to hit the ball. Waluigi's hero is Daisy and his Hero Special Shot is You're Grounded where he begins to stomp Daisy into the ground burrowing her deep in the ground trapping her for a short time. If Daisy uses her Villian Special Shot Cancel Waluigi will trip on the way to stomp on Daisy casting the cutscene to end.
Waluigi appears as a rival and a playable character. He is a rival in archery at the Athens 2004 Olympics. He is a playable skill type character at the Torino (Turin) 2006 Olympics and 2019 Dream Olympics.
Waluigi appears inSuper Mario: Emoji Battle as a playable emoji. Waluigi's Special is: Waluigi throws two bob-ombs on random spots of the board. Waluigi's Attack Special is: Waluigi dashes across the middle of the opponent's board while holding a Piranha Plant which eats any ? Blocks they pass. Waluigi is a rare emoji that can be unlocked by opening a ? Block, opening an ! Block, or battling Waluigi in Character Battles. Waluigi's favorite item is the Gold Mantis. Waluigi's emoji can be fought in the following Character Battles: Wario and Waluigi. Waluigi's Badge can be unlocked by unlocking Waluigi, using ten bob-omb power-ups in one match, and using the Gold Matis in three matches.
Waluigi plays a surprisingly large role in Nintendo & Fantendo Play: Dodgeball!. When looking for his "friends" in the Mushroom Kingdom and not finding them, he is informed by Cosmetta that they were summoned by a higher power. When he sees that he has once again been disincluded in the events of something cool, Waluigi decides to disguise himself as Luigi and grab other characters left behind. Attempting to join the Red Faction initally, the plan fails when the real Luigi appears and Mario easily tells them apart. Waluigi doubles down on his fake Luigi personality and forms the Green Faction, saying he's sick of always being in Mario's shadow.
YES.
Waluigi is a side Character in Supah Gangsta Mario. All he really did was give missions for Mario to complete. However his role grows a bit when he tells Mario to urinate in John Gotti's swimming pool and trash his mansion. This kicks off the climax of the story. Waluigi is not seen beyond a few apperences after the John Gotti Mansion mission.
Waluigi is only mentioned in this first DLC by Salvatore Leone when he tells John Gotti about the profitablility of Nightclubs. John Gotti also wants revenge on Waluigi after he told mario to urinate in his swimming pool and trash his mansion.
In this second DLC Waluigi plays a much larger role as the secondary protagonist. He is Wario's boss and owns a nightclub. He is also who finds out that Bowser works for John Gotti and tells Wario. Waluigi is frequently protected by Wario.
General Information
Appearance
Waluigi is the extreme of Luigi's height and lean body, just like Wario is the extreme to Mario's short and round body. He is noticeably one of the tallest human characters in the Mario franchise, rivaling only Rosalina. Just like Mario, Luigi, and Wario, Waluigi wears dark overalls. He has a purple shirt underneath and a purple cap which, in the same style as the other Mario Bros. caps', has his emblem, a yellow 'Г' symbol in a white circle, on the front. He has a pink, pointy nose and a long mustache.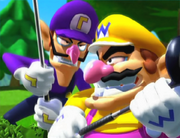 Personality
Just like Wario, Waluigi is boastful, ill-tempered, and cunning, particularly towards his primary rival, Luigi. One of Waluigi's most notable personality traits is the tremendous amount of self-pity he displays. He is disliked by most people in the Mushroom Kingdom, including Mario, Luigi, Peach, Daisy and Bowser - and it is likely that his only friend is Wario. Charles Martinet, Waluigi's voice actor, suggests that Waluigi believes he is simply misfortunate, dismissing his own flaws and believing that everyone else cheats when he fails, despite admitting to cheating on several occasions. Most of the time, Waluigi teams up with Mario and his friends to thwart Bowser's evil plans, but Waluigi tends to steal Bowser's evil plans for himself to fight Bowser, although this reflects Waluigi's dark behavior.
Waluigi is a comic relief character and one of his key traits is that he has never been the main focus of a game, with most other Mario characters having had their own adventures at some point. Luigi, Peach, Yoshi, Wario, and even Captain Toad have had their own games. Super Mario Odyssey makes a stab at this joke, with Waluigi's costume being described as hardly worn. The E3 2018 trailer for Super Smash Bros. Ultimate also picked up on this, stating that Waluigi was "still" an Assist Trophy.
Waluigi tends to go on his adventures with the aim of becoming the center of attention. Just like Wario, Waluigi does the right things for the wrong reasons, because the wrong reason would be to become the center of attention. The reason Waluigi tries to become the center of attention is not only so that Waluigi becomes as popular as Mario and Luigi, but also so that Waluigi is no longer treated indifferently, despite Waluigi being considered indifferent.
Etymology
His Japanese name is an anagram of the Japanese word "Ijiwaru", which can mean "ill-tempered" or "cruel".
Relationships
Wario
Wario and Waluigi both are partners with each other, however, it is not confirmed if they are brothers, or good friends, as they both work together to antagonize the Mario Bros. in a few games, but they also sometimes work together with them.
Luigi
Waluigi and Luigi are strong rivals of each other, in Mario Tennis, Waluigi confronted Luigi, it is unknown what the backstory was of their rivalry. Despite his rivalry with Luigi, Waluigi teams up with Luigi on most occasions to thwart Bowser's evil plans.
Mario
Waluigi and Mario lack interaction since Waluigi's rivalry with Luigi. But Waluigi seems to hate Mario as well, he has battled Mario in Mario Dance Dance Revolution. Waluigi often helps Mario thwart Bowser's plans.
Daisy
In some games like Mario Party 4, it is hinted that Waluigi has a crush on Daisy, just like Luigi, but however Daisy has never returned her feelings to him and the two share bad chemistry in Mario Super Sluggers, Daisy also thinks low about Waluigi as they have a bad relationship, in Mario Strikers Charged they are forced to go against each other, in Fortune Street Daisy usually says negative things when landing on Waluigi's shops, in Mario Kart 8 (Deluxe) Daisy is Waluigi's racing rival, further is unknown if Waluigi still has feelings for Daisy, Daisy and Waluigi could have made a truce and became friends, or Waluigi and Daisy wants to stay away from each other.
Bowser
Even when they both hate the Mario Bros. they are still enemies of each other, in Mario Power Tennis, Bowser has trained Wario and Waluigi to battle the Mario Bros. In Mario Party 3 Waluigi beat up Bowser. When Waluigi joins the Mario Brothers to thwart Bowser's evil plans, Waluigi steals Bowser's evil plans for himself to fight Bowser.
Rosalina
Even though they have never interacted with each other, fans believe that Waluigi has a crush on Rosalina since they are the only one without a love interest because Mario has a crush on Peach, Luigi has a crush on Daisy and Wario has a crush on Mona, but somehow other fans doesn't want them together or think Rosalina hates Waluigi as well, however it hasn't been hinted or confirmed in games and it's unknown how their relationship will be, since they have never interacted, players could let Waluigi have a brief optional interaction with Rosalina, in some games, but the brief interaction is the same as everyone's interaction
Sabrina
Sabrina is Waluigi's fan-made girlfriend. Unlike Daisy, she actually returns his feelings. She is also very protective of Waluigi, and comforts him when another tragic thing happens. As shown in some art I made, Waluigi sometimes wears ears and a tail, to match Sabrina.
Quotes
Cheating is my specialty!
Wahahahaha! I really am number one!
I want to become the center of attention!
Swallow it, loser!
Wah! I hate to lose!
Nobody is better than Waluigi!
Stupid racket! Made me miss the tennis match!
I hate this game!
I can't believe I lost! That's not fair, you cheated!
Everyone is winning this game except me! Why is Waluigi the only one who loses? Waluigi hates to lose!
You only beat me because you cheated!
Winners win because they cheat!
It's time for Waluigi to step out of the shadows!
Gallery
References
Navigation Templates
Mario Kart Dimensions
Characters
Toad • Koopa • Baby Mario • Lakitu • Mario • Luigi • Peach • Yoshi • Bowser • King Boo • DK • Wario • Dry Bones • Shy Guy • Toadette • Paratroopa • Retro Mario • Baby Luigi • Daisy • Birdo • Bowser Jr. • Diddy Kong • Kamek • Dixie Kong • Waluigi • Wiggler • Boom Boom • Rosalina • Pom Pom • Petey Piranha • Mii • Noki • Pianta • Goomba • Hammer Bro. • Kritter
Courses
Luigi's Circuit • Sky Fortress • Pinna Playground • Airship Ruins Pipe Sewers • Cheep Cheep River • Ghost Mansion • Prehistoric Path Soda Lake • Chai Hills • Supermassive Station • Cement Factory Donut Plains • Subcon Desert • Bowser's Castle • Rainbow Road GCN Baby Park • MKP Retro Hills • 3DS Piranha Slider • SNES Vanilla Lake 1 GBA Yoshi Desert • SNES Donut Plains 3 • MKP Sherbet Mountains • N64 Luigi Raceway N64 Frappe Snowland • NDS Mario Circuit • GCN Mushroom City • MKP Tutankoopa's Curse NDS Wario Stadium • GBA Boo Lake • Wii Bowser's Castle • GCN Rainbow Road Gelato Speedway • GCN Peach Beach • NDS Delfino Square • Corona Caverns
Stardust Fields • Peach's Castle Grounds • Dimble Clearing • Bowser's Lava Lair • Delfino Plaza • Wii Block Plaza • SNES Battle Course 1 • GCN Tilt-a-Kart • 3DS Sherbet Rink • MKP Vanilla Dome
Items
Coins • Item Box • Morph Bubble • Licenses • Mushroom (x3) • Fireball • Banana Peel (x3) • Super Star • Bob-Omb • Green Shell (x3) • Red Shell (x3) • Blooper • Golden Mushroom • Fake Item Box • Blue Spiny Shell • POW Block • Super Leaf • Boomerang • Lightning Bolt • Whimp • Topmaniac • Freezie • Bullet Bill • Oil Drum • Dash Pepper
Enemies
Chain Chomp • Goomba • Cheep-Cheep • Thwomp • Dry Bones • Roto-Disc • Boo •

Mecha Bowser

• Electro-Koopa • Bowser Statue • Fishbone • Eerie • Rocky Wrench • Fishin' Boo • Cannon • Piranha Plant • Ptooie • Inky Piranha Plant • Chargin' Chuck • Goombe • Monty Mole • Cheep-Chomp • Swooper • Terekuribo • Bony Beetle • Dry Bone Bro. • Jack O' Goomba • Buzzy Beetle • Big Boo • Big Bubble • Bat •

Skellyrex

• Torpedo Ted • Unagi • Sidestepper • Fighter Fly • Blooper •

Chicken

•

Chikako

•

Pompon Flower

• Nyololin • Goombo • Bullet Biff •

Pionpi

• Pakkun Flower •

Roketon

• Supermassive Koopa Troopa • Supermassive Goomba • Supermassive Piranha Plant • Game & Watch • Super Koopa • Koopa Troopa • Volcano Lotus • Spike Top Snifit • Ukiki • Pokey • Pidgit •

Tweeter

• Halcandra Dee • Degout • Halcbounce • Halco Burt • Armoured Halcandra Dee • Halcandra Bowby • The Metal General of Egg Engines • Polluted Piranha Plant • Swoopin' Stu




Playable Characters
Mario | Luigi | Wario | Waluigi | Green Toad | Birdo


Other Characters
#615 | Yoshi | Toad | Diddy Kong | Koopa the Quick | Princess Peach


Bosses
Boom Boom | Mummipokey | King Boo |

Yoshice

| Goomboss |

King Puffer

| Big Bob-omb | Lakithunder | Huff N. Puff | Kamek | Bowser | The Koopalings


Main enemies
Goomba | Paragoomba | Koopa | Paratroopa | Piranha Plant | Chargin' Chuck | Goombe | Winged Goombe | Rex | Volcano Lotus | Buzzy Beetle | Dry Bones


New and returning Items
Paratroopa Shell | Hammer Flower | Dragon Coin
Template:SMSS2 Template:DMK