Waddle Doo is not from Fantendo. However, this article may include related fan ideas.

These external sources may have official, more accurate information:

This article is free to edit. Please follow the article standards and respect good-faith contributions.
Waddle Doos are a sub-species of Waddle Dees in the Kirby Series. Their main ability is Beam, which they give to Kirby apon consumption.
Appearences
Super Smash Bros. World Domination
Waddle Doo appears in Super Smash Bros. World Domination and is a cheatable character. It is a character who profiles beams and that is its profile. Waddle Doo is a minion of King Dedede and works with Waddle Dee, with lighning powers he can paralyse all of his opponents with quick dash attacks to finish the job.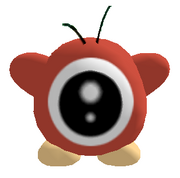 Nintendo Plays: All Types of Boarding!
Waddle Doo appears playable in Nintendo Plays: All Types Of Boarding! along with Waddle Dee.
Sonic & Kirby Super Mega Ultra Super Stars 1: Infested Dimensions
He is a protector of Captain Waddle Deo and is thrown off the ship, Halberd at the beginning of the area. He appears at the end of the game at Waddle Dee's service with a broken arm from the fall of the Halberd.
Kirby Wii U
They appear in Kirby Wii U as the only source of the Beam ability. They are found in grassy plains as common enemies.
If you use a Kirby amiibo whilst playing you unlock Mt.Dedede, Waddle Dees appear as enemies.
Kirby RPG and the Infinity Shard
Kirby RPG and the Infinity Shard includes Waddle Doos as enemies, they give Kirby the Beam ability. They are minions of Waddle Doodle, and will not attack Blaze, but will attack Kirby. Waddle Doos appear as enemies while Waddle Dees don't appear as enemies, but do appear as friendly NPCs.
Star Team Heroes
Despite his victory against Kirthar, He's one of the victims of the Kirthar's Snap Finger.
Notable Waddle Doos
Gallery