This article is part of the Medieverse. Surely you're not looking for the original Volt?
Volt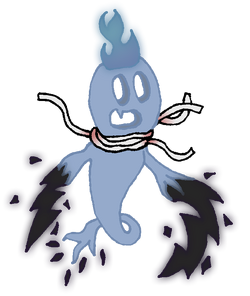 GENERAL INFO

GENDER
♂ Male
SPECIES
Plagueling
CURRENT STATUS
Alive
AGE
Unidentified
BIRTHPLACE
Orientis
MISCELLANEOUS INFO

SERIES
Medieverse
CANON APPEARANCES

TBA
Volt is a character in the Medieverse who takes a major role in the story.
History
Like all the plaguelings, Volt was born from Rosie and Posie, who are the origin of the plague that caused the Black Death in Regno. Normally a plagueling is send out into the wild by Rosie and Posie shortly after their birth, when they receive enough information about what their purpose in life is. Every plagueling is supposed to possess a human being to infect them and slowly let them die, absorbing their life energy. Volt however wasn't allowed to go outside of the premises for unknown reasons. Against their commands, Volt however did flee and found himself being captured by Hein, instead of being slayed, mainly because it was the first plagueling Hein encountered that wasn't possessing someone.
Physical description
Like all the plaguelings, Volt consists out of one color, his color being a light-blue one. His hair takes the form of a fire-looking Mohawk from blue and purple color. His eyes and mouth are basically empty holes that one can see through. He has bandage around his neck, acting as some kind of scarf. His plagued hands are in the shape of thunderbolts and are attached to his arms.
Personality
Volt, being a plagueling that has been locked up longer than others without any information, has created a curious personality. He knows about nothing, except that he is considered "special". This drives him to explore the outside world and learn all new things. He is easily frightened, but later seems to more comfortable and is ready to do anything, although with hesitation.
Abilities
Plaguelings have the ability to possess a human being, infect them, and slowly let them die. Volt however hasn't performed any of these abilities. It however seems like Volt is a special kind of plagueling, as evident from Rosie and Posie not wanting to let him out of the premises at first.
Relationships
Hein
Rosie & Posie
Trivia
Community content is available under
CC-BY-SA
unless otherwise noted.