Voidmato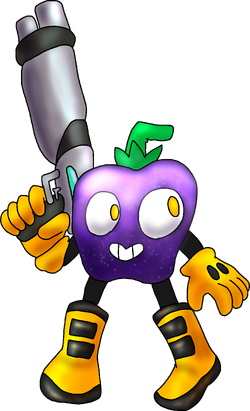 Voidmato, the mysterious assassin
GENERAL INFO

NICKNAME(S)

Voidy

GENDER
♂ Male
SPECIES
Voidmato
CURRENT STATUS
Alive
AGE
Unknown (over 20)
BIRTHDAY
February 10th
HEIGHT
3'11
WEIGHT
230 pounds lbs
PERSONAL INFO

RELATIONSHIPS

TBA

CLASS
Assassin
LIKES

???

DISLIKES

???
MISCELLANEOUS INFO

CANON APPEARANCES
Voidmato is a unlockable character first appearing in Super Bunea World. The character was created by Helena Harper (t∣b∣c). He appears in a unlockable side story that is playable once the game has been completed once. Infinite Content first revealed the character on February 10th, detailing him as assassin with a natural inclination to violence. He has the unique ability to walljump.
Appearance
Voidmato is a blackish-purple tomato-like character in appearance, the surface of his skin covered in white specks and is very shiny, almost unnaturally so. He has two arms and legs, of which are covered by orange gloves and orange combat boots. His gloves seem to be similar to those of old cartoon characters.
As a side note, he is often called ugly or fat by other people, much to his complete indifference. His attraction level is 0 in the game, and he is seen as a abomination to most characters save the Mistress of Weird.
Personality
Voidmato is a naturally violent character, as he usually charges into everything attempting to maul, maim, or shoot everything up. He is also indifferent to almost every insult flung his way, staring mindlessly at characters who call him ugly or fat. Despite his violence, Voidmato remains calm or even upbeat at times, never in a sadistic way.
Voidmato lives on relatively nothing to support him, reveling in squalor. He also seems to enjoy eating the various power-ups, which seem to have drug-like effects on his psyche, although this doesn't really impact gameplay. Voidmato is also implied to be the only one of his kind- as Voidmatos are implied to be a power-up fruit that none of the worlds offered, meaning that he was likely magically animated ala Pinocchio.
Appearances
Voidmato makes his debut in Super Bunea World, appearing as a unlockable character and protagonist of his own side story. All the player knows at the start of the game is that he is a assassin and his target is the Mistress of Weird. The player follows his assassinations of the various bosses, although not stealing their souls but rather prized possessions. This also reveals that the bosses can return to the living world so long as their soul is on the mortal plane, as they appear later in his story to enact revenge for their deaths, which they saw as inconveniences.
Voidmato is revealed to be doing a mission for another villain in the game, a character only known as Diablister. Diablister has his girlfriend held hostage; Voidmato's natural inclination to violence was more so a excuse to shoot shit up since he wasn't interested in anyone else, fully committed to her. After defeating the Mistress of Weird, Diablister tricks Voidmato and continues to keep his girlfriend hostage in a flaming junkyard world. Voidmato gets help from the bosses he killed to locate this world and defeat Diablister, as well as save his girlfriend. The two are depicted as a loving couple, who leave to go on a date to a sushi restaurant at Laser Lake. A extra image of them can be seen if the player collects all the Rainbow Scarabs in his side-story, which depicts his girlfriend and Voidmato smoking bongs in his shabby apartment.
Voidmato appears in Fantendo's Card Cataclysm, appearing as a Hero card.
Voidmato
Super Bunea
Voidmato is a tomato assassin with violent tendancies, currently hunting down the Mistress of Weird under Diablister's orders. He attempts to charge straight into any confrontation in an attempt to shoot everything opposing him and doesn't care about others criticising his barbaric ways.

Rapid Fire


Voidmato pulls out his gun and repeatedly shoots the opponent. While usually a basic attack that deals moderate damage, it has a rare 1% chance to kill the foe in one hit.
Gallery
Trivia
Voidmato was based off a dream that Helena Harper (t∣b∣c) had, about a platformer starring a black tomato that could walljump. Inspired, Helena added the character as a unlockable character in Super Bunea World, although originally she was not intending to add other playable characters.
Like Bunea, information about Voidmato was kept intentionally vague.