Vigilants
Developer(s)
Publisher(s)
Platform(s)
Genre(s)
Third-person shooter
Series
Ghostverse
Release Date(s)
2018
Mode(s)
Single-player, multiplayer
Vigilants is a third-person shooter developed and published by Ghostrealm Studios. Intended to be a spiritual successor and love letter to both the Star Fox and Halo franchises, it focuses on two teams of mercenaries, the Vigilants and Blackguard, as they clash throughout the galaxy.
Story
Premise
The destruction of Jalgor brought immense change to the galaxy. While new groups formed and existing ones interacted, other events occurred. Namely, the emergence of a mineral known simply as Astrium. The mineral's benefits were quickly discovered as various groups went after it. And of course, conflicts emerged.
In the midst of this conflict, a mercenary team formed known as the Vigilants, led by a krexxon named Yikkal. He had always sought to become a mercenary, having heard stories of one specific mercenary who actually went as far as to end the war against the Circle of Shadows, before promptly disappearing into legend. Yikkal rallied his team, and although they succeeded in a few missions, they knew they had to seek out Astrium in order to become more capable of taking on any threats in their way.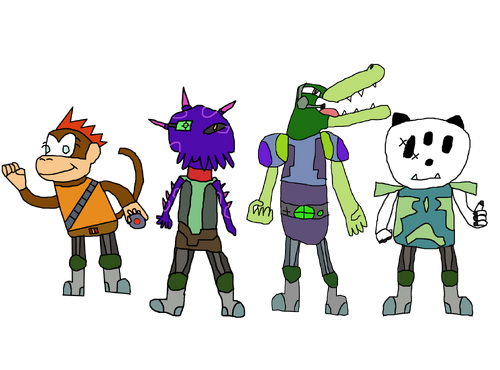 As the Vigilants, they were ready to take on anyone in their way.
Main Story
For the full story, please click here!
Characters
Vigilants
Character
Info


Yikkal
The leader of the Vigilants and the playable character for the singleplayer campaign, Yikkal is a twenty-year old krexxon who's taken to mercenary work over the last few years, seeing the Vigilants as his "family". The emergence of Astrium has motivated him to see if it can be used to enhance his team's equipment and make them a greater fighting force.
Weapon of Choice: Energy Staff
Flight Style:

Varies


Tuuki
Tuuki, a member of the monkey-esque Simak species, is a relatively crazy member of the Vigilants, known for being the team's most reckless pilot. She tends to crack jokes a lot, and remains with the team for monetary purposes.
Weapon of Choice: Machine Gun
Flight Style:

Reckless


Arigu
The crocodilian Nalgorsh species gave rise to the engineer known as Arigu. As the chief designer of the Vigilants' ships, he has immense interest in Astrium and its properties, and seeks to study it to its fullest potential.
Weapon of Choice: Gatling Gun
Flight Style:

Tactical


Kumah
A member of the pandalike Ban'kou species, Kumah is a veteran mercenary who's been in the business for a while. Seeing the Vigilants in action motivated him to step out of retirement and see what he's got. He provides immense aid to the team through his knowledge of various planets and the like.
Weapon of Choice: Grenade Launcher
Flight Style:

Opportunistic
Blackguard
| Character | Info |
| --- | --- |
| Chuma | The leader of Blackguard and a member of the ruthless fishlike Sak'ann species, Chuma is a woman motivated by nothing but her morals. She seeks to stop the Vigilants due to what she perceives as greed on their end. |
| Koroi | Koroi is an armored figure of an unknown species, hired to join Blackguard as its "muscle". He's also the most sadistic member of the group and often has to be told to disengage in fights. |
| Yuwaka | The human cyborg known as Yuwaka has an air of mystery of her. Strangely, she has an obsession with Yikkal, seemingly wanting to be with him, or rather, the one manipulating his actions. |
| Onak | The lizardlike Kemon species gave rise to Onak: a twelve-year old prodigy with deadly piloting skills. He's also Blackguard's Astrium expert, seeking to utilize the mineral for their own purposes. |
Other Characters
| Character | Info |
| --- | --- |
| Sutera | A Konsai spy who works for the burgeoning resistance movement against the Doomuli. |
| Shixtan | A Siandrall who's working with Sutera and the rest of the resistance movement. |
| Doomulus Xyne | The leader of the Doomuli forces in the galaxy. |
| Haiten/Doomulus Trine | A former engineer for Shixtan's resistance movement, and an old friend of Arigu, who later becomes the entity known as Doomulus Trine and the true antagonist. |
Controls
Vigilants supports optional gyro aiming as an alternative to using

to aim.
Universal Controls

| Action | Button Input |
| --- | --- |
| Pause | |
| Objective Toggle | |
| Enable/Disable Minimap | |
On-Foot

| Action | Button Input |
| --- | --- |
| Move | |
| Sneak | |
| Camera | |
| Reset Camera | |
| Talk/Interact/Use | |
| Jump | |
| Roll | |
| Take Cover | |
| Shoot | |
| Aim | |
| Switch Weapons | and |
Ship

| Action | Button Input |
| --- | --- |
| Move | |
| Camera | |
| Reset Camera | |
| Bank | and |
| Barrel Roll | or pressed twice in succession |
| Lock On | |
| Shoot Primary Weapon | |
| Shoot Secondary Weapon | |
| Shoot Support Weapon | |
| Boost | |
| Brake | |
| Somersault | Tilt up while pressing |
| U-Turn | Tilt up while pressing |
Gameplay
Vigilants is a third-person shooter revolving around objective-based missions that feature two distinct gameplay styles: vehicular combat, and on-foot segments. However, you can seamlessly move from foot to vehicle, and most missions take advantage of this.
Vehicular combat is primarily done within a ship, though ground vehicles exist. Unlike most piloting-based games, Vigilants doesn't have any on-rails segments, opting for missions with a set area to go after objectives in. Ships are capable of various maneuvers, from barrel rolls, to banking turns, to U-Turns, to boosting. Uniquely however, ships can be customized with a myriad of weapons, allowing you to choose your playstyle so to speak. Ship parts can be crafted in between missions using the Astrium collected from them, and you can always replay missions for more of it. Sometimes there's even temporary events that'll get you going to past missions!
On-foot combat is closer to that of traditional third-person shooters, with a wide array of weapons to utilize. Unlike other third-person shooters however, beat 'em up elements often exist where you'll have to utilize the weapons you're hoarding to tear through groups of enemies on the way to the objective.
Multiplayer
Multiplayer is a major focus in Vigilants, with a myriad of gamemodes to choose from. While the singleplayer campaign has you playing as Yikkal, multiplayer has you choosing any of the four Vigilants' appearances as your character. Multiplayer maps are designed around seamless transitions between vehicles and on-foot combat, though some maps limit your travel options. In addition, ship customization is disabled, with several pre-built ships available to use.
Both local and online multiplayer is available, with local supporting up to four players simultaneously, and online supporting up to sixteen per match.
Rules
Gamemode: Set the gamemode.
Time Limit: Minimum of two minutes, maximum of ninety-nine, and only applies to Capture the Flag and Astrium Rush
Weapons Blacklist: Turn specific weapons on or off.
Handicap: Set handicaps for specific players.
Travel Options: Lock off specific methods of travel and/or limit players to one playstyle.
Minimap: Enable or disable the minimap.
Gamemodes
Various gamemodes are available, each with their own objectives. Teams can also be enabled or disabled for matches.
| Gamemode | Description |
| --- | --- |
| Deathmatch | Deathmatch is simple: last man or team standing wins. Should there be more than two people standing after a minute, a special Blaster weapon will spawn in the middle that can oneshot anyone it hits. |
| Capture the Flag | Each player (or team) has a flag in a "base" area, and have to capture enemy flags to score points before time runs out. When a player carrying a flag is killed, that flag will remain on the ground until either a minute has passed or another player has picked it up. If a minute has passed, it will return to its original location. |
| Control Points | This gamemode can only be played with two teams. Each team has one control point controlled by themselves, plus a neutral point exists on the map. Both teams have to try and secure all points on the map to win. |
| King of the Hill | A single control point exists, and the first team/player to hold it for three minutes wins. |
| Astrium Rush | Astrium ore is popping up all over the map, and you need to collect it. Astrium can be collected by running into it and deposited at a box belonging to you or your team. Killing a player will also cause them to drop all of their Astrium, and the team/player that collects the most by the end of the match wins. |
| Siege | Siege gives each player/team a large battleship of sorts, and sends them out to destroy enemy battleships. While these ships can be taken out from the outside, you can also head inside and destroy the core. The last team standing wins. |
| Sandbox | This gamemode can only be done in local play, and has no rules whatsoever. Each player also gets access to a datapad that can spawn in weapons, vehicles, buildings, and all sorts of doodads, making it good for messing around with stuff. |
Maps
Map
Info
Basic Map 1/2/3
The three Basic Maps are limited to on-foot combat and are more or less meant for practicing, as well as shorter games in general, due to their small sizes and simple layouts. Because of this, the Siege gamemode cannot be played here.
Ships?: No
Ground Vehicles?: No
On Foot?: Yes
Ochao
This tropical planet features islands linked via bridges over the water. However, these bridges are made of plasma and can be activated and deactivated using special consoles.
Ships?: Yes
Ground Vehicles?: Yes
On-Foot?: Yes
Nefreon
A forest world with trees for cover. However, trees can be destroyed.
Ships?: Yes
Ground Vehicles?: Yes
On-Foot?: Yes
Neolight Station
Neolight Station, being a city, is full of buildings. This also means there's plenty of different elevations, but not much room to navigate.
Ships?: Yes
Ground Vehicles?: No
On-Foot?: Yes
Zaotis Asteroid Field
Within the expanses of this asteroid field, you're forced to use ships to navigate through it, making dogfights dangerous.
Ships?: Yes
Ground Vehicles?: No
On Foot?: Only in the Siege gamemode.
Keranor Temple
The ancient temples of Keranor are full of hidden rooms and alcoves. This indoor map is limited to on-foot travel exclusively, and because of this the Siege gamemode cannot be played here.
Ships?: No
Ground Vehicles?: No
On Foot?: Yes
Ayrus
Ayrus's snowy surface is full of open space and trenches to take cover in.
Ships?: Yes
Ground Vehicles?: Yes
On-Foot?: Yes
Weapons
Ship Weapons
Ship weapons are divided into three categories, with you choosing one of each:
Primary weapons are essentially the equivalent of the "laser" that Star Fox's Arwing has, and are your main form of attack. Each primary weapon offers a unique playstyle.
Secondary weapons are designed to supplement your primary weapon, offering a more niche option of eliminating opponents. Unlike primaries, they have cooldowns.
Support weapons usually don't deal damage, and are moreso about either confusing enemies, providing support to groundbound allies, or offer a defensive function.
Weapon
Info
Laser Cannon
Laser cannons are the most basic form of weapon you can put onto a ship. They shoot quickly, but each shot lacks firepower.
Type: Primary
Fire Rate: Fast
Damage per shot: Light
Charge Laser
Charge lasers are a form of laser cannon that shoots large bursts of energy instead of multiple shots, which deal impressive damage. However, the shots are quite slow.
Type: Primary
Fire Rate: Slow
Damage per shot: Heavy
Beam
Beams are essentially a singular laser beam that locks onto a target and continually deals damage. However, you're left vulnerable while firing the beam, and in some cases your movement options will be limited!
Type: Primary
Fire Rate: Continuous
Damage: Average
Missile Launcher
Missile launchers shoot explosive missiles. While these missiles can take out multiple enemies at once, they need time before you can fire another round.
Type: Secondary
Cooldown: Average
Damage per shot: Explosive
Incendiary Bombs
Incendiary Bombs are small bombs that deal damage over time to the ship they latch onto. They're only limited by their cooldown period
Type: Secondary
Cooldown: Average
Damage per bomb: Damage over time
Wing Blades
Wing Blades are essentially melee weapons for your ship. They'll let you ram into enemies for damage. This comes at the cost of reduced movement speed however.
Type: Secondary
Damage: Average
Healing Beam
Healing Beams can be aimed at both ground-bound and airborne allies, restoring their health.
Type: Support
Cooldown: Slow
Mines
Mines will stick to a solid surface and explode if an enemy comes in contact with them. However, they're better-suited to attacking ground-bound foes.
Type: Support
Cooldown: Slow
Damage: Explosive
Shield
The Shield creates a barrier around your ship for a few seconds. However, while it's active, your rate of fire is reduced.
Type: Support
Cooldown: Very Slow
On-Foot Weapons & Items
Weapon
Information
Blaster
Blasters are small two-handed guns that are often held by infantry. They have a decent rate of fire and a good recharge time.
Recharge: Average
Attack Speed: Average
Damage per shot: Average
Machine Gun
Machine guns are larger rifles that shoot faster than blasters, but have a lot of spread on their shots and aren't as accurate.
Recharge: Average
Attack Speed: Fast
Damage per shot: Light
Grenade Launcher
Grenade launchers offer a method of indirect attack: they simply shoot grenades that will explode on contact or after a few seconds. While said grenades pack a punch, they fire quite slowly.
Recharge: Slow
Attack Speed: Slow
Damage: Heavy/Explosive
Sniper Rifle
Sniper rifles are a form of long-range weapon that can take out opponents in a single shot potentially. However, this comes at the cost of reduced movement speed while aiming, leaving you vulnerable.
Recharge: Fast
Attack Speed: Slow
Damage: Heavy
Gatling Gun
Gatling guns are larger guns that shoot at an incredibly fast rate. However, their shots are quite weak and you also move slower while firing.
Recharge: Slow
Attack Speed: Very Fast
Damage per shot: Light
Rocket Launcher
Rocket Launchers shoot homing missiles that will lock onto enemies. However, these missiles can be destroyed in midair.
Recharge: Slow
Attack Speed: Slow
Damage per shot: Heavy/Explosive
Energy Staff
Energy Staves are melee weapons that more or less act as the "balanced" version of the game's melee weapons.
Range: Average
Attack Speed: Average
Damage: Average
Bomb Hammer
Bomb Hammers are hammers with a bomb on the end of them. The first strike with them will cause an explosion upon landing the first hit. The bomb will recharge after a few seconds however.
Range: Short
Attack Speed: Slow
Damage: Heavy/Explosive (initially), Light (without bomb)
Draining Sword
Draining Swords are a unique weapon variant that will drain away your health at an alarming rate while it's held. However, each kill will restore your health to full, not to mention that the weapon deals heavy damage.
Range: Average
Attack Speed: Slow
Damage: Heavy
Drone Launcher
Drone Launchers are large cannons that will shoot miniature drones. Drones will fly through the air and are armed with their own guns, but are fragile, making them more useful for scouting or distracting foes. Up to five drones can exist at once.
Recharge: Average
Launch Speed: Average
Damage: Light
"The Fist"
The aptly-titled "Fist" is an extremely slow-hitting melee weapon that, if it lands a hit, sends the opponent FLYING in the direction they were hit in. They'll also take damage if they hit a wall, so it's amusing to use.
Range: Short
Attack Speed: Slow
Damage: Average
Vehicle Buster
The Vehicle Buster is similar to the Rocket Launcher, except it's specifically designed to eliminate vehicles, dealing more damage to them while also being able to lock onto them exclusively. While they can be used to attack opponents on-foot, they can't lock on and deal less damage.
Recharge: Average
Attack Speed: Slow
Damage per shot: Extremely Heavy (vehicles), Light (non-vehicles)
Reflector
The Reflector is an item that can be used to deflect incoming shots for three seconds, before going on cooldown.
Cooldown: Long
Jetpack
The Jetpack is a unique item that rockets you into the air. From there, you can potentially land on an airborne vehicle and hijack it, or simply use it as an extra-high jump. The Jetpack also protects you from fall damage on the way down.
Cooldown: Average
Medkit
The Medkit is a consumable item that will heal you or an ally by 30% of your maximum health after a five-second waiting period. However, being attacked or switching weapons will cancel the Medkit's function.
Cooldown: Long (only applies if you have multiple)
Development
Vigilants started development as a Star Fox game designed in a similar vein to Star Fox Assault, in that it had a heavy multiplayer component and seamless foot to vehicle transitions. However, it was later decided that it'd be an original IP due to the potential for uniqueness.
Krexxal (t∣b∣c) sought to remedy many of the problems with Star Fox, namely its failure to embrace the direction Assault was going in. To that end, the multiplayer mode was given its chance to shine, with more ridiculous weapons and a better control scheme.
Trivia
Unlike Star Fox, the animal-esque characters of Vigilants are more alien in appearance.

Each one also corresponds to a member of the Star Fox team.

The Sandbox multiplayer mode is inspired by that of the Halo franchise's Forge tool.
Community content is available under
CC-BY-SA
unless otherwise noted.