"Welcome to boutique Mario Kart. Nice to meet you!!!"


— Veronique in Mario Kart 8
Veronique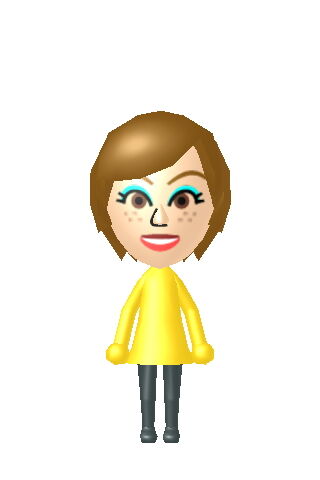 GENERAL INFO

GENDER

♀

Female
CURRENT STATUS
Boutique employee
AGE
32
ZODIAC
♉ Taurus
BIRTHPLACE
Mushroom Town
PERSONAL INFO

RELATIONSHIPS

Mr. Shop (manager)

Maliene (partner)

Roberto (partner)
MISCELLANEOUS INFO

CANON APPEARANCES

Mario Kart 8
Mario Kart 8
Veronique is a female Mii who works on Mario Kart Shop. Now, she's the employee who works on Boutique Mario Kart and replaces Roberto who is working in Mario Kart Repair Shop. She was the last employee who was taken on. When the player visits Mario Kart Shop 50 times she decides to compete in races and you will be able to select her. She is also an employee of Mario Tennis Shop in Mario Tennis Legends. He gives the special suits when you get an achievement.
Personality
Veronique is a responsible employee who knows about her job. She loves fashion so Mr. Shop took on her for this vacant. She's a bit shy with new people but when you have visited the shop more times she's is more extroverted and she speaks with you a lot. Veronique is very friendly and she always suggests her costumers the perfect article and she sometimes make discounts to her favourite costumers. Mr. Shop thinks she is very helpful and hard-working like Maliene.
Items which sells
Caps
Astronaut helmet: 30 coins
Hammer Bro's helmet: 30 coins
Firefighter helmet: 30 coins
Glasses
Skier glasses: 5 coins
Grandma's glasses: 5 coins
Professor E. Gadd's glasses: 5 coins
Dr. Phist glasses: 5 coins
Diving glasses: 8 coins
French glasses: 8 coins
Spanish glasses: 8 coins
English glasses: 8 coins
American glasses: 8 coins
Italian glasses: 8 coins
Suits:
Koopa shell: 5 coins
Hammer Bro suit: 10 coins
Bowser Jr.'s costume: 10 coins
Sonic costume: 15 coins
Toadette's costume: 15 coins
Birdo's costume: 15 coins
Diddy Kong costume: 20 coins
Peach's sport suit: 20 coins
Daisy's sport suit: 20 coins
Rosalina's sport suit: 20 coins
Petey Piranha costume: 25 coins
Dry Bowser costume: 25 coins
Gallery

Community content is available under
CC-BY-SA
unless otherwise noted.