Validar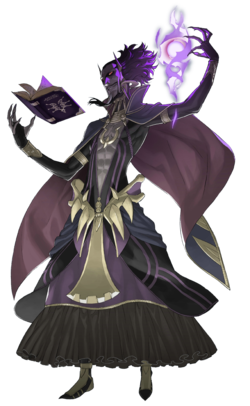 GENERAL INFO

GENDER
♂ Male
PERSONAL INFO

CLASS
Sorcerer
WEAPONS
Magic
MISCELLANEOUS INFO

CANON APPEARANCES

Fire Emblem Awakening (2013)
Validar is the secondary antagonist of Fire Emblem Awakening, he is the father of Robin and the grand-father of Morgan.
Personality
Validar is a man fully devoted to his role as the leader of the Grimleal and one of the descendants of the Fellblood. As the leader of the Grimleal, he is extremely loyal to Grima and is willing to do whatever it takes to ensure his liege's ressurection, even at the cost of his own life. This fanatic loyalty of his has seen Validar committing acts of a grievously heinous nature, some of the more prominent including murder and brainwashing. Aversa is an unfortunate victim of his cunning schemes, having been kidnapped and brainwashed at a young age to serve Grima.
Validar appears to have no goals or desires of his own, aside from serving the ambitions of Grima. This is especially evident through his unfazed response to the knowledge that the Fell Dragon's resurrection will inevitably lead to his death. Validar's fanaticism is so great that he does not appear to understand why his child is unwilling to become Grima's vessel.
Because of his fanatic belief in the impeccably constructed nature of his "destiny", Validar is often overconfident when executing tasks for Grima. This proves to be an inherent flaw of his, as he has, time and again, made critical mistakes when the events that happen deviate from his foresight.
Game Appearances
Validar is one of the game's main antagonists.
Validar appears as a Boss Unit.
Navigation Templates
Characters