This article is part of the Medieverse. Surely you're not looking for the original Valerie Heartgold?
Valerie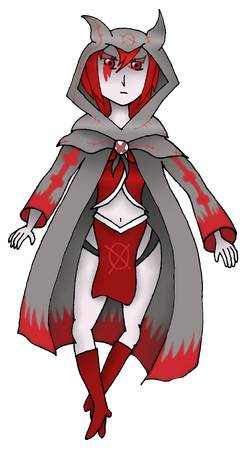 GENERAL INFO

GENDER

♀

Female
SPECIES
Witch
CURRENT STATUS
Alive
AGE
Estimated to be 200+
BIRTHPLACE
Heartgold Coven, Occiden
PERSONAL INFO

OCCUPATION(S)
Supreme Witch
MISCELLANEOUS INFO

SERIES
Medieverse
CANON APPEARANCES

TBA
Valerie is a character in the Medieverse who takes a major role in the story.
History
Little is known about the past of Valerie, as she keeps her past rather ambiguous. She sometimes talks about her younger brother, but in some situations he is deceased, and others he just vanished. She is said to be over 200 years at least, but her real age is still a mystery. At some point in time she made a coven, named Heartgold and located it in the catacombs of Occiden.
Physical description
While Valerie retains her sanguine colored eyes and ruby-colored hair. She stands quite tall, has a pale skin and blank eyes. She wears a gray cloak, most of the time having her hood on, but in a way that her hair is still visible underneath. There are red stitch-like patterns on this cloak, with a circle with a cross in it in the middle of her hood. The hood also has little ears on top of it, suspected that Valerie really has ears there. She doesn't dress up much underneath her cloak, save for her undergarments.
Personality
As the head of a coven she seems very serious about her job. But when being casual it can quickly be seen that she messes around a bit, being flirty and sometimes even annoying. Her coven means everything to her, and once it falls in danger she acts serious and can be quite harsh. Valerie seems to have a split-personality, sometimes she has a mood-swing in which she becomes very depressed, without being able to anything positive. When this happens she often retreats to be alone and seems to be singing to herself till her mood-swing is over.
Abilities
Valerie is considered to be the strongest character in the Medieverse, possibly being able to exterminate everyone, but at the cost that it will initiate a witch hunt, so she chooses not to. Her magical abilities vary much, she being able to see into the near future with her so called "all-seeing eye". While her body is fragile she is rather agile, but her forte lies in her magic abilities. Her psychic powers can bend someone to death and her dark magic can immensely wound others.
Relationships
Silver
Silver is supposedly her little brother of whom she sometimes talks about. His fate is however unknown, and she only refers to him when she comes across something that reminds her of him.
Melissa
Aurora
Trivia