The Mario Game has horrible grammar, plus its a list. And the Grass Flower is too short and spammy for the wiki. Try to make something like Volt Mushroom. --Wikispeed

Hello! Welcome to Fantendo. I'm Hoola92, an admin here. Make sure you read this, which has our rules and policies. If you need help, you can ask me or another admin.

What's your angry problem, myself? I didn't not annoy anyone. All I did is just put in some levels of the games without permision. Did I read any of the rules? If I'm only playing this joke with me, I had better give me an explanation ASAP! - A noob/troll that got banned.(Text edited for fun)
I would love for you to join Lucky Studios. Whenever you have a chance, just leave me another message and get on chat so we can talk about details. Luckyyy (talk) 23:24, June 2, 2014 (UTC)
K
sure thing dude. Also please tell Lucky that i am incredibly sorry for not responding. Now i have the whole summer so It's all good in the hood.
Showdown?
Not part of the tournament but I just want to battle :P
Fandro | Talk | Blogs | Contribs
11:36, June 16, 2014 (UTC)
Nintendo Character Roleplay alert
I joined your RPG battle at http://fantendo.wikia.com/wiki/Thread:644884 --VideoGameBlogger (talk) 00:51, June 23, 2014 (UTC)VideoGameBlogger
VGB Wikia
You are invited to join VideoGameBlogger Wikia, for more information go to--VideoGameBlogger (talk) 19:07, July 14, 2014 (UTC)
Video Games
Hello I am Ice and welcome to the very first Video Games!
This is just a friendly reminder letting you know that we are RPing now for the video games. The games are not complete without you. Note: You start out in your villages at first, feel free to add anyone to you village as you go. Thank you.
http://fantendo.wikia.com/wiki/Thread:753689
SSB Roster Evolution All-Stars
Heyo! Would you like to participate in the first All-Stars round of the Super Smash Bros. Roster Evolution? I've tallied up the points and you've been selected to either compete or be a reserve / voter! The results can be found here. Please contact me back so I know how many spots are filled and if I need to add more peeps! Thanks!

People like you are hollow. You're full of empty promises.
Go ahead
So...
Do you wanna do that Smash Bros. thing? We could all do it as a community project or we could just do it with us two? What are you thinking? ITV Dude (talk) 09:35, June 26, 2016 (UTC)
yo dude
Come on chat! I need to battle you for the Pokemon Showdown tourney.
B2W2 Logs
Hey, Dragoon and I were planning on doing one more Showdown battle with our teams after fighting Alder in the postgame, and we were wondering if you would want to play through that portion so that you could join the Showdown battles as well. If you do, me and Dragoon are both on the chat right now so you can join.
Happy Birthday
I saw your edit on your userpage and since I'm not sure if you'll make a blog or not I decided to congratulate you via talk so yeah, :3 (sorry I'm terrible at congratulations)
Shadow Inferno (talk) 11:42, April 19, 2017 (UTC)
Happy birthday!
heyy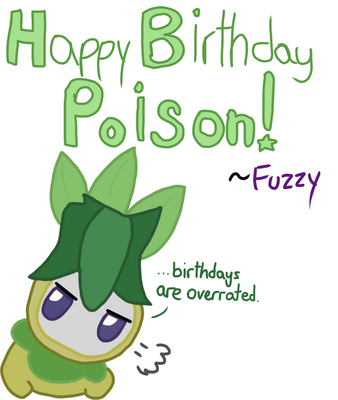 happy birthday dude!!
I see it's your birthday and because I'm not always a dick I feel like I should wish you happy birthday. Except you seem like you don't care about birthdays so instead I'll wish you a Merry Christmas. I know it's a few months early (and you may not celebrate it) but hey whatever, right? ;P Mirai Moon  14:52, April 19, 2017 (UTC)
@Everyone: Thanks! I do care about my birthday, but didn't make a blog for it mainly because I couldn't think of much to write for it :p Also fuzzy, that's perfect. -- Poisonshot ProfileTalkInsert clever signature here. 15:54, April 19, 2017 (UTC)
no problemo my apparently-fellow Canadian

Mirai Moon

  16:02, April 19, 2017 (UTC)
eyyyy, anytime :D
Umbrella Roster Evolution has begun!
The first round of Inferno's Umbrella Roster Evolution has begun, please make sure you submit your rosters by the deadline.
Shadow Inferno (talk) 01:39, April 29, 2018 (UTC)
Roster Evolution
Hello! As a former participant of the Roster Evolution, I would like you to vote for the final round of the game as to decide who should win it!
Thanks for your cooperation.

If existence is a nightmare, one can only hope they are dreaming.

Question
Finally! Someone from July 2014 that's still active. Ok, I have a question. *Begins interrogation voice* In July 2014, you joined a forum as a lobster. *Gets hyper voice* Do you wanna join the sequel? It's pets and Owners 2 That thing
Up Up the Cat (talk) 22:36, July 19, 2018 (UTC)
Question
Did you make all the Link icons by yourself? DarkSpark83 (talk) 17:00, October 21, 2018 (UTC)
I made most of them myself, yes. Those I didn't make were the ones included in the roster maker by default. Poisonshot ProfileTalkInsert clever signature here. 17:57, October 21, 2018 (UTC)
anysmash
I had two quick questions about anysmash. First, to my fighters could I add their catchphrase (like Ridley hits the big time) and also add their entrance at the start of the battle?
Second, can one person add an echo to someone else's fan Fighter? Like you made a Moveset for Captain Toad and I wanted to make Captain Toadette an echo.
-Hoola
Table
could I use your tables from Anysmash (the character movesets) for my movesets in my smash, I will credit if I can
Community content is available under
CC-BY-SA
unless otherwise noted.