Hey Clyde, sorry to bother you but we're gonna need alot of signatures for this to work so could you sign this petition to bring Geno back please? Geno/Petition.

Elise (talk)
Hey Clyde1998, I was wondering if I could use your character Clyde in my game Fantendo Emissary. Mirai Moon 
Clyde
Can I use Clyde in a new Fantendo Kart game I am making? Please respond
Team Revamped
Clyde, I revamped my team. Here's the revamped team!
FFL Team For Next Season
Clyde1998 I Have A New Team For The FFL Next Season Called The Wuhu Island Victory Will They Be Able To Come In Next Season Sonic 1999's 2000" TV 00:30, November 21, 2011 (UTC)
Hey Clyde, when you see this, get to chat please! Stelios7

Talk To Me...! :D
Clyde, when you get this, go on chat please. Stelios7

Talk To Me...!
KEEP GOING BRO'! I'LL RESUME MINE NAO! Stelios7

Talk To Me...!
Chat bro'. Let's talk about FFL. Stelios7

Talk To Me...!
Awesome, I will do mine after I do this FFL round-up or on Friday prolly'.

Welcome to Oblivion...
Can I make a team for Fantendo Football League, please?
Sorry, just forgot my singnature... Darthtankengine Studios, "We Do Stupid Stuff" 20:48, January 31, 2012 (UTC)
Please
Could you please join my
Galactic Journey Co.
because I am currently the only member and are you good at making game covers?? (if you are could you please help me make a better one than this??)

Wow, thanks for your support for EM3! I owe you one buddy!

Stelios7

(talk)

Clyde is a Yoshi?
SM64P: Is clyde a yoshi?
Clyde1998: Yesss....... *Thinking : ???*
SM64P: Then he should appear in Yoshi!. it is going to have almost all Yoshi characters. Respond on my page or in the Yoshi! comments or (BEST) Both. Pleez respond, pleez say yes! Yoko says; "Bye Clyde!"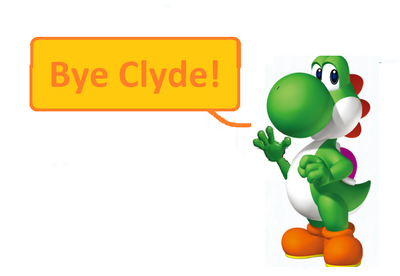 Hey Clyde!
Hello, Clyde! I was just wondering if you want to join my company, Underworld Games. It's very well known for creating the featured article on the main page of Fantendo. User:IsmailFeroz/sig4
I can have my own team in Fantendo Football League?

STAR

Oh you are talking about the Kit of my team?

STAR

Okay.
Team Formation
Subs
The team name: Locky's Warriors!
Home: Blue and Red
Away: Red and Blue
Third: Black and White.
Oh god, I loved that! Thanks for the kits!

Merry

Christmas

To
You!
Hey bro', it has been a while my sexy year 10 Southerner chum. I can't access Steam now so if you want to chat, get to chat pls. kthxbai. -Stiliose

Sorry I was revising, YouTube PM me or get on chat tonight! :D Ta. -Stiliose
Alright.. Thanks! You're officially in Underworld Games.! User:IsmailFeroz/sig4
Re: Fantendo Football League
I do have one question. What kinds of players can I have on my team (as far as real people, real characters, fake characters, etc.)?
LIKE A BOSS!!!

Darnit I missedm it, sorreh. Was there a podcast? I was too busy at my friends playing Epic Mickey like a coolster.

Stelios7

(talk)

Request
I'd like to request a Fantendo Football League team managed by Happeh.

Happeh (Happy65) 19:33, January 31, 2013 (UTC)
Yes, I will give you my squad list.
Team Name: Yoshi Alliance
Subs:
Karl Mapleborough
Gerd Mapleborough
Willem Mapleborough
Adam Smith
Joe Smith
Charles Smith
Alexander Akysonov
Now, am I allowed to make the page yet? 

Happeh (Happy65) 07:41, February 1, 2013 (UTC)

Hey Clyde do you have Skype or something so that I could easily IM you? Thanks.

Stelios7

(talk)


Sure, I will gladly help you on FFL. :) .vectorDestiny (talk)
Yeah, I agree that the leagues should have at least 16 teams each. Also, as for the article, maybe we can use a wikipedia article about any soccer league as a base for the article, not outright copying, just using it as a base to make the new one.

FFL team for next season, by Heroicpingouin
Heroicpingouin says : Hey Clyde, here is the team I propose :
Name : Atletico Aether
Nickname : The Atletico, the Atletics
Manager : Heroicpingouin
Home stadium : The Wastelands (Mario Strikers Charged)
Capacity : 40,000
Team default formation : 2-4-4
Main Players :
-Goalkeeper : Volt (captain)
-Center forwards : Hooves (vice-captain) ; Jerrix Cruiser
-Midfielders : Squav ; Sinless Devil ; Reese ; Rash
-Defenders : 4.13 ; Beluga ; Zerita ; Hailey
Substitutes :
-Goalkeeper : Riddle
-Center forwards : Torchie
-Midfielders : Aero
-Defenders : Giraffey
Home Kit : Blue shirt with white stripe on shoulders and arms, and a light blue lightning that get through on the the front, white shorts
Away Kit : Blue and white (except the lighting) are reversed.
Third Kit : Any
Community content is available under
CC-BY-SA
unless otherwise noted.