My Talk Page
This is my talk page. Feel free to talk me.
Archives
Rules
Sign all comments
Please create a new header for each message.
Hi!
Hi! I've seen your fangames and fancharacters, they're amazing! LucaRyan13 (talk) 02:49, September 1, 2013 (UTC)LucaRyan13
Permission
Can I use your Pokémon for the following games?
Samtendo09 (talk) 23:05, September 27, 2013 (UTC)
And Me for this games:
Pokémon TerraRuby and SeaShapphyre.
User:Nintendo 2.0. (Talk) 13:14, October 03, 2013 (UTC).
Hai
hai can i join your company? General Greatness Super Flour (talk) 04:43, October 19, 2013 (UTC)
Table Crisis
Hello Baby Yoshi!
I'm having trouble making tables, and I'd like to make a new game with them. I can't make tables right! Could you help me out in this time of need?
Biospark22 (talk) 17:32, December 6, 2013 (UTC)Biospark22 (or Twix)!
Do not edit templates
I saw that you made your own little template telling others to not edit your articles. How do I make one?
The King of All Awesome!!! (1/2/2014|03:49 PM)
I still have no idea what to do. Sure, now I somewhat know, but I still have no idea. Can you please make on for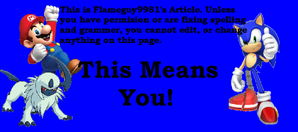 me instead? If it is a yes, please make it based off of this.
Thanx!
The King of All Awesome!!! (1/2/1014|04:22 PM)
Mario Kart 8 Wii U
Hey, BY. I just wanted to let you know that I recently made a change to your article, Mario Kart 8 Wii U, to where I wrote down that bikes can't do wheelies anymore and that they can, however, do super mini-turbos. I hope you meant to have this in your idea. If not, then feel free to undo my edit. Thanks! :) - Drilly's territory (talk) 15:29, January 17, 2014 (UTC)
Dragonia
I wasn't gonna ask cuz I didn't think you were still coming to Fantendo, but then you edited a page three seconds ago, so y'know
Can I use Dragonia for my series? (User Blog:Nutta of da Buttas/Koopalings: The Series) Plz? It's-a-me! Nutter Butter! Heh heh, good impression, right? 17:53, April 25, 2014 (UTC)
Hey, I saw your Super Mario Galaxy Wii U page, and I saw some missing pictures, so, could I draw them?
               Luke0904 (talk) 23:44, May 8, 2014 (UTC)Luke0904
You win a cookie for uploading the 100,000th image on the wiki!
Lumoshi (talk) 21:22, July 9, 2014 (UTC)
Table Help?
Are you good at making Tables? So yes I have a Problem.Billy-Luigi (talk) 15:16, July 11, 2014 (UTC)
For Link I want something like this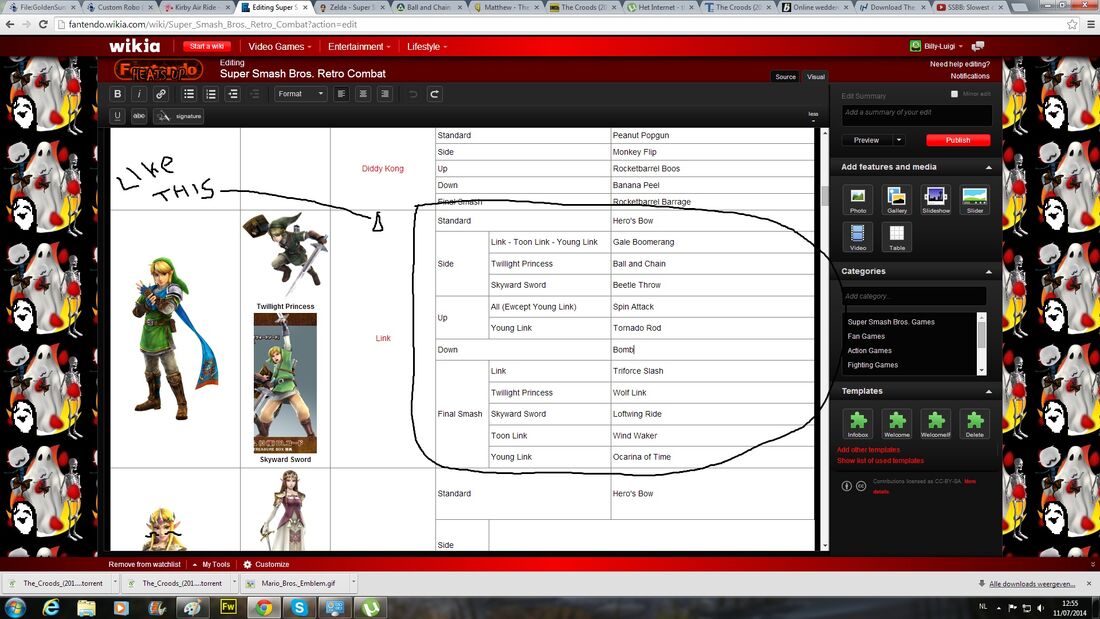 That's on the Visual Editor but when I publish it, it's all diffirent and messed up :/ Wow :D thank you, can you learn me how you did that?
Billy-Luigi
(
talk
) 17:19, July 12, 2014 (UTC)
===Hi===

Can i join? or, at least, can i make games?
Santumerino (talk) 21:00, August 12, 2014 (UTC)Santumerino
My ideas for your kirby game abilities. Tanooki kirby & cat kirby. Dlc: pokemon pack: pikachu & charizard abilities. Zelda pack: Link & Zelda abilities.
Hey there, Baby Yoshi!
We, the FF2015 Development Team, noticed that you signed up your original series, Garden Adventure and Cursed Enigma, for the abandoned project Fantendo Funfair, but have not yet signed up for Fantendo Funfair 2015. We were wondering if we had permission to create an attraction based on your old submission for you, if you would not like to participate in FF2015. If you would not like us to create an attraction for you based on your old submission, that's alright. Just let us know on TechBreloom's talk page whether or not we have permission to create this attraction for you by August 16, 2015; if you do not reply by then, we will assume we do not have permission to create this attraction. You still have time to sign up if you were unaware about the new project; just leave your submission here! Thank you.
Yours truly, the FF2015 Development Team
sweet thx, idk if we'll use both but we'll def use one or the other just depends on how many spots we have filled etc ~ TechBreloom



Hey, you know that logo you made for Super Mario: Exploring New Lands? Could you make one similar for my game, Super Mario 3D: Elemental Chaos please? I promise I will put the credits.
Thanks
RAYMAN !!!
In super smash bros duel can you add rayman pls ?!!!
Community content is available under
CC-BY-SA
unless otherwise noted.