I'll finally reveal some information about DLC. I'm only doing this now to hop on a certain meme bandwagon from a certain series.
So what's the DLC? Well I'm making a fighters pass that includes 6 fighters as well as content from their home franchises. Here take a look!
Looks nifty enough, but for now I think I'm ready to show the first DLC fighter. I present to you the first fighter in fighters pass to be none other than.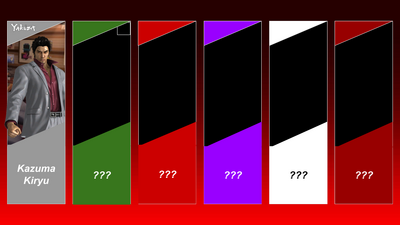 That's right, Kazuma Kiryu Joins the Smash Bros.! I'll be updating the fighters section to include him and the stage and music section to include content from his home series. I'll also be starting the online event page (For more information, go to the online events ection in Super Smash Bros. Legends (TheEpicGamer2) ). The Yakuza event will have raids, a boss battle, trophies,  Mii costumes, and alternate costumes for you to obtain. You can get Kazuma for $4.99 or for free if you pre-order the game. You can also get the fighters pass for $29.99 too.
Community content is available under
CC-BY-SA
unless otherwise noted.