Drawings are now open!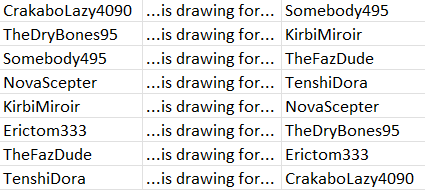 sorry it was late but here's who you're all drawing for! youve got until the 22nd to submit your drawings!
from Spheal 23:16, 9 May 2022 (UTC)
---
hello fantendrakes, it's been a while since we've done an art swap so let's do another one.
you know the drill, sign up in the comments with one of your characters. in a week or so, i'll randomly assign everyone someone else's character for them to then draw.
sign-ups will close on the 8th, drawings must be submitted by the 22nd. this should give people enough time to get around to drawing as i'm well aware a lot of people have exams and finals this time of year. reminder that if you fail to produce any art, you'll be barred from participating in the next art swap
as for the theme:
feel free to try, uh, whatever this means. of course this is an optional theme that you don't have to do but it might be fun to spruce up the art requests a bit :)
from Spheal 12:20, 1 May 2022 (UTC)
Signed-up characters