So yeah... another update (I really have to keep doing this do I?) Pretty sure I logged in and out of another account I created, and since I haven't logged in like, 7 months I suppose? It took me a while to figure out the password, but eventually I got it, and so here I am! Now, ever since my inactivity here, I've gotten A LOT of ideas for some fictional video games, but either feel embarrassing to me or have faded into the back of my brain 'cuz I was too lazy to do them here. I got SO much else to do (personal projects I want to, stuff for events, and of course school work), I haven't really considered actually putting those ideas on the screen.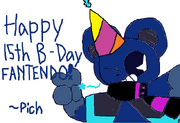 So uh... I kinda forgot what I was going to say here first, so... Fantendo's 15th anniversary! I totally was not expecting this after revisiting the wiki. Although I have VERY distant memories of seeing a fan character article on here, I first joined this wiki in late 2018, and I think my first article was like, Paper Mario: Pages Lost in Time? THAT WAS 4 YEARS AGO. MAN, time flies so fast. I'd like to thank EVERYONE who have participated in this wiki. From the old to the new, from the dedicated storytellers and thinkers to the slow and procrastinating inactive (me included). As long as you have done something for the site, EVERYONE IS ALLOWED TO CELEBRATE THE OCCASION!
And as for me, I decided to make a little art piece for ya'll featuring none other than your favorite alien bear, UNTEN! I know, it is surely far from perfect. As you can clearly see, I did this on MS Paint, which isn't exactly the best art software. I also kinda mish-mashed between various designs of him (mostly Victory and Modern) since A LOT has changed about him since I last visited his page, and... I kinda like his modern design (except for the head, the older W I D E oval" head feels more iconic to me.) I also had a little trouble, but... it doesn't matter, right? All that matters is I had fun doing it. I'm a little "distant" from others and haven't exactly caught up with the Fantendo LORE, but what I know for certain is that many have worked so hard to shape it to the way it is now, and I appreciate it greatly.
Now, one last thing before I end this off: I might also do a SPECIAL kind of game idea I've been holding for a LONG time. It's a... little embarrassing to me (especially since I have some sort of odd hyperfixation towards one CERTAIN stickman that has gained popularity over the past two years), but it's like a crossover Deltarune-esque RPG that's the remake of a fictitious game idea on this site (inspired by an actual crossover game on this site I forgot the name of), and will also be some sort of tribute to (Unten will be a secret boss in it!) So uh... stay tuned for that. Sorry for saying I'll yet barely doing it. I just can't help myself. Well... I guess it's time for me to go on another hiatus, I suppose. Adios, my friends. Stay safe. Peace! <3
(AND HAPPY 15TH ANNIVERSARY, FANTENDO!)