So because a few people have done this and it's only 20 days until MK8's release I thought I might make a few predictions and expectations. So here goes.
Veterans
So whenever making a MK roster the first thing that must be considered is veterans. Here is the list of veteran characters from previous MK games and how many times they have been playable in MK. This isn't including the appearances in MK arcade games.
Mario (8)
Luigi (8)
Peach (8)
Yoshi (8)
Toad (8)
Bowser (8)
Donkey Kong Jr. (1)
Koopa Troopa (5)
Wario (7)
Donkey Kong (7)
Daisy (5)
Waluigi (4)
Toadette (3)
Birdo (2)
Diddy Kong (2)
Bowser Jr. (2)
Paratroopa (1)
Dry Bones (2)
R.O.B (1)
King Boo (2)
Petey Piranha (1)
Baby Mario (3)
Baby Luigi (3)
Baby Peach (2)
Baby Daisy (2)
Funky Kong (1)
Dry Bowser (1)
Rosalina (3)
Shy Guy (3)
Lakitu (2)
Metal Mario (2)
Wiggler (1)
Honey Queen (1)
Baby Rosalina (1)
Pink Gold Peach (1)
Iggy (1)
Roy (1)
Larry (1)
Wendy (1)
Lemmy (1)
Ludwig (1)
Morton (1)
Mii (3)
So with this list we can get an idea of which characters are more likely to appear. For my roster I've decided that any character who had made at least 3 playable appearances in the series will manage to return in MK9. This will give us:
Mario
Luigi
Peach
Daisy
Yoshi
Toad
Toadette
Wario
Waluigi
Bowser
Donkey Kong
Koopa Troopa
Shy Guy
Rosalina
Baby Mario
Baby Luigi
Mii
Roster Size
So I've found the most likely veterans, but what about the rest of the roster? How many characters will appear in MK9? Since DD, a pattern was made, +12 for consoles, -8 for the next handheld, so we got 20 in DD (+12 from previous game), then in DS we got 12 (-8), MKW added 12 and then in MK7 we got 16. This pattern would've meant 28 characters in MK8 though, so this means the pattern could've broken. This game (if MK8's roster was only 28) should be only 20 characters, but I think we will get more considering this pattern has broken. I'd guess we get 24 characters (25 including Mii), this means that we have 8 more slots to add in to our roster now.
Final 8 Characters
Considering there is 8 more characters, I highly doubt we'd see them all as newcomers. I've decided to add 4 more veterans and 4 more newcomers. These veterans can only be chosen if they have appeared in at least 2 MK games as playable. This will leave us with the choice of:
Birdo
Bowser Jr.
Diddy Kong
King Boo
Baby Peach
Baby Daisy
Lakitu
Dry Bones
I'm going to start by taking out one character at a time and giving reasoning for it (Metal Mario I removed straight away so he isn't on the list). First I would take out King Boo, because even though he was one of the more likely veterans that were cut from MK8, he was the least likely out of the five (Birdo, Bowser Jr., Diddy Kong, Dry Bones and King Boo). Next I am going to take out Baby Peach and Daisy, although they actually were in MK8, they aren't likely to debut on a handheld with the other two babies who have appeared more. This leaves 5 characters, the last choice is very tricky for me, between Dry Bones and Lakitu. Both these enemies debuted on a handheld and both of them are very popular. Even though I love Dry Bones, Lakitu is probably going to take the final veteran spot due to him appearing in the previous two MK games, while Dry Bones appeared in neither. This leaves us with the roster of:
Mario
Luigi
Peach
Daisy
Yoshi
Birdo
Toad
Toadette
Wario
Waluigi
Donkey Kong
Diddy Kong
Bowser
Bowser Jr.
Rosalina
Koopa
Shy Guy
Baby Mario
Baby Luigi
Lakitu
Mii
Newcomers
Every MK game has around four newcomers, here are my predictions/wishes for newcomers.
Kamek/Magikoopa
He was beta in a Mario Kart game and I think he'd make a great character to join the enemies of MK. We need a new villain, someone to represent Yoshi's Island and a new enemy. Kamek fits all three roles which is why he's a perfect character to join the cast.
Mona/WarioWare Character
You might disagree on this spot, but I think it is fair. Okay, so DK is from another series and so is Diddy Kong, they are both appearing in this game meaning that's two characters who represent DK series. Wario is the only character who is from the Wario series playable in MK. This is why I chose a WarioWare character to take a slot. I went with Mona because for starters, she is female adding more females to the roster, she rides a bike a lot in the series and she is usually one of the first characters seen in the game. I'd love Ashley in the game, but I'd probably go with Mona for this game, she just seems more fitting for racing. So because of Mona being in the roster we get to Yoshi characters, two DK characters and two WarioWare characters.
Nabbit
This one is pretty obvious. He can represent Mario 3D World and he is very popular. He's appeared in golf so I think it's safe to say we will see him in Mario Kart. So we have three newcomers out of four, Before I choose one, I want to choose weights for characters so we have a balanced roster.
Weights
Tiny
Baby Mario
Baby Luigi
Toad
Toadette
Feather
Koopa
Shy Guy
Nabbit
Lakitu
Light
Peach
Daisy
Mona
Diddy Kong
Medium
Mario
Luigi
Kamek
Bowser Jr.
Cruiser
Waluigi Rosalina Yoshi Birdo
Heavy
Bowser Wario Donkey Kong ???
Varies
Final Newcomer
So now I've established that the final newcomer has to be heavy weight. I've decide the final newcomer should be Boom Boom.
Final Roster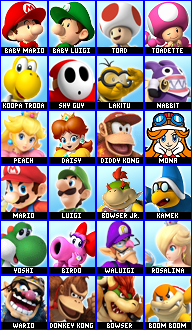 Most of this probably doesn't make sense because I've only just woke up :P
Community content is available under
CC-BY-SA
unless otherwise noted.