Welcome back to COMMUNITY DRAW!  I received permission from Randomfrog (t∣b∣c) to continue the series, and we are gonna use a super cool character from PabloDePablo (t∣b∣c)!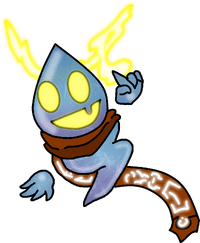 Feel free to use this as the basis for your design, make your own version, or the like!
Unlike the other community draws, there is no contest to it. I feel like contests put people off...so don't fear about "losing" and what not, 'cause you can't!
Gallery
Just in case you missed a character you wanted to draw for...
Arial · Blank · Crow · Cura · Dawg · Edison · Ellie · Guinea Pig Duo · Hein · Kra;Gul · Krystal · Liana · Lub Lub · Lucky · Masquera · Melissa · Meta-Form · Mynis · Netnu · Nizzle and Zorp · Rapunzel · Robo · Stiv & Mordir · Unipon · Valerie · Volt · Yuki · Zellen · Zonas
Community content is available under
CC-BY-SA
unless otherwise noted.