Formerly Sir. Wright

Check out some fun music things
Here, have a Userbox

| | |
| --- | --- |
| | This user is from Australia. |







| | |
| --- | --- |
| | This user is Ambidextrous and is proud of it. |




| | |
| --- | --- |
| | This user has respect for Lumoshi and/or his works. |




This user tolerates Fuchsia

for some inexplicable reason

.




This user thinks that

Mason

is pretty great.




| | |
| --- | --- |
| | This user has a ton of respect for Spark! |




| | |
| --- | --- |
| For some reason, this user thinks Jake is an okay guy. | |




| | |
| --- | --- |
| | This user thinks Ziegs is pretty cool. |




this user could agree that

Rick

is a pretty cool person.




| | |
| --- | --- |
| | This user likes Eva, and thus, likes Jynx as a consequence. |




♥ ♥ ♥ (◡ ‿ ◡ ✿)

This user appreciates ochibrochi and her works!!




| | |
| --- | --- |
| | This user thinks Drackula (t∣b∣c) is a cool guy i guuuuuesss |










| | |
| --- | --- |
| | This user has won a special Lumoshi Award for Winning the Pokemon Roster Evolution! |







| | |
| --- | --- |
| | This user is a fan of the Legend of Zelda series. |




| | |
| --- | --- |
| | This user likes and/or admires the Skull Kid. |




| | |
| --- | --- |
| | This user likes the Super Smash Bros. Series. |




| | |
| --- | --- |
| | This user thinks Waluigi should appear in more than just sports games. |




| | |
| --- | --- |
| | This user thinks that Nabbit is awesome. |




| | |
| --- | --- |
| | U liek mudkips? Good, cuz this user thinks Mudkeep is best Mudkip. |







| | |
| --- | --- |
| | This user thinks Unten, the mascot of Fantendo, is awesome and should be in more games. |




| | |
| --- | --- |
| | This user is a fan of the Rayman series |




| | |
| --- | --- |
| | This user is a fan of Rare Ltd. |




| | |
| --- | --- |
| | This user likes the Sonic the Hedgehog series. |




| | |
| --- | --- |
| | This user is fanscinated by the Beta versions of games. |




| | |
| --- | --- |
| | (One of) This user's favorite Adventure Time character(s) is Beemo. |




| | |
| --- | --- |
| | This user contributes using Mozilla Firefox. |




| | |
| --- | --- |
| | This user contributes using Google Chrome. |




| | |
| --- | --- |
| | This user is a fan of Jazz music. |




| | |
| --- | --- |
| | This user listens to video game music. |




| | |
| --- | --- |
| | This user is a musician, and plays the Piano and Saxophone |




| | |
| --- | --- |
| | This user knows the Answer to Life, the Universe, and Everything. |




| | |
| --- | --- |
| | This user likes the Pixar movies. |




| | |
| --- | --- |
| | This user loves the T.V show Friends. |







| | |
| --- | --- |
| | This user is a fan of How I met your mother. |




| | |
| --- | --- |
| | This user is a fan of the Star Wars franchise. |







| | |
| --- | --- |
| | ♫♪DOOFENSHMIRTZ EVIL INCORPORATEEEED!♪♫ |




FALCON PAWNCH
WHOARGH




| | |
| --- | --- |
| | IT'S PEANUT BUTTER JELLY TIME!!!!! |




| | |
| --- | --- |
| | This user likes Keyboard Cat. |




| | |
| --- | --- |
| | You like userboxes, don't you, Squidward? |




| | |
| --- | --- |
| | "Chocolate? Did you say chocolate? Chocolate?! Chocolate?! CHOCOLAATE! CHOCOLAAAATE!!" |




| | |
| --- | --- |
| | This user likes spinning. |
O hai!
If you want to know more about me, I am Vonn Karma, named after the von Karma family from the Ace Attorney series of video games. You can also call me Vonn, Karma or Sir. Wright if you want, anything's fine by me.
As you can probably tell, i'm an avid gamer and i'll play a wide range of games, from Mario Party to Bioshock, basically i'll play anything I find enjoyable. My favourite genre of video games is platformers, but i'm always interested in new or different genres.
I am a guy living his crazy little life in Australia. Things I do include; tumbling (flips and stuff), playing video games and building my obsession for musicals.
Currently...

Playing

Sonic Unleashed
SSX 3
The Simpsons Hit & Run

Listening

If You Leave Me Now - Charlie Puth
Filthy - Justin Timberlake
Projects

Check out my company's page, Amuza, for some more info.

SEASON 1
SEASON 2
Avatarchive
<center>Gallery of Avies
Gallery of Sigs
Community
Friends
Not that I have any
I haz friends! Below are people here that I consider friends. Of course, if I missed you feel free to add your name below if you want to be classified as a friend of mine.
Guestbook
If you're reading this, you should sign your name below.
Quotebook
"For some reason, the wiki background is an image of some kids petting a turtle and the front page is an advertisement for "Turtle Canyon". It seems that someone named Heartphilia (whom I think is a bot) is the culprit, and this person's page is just a single music video. What the heck's happening?"


— Jumbods64
"i have the first game OH AND GUESS WHAT I CLEAND IT OFF WITH WATER GUESS WHAT I PUT IT IN THE MICROWAVE IT WHEANT SNAP POW I THINE GOT IT OUT it was ruind OH AND STARTED TO CRY I CANT HELP IT I LOVE THE GAME SOOOO MUCH OH YA I LIKE SONIC MORE THAN MARIO IM A SONIC FAN"


— An IP
"This comment does not contain a lap dance! LOL"


— MegaluigiZ
"

uh

the bible doesnt say
you cant eat shrimp
well
it does
but if you are a christian


you believe in jesus

"

— NepetaLast
"my cousin likes to call him self a butt saggington. he also likes calling him self cock butter"


— Edinemir95
"

* CSketch flips the table

THERE
TAKE TAHT FUCKER NOW OYUR MONOPOLY GAME'S FUCKED UP


NOW I'M LEAVING

"

— CSketch
"

So when i joined

Lumoshi said "There wa this one pic with Yoshi looking at Rosalina like dat ass"
And hen someone else said
"Rosalina X Yoshi OTP"
And then i said
"That would be very interesting with those wands and tongues"
And everyone fucking looked at me like i had killed a man
A
And then after a while Alice came and was like "Why is it so gross?"
And i was like "It's an innuendo"


And then she was like "What's an innuendo?" ADN EVERYONE FUCKING EXPLODED

"

— CSketch
— this conversation
"you make my little dong go rocket hard dong"


— Claus the Mighty
"Also how did they nearly kill your mom with testicle surgery?"


— CSketch
"rambi is into bdsm guys"


— CrunchyTommy
"

love me harder than lumoshis donger

tbh i was brushing my teeth
and i was thinking like
im glad i got this new one because the old one was harder than lumoshis donger because thats how my thoughts are


and then i was very grossed oout

"

— Brock
"when i was little and didnt know anything about erathbound i thought they said 'you can fire' and we were like why can we fire. who did this"


— Rick
"

god

i don't think the UK understood


that the idea is to win [Eurovision]

"

— Marina
"MY CAT JUST THEW A MOUSE AT ME FROM ACROSS THE ROOM WTF"


— Coco
"

okay so

pick up that mouse
walk over to your cat
and then
fucking
whip it back


and walk away

"

— Jasper
"I'm more amazed at how Daisy4DLC made this using only one hand. [About Elmo warns Dora to not go to the Barber video]"


— Ferrox
"tbh the most inspirational message left to me was "may you have the confidence of a 12 year old sonic fan artist on deviantart""


— Trucky
"nova are you gonna blow me"


— Eve
"

die marina die

*did marina die


that was a very bad typo

"

— Me
"when im on my knees, youre how i pray"


— Eve
"id get on my knees for daddy"


— Marina
"

how many people liked your stuff?

N O B O D Y

so what does that say about your writing skills? Or your "hyping" skills?

Nothing.

Nobody will ever like it unless SOMEBODY fixes it

"

— Ice
"fuck you and fuck off.
this wiki turned to shit"


— Polis
"

and then unten slowly inserted the luigi amiibo into his quivering anus

a single tear cascaded down his flushed cheek, weeping for what he has become
when suddenly, rachel burst through the door!
he sat upright, preparing to explain himself to rachel, who stood there in shock and horror, until he felt a sharp rectal sting
the luigi amiibo was halfway inside of him, and his sitting up had pushed it all the way in, right up to the golden base!


as unten climaxed, he went into cardiac arrest and died moments later. the end.

"

— Tucker
"Ordinary Crit im going to be honest i misread "crit" as smth else"


— Marina
"

[

[1]

] notably good chap ;)

"

man trucky just got owned rip - Exo

Good for me. I didn't even try, so I'm okay with that, because I didn't even intend to run until Pablo encouraged me since I have nothing to lose.

The thing is you did try, and overboard at that with your constant asking for votes.

Who is the one who really got owned here :U - Trucky

"

— [this thread] "

— MarioFan5050
"the reason i need a boyfriend is so i can rap fergalicious and when i say "i'll be up in the gym just working on my fitness he's my witness" he can say the "wooooaahh" part because its hard to do that by myself and get straight back into the rapping"


— Ham
"Guygombaa 1:02 We're all special motherfuckers who totally have nothing in common
Guygombaa 1:03 Except when it comes to 'lol same' on a facebook post"


— Guygombaa
Networks
I recently kinda just opened myself up to a bunch of other places, so if you wanna see more of my work check out these links:
Random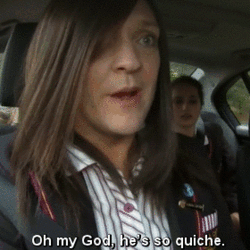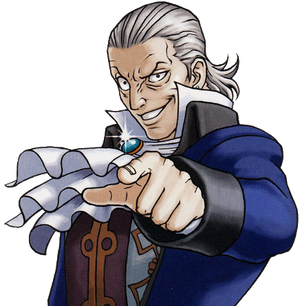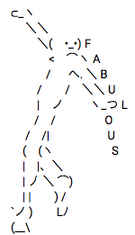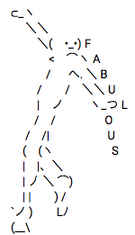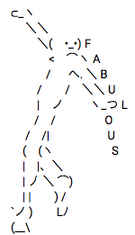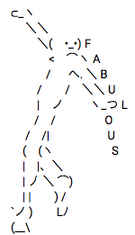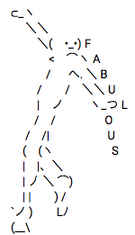 Community content is available under
CC-BY-SA
unless otherwise noted.